When Helene Cross arrived to lead Fairbanks Addiction Treatment Center in 2001, the alcohol and drug rehabilitation hospital was as sick financially as its patients were physically.
The not-for-profit near East 82nd Street and Interstate 69 had posted losses in six of the seven previous years, prompting directors to consider merging with a larger hospital or even closing it down if the prognosis didn't improve.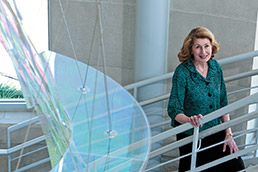 Helene Cross joined Fairbanks amid a financial crisis in 2001.(IBJ photo/Eric Learned)
But Cross hatched a plan that doubled staff to 300 and annual revenue to $21.3 million, and perhaps most notably, produced a string of profitable years.
She plans to retire in September, about a month before turning 65. A search is under way for her successor to operate the system and its $36 million annual budget.
"It's wonderful that she is retiring, but it's bittersweet when you lose that type of executive leadership," said Ellen Annala, CEO of the United Way of Central Indiana.
Annala has known Cross since the 1970s, when they held leadership positions at the predecessor of the John H. Boner Community Center on East 10th Street
Cross, who holds a bachelor's degree in psychology from Purdue University and a master's in management from Indiana Wesleyan University, entered the health care arena in 1978 as a nurse recruiter at Wishard Hospital.
She followed her four-year stint there with a longer, 15-year run at St. Vincent Health, where she ascended to director of community services. She served four years as chief operating officer of Easter Seals Crossroads in Indianapolis before arriving at Fairbanks.
Bain Ferris, a former CEO of St. Vincent who served as Fairbanks interim CEO, helped lead the search that landed Cross.
"The financial situation was pretty tight," recalled Ferris, now president and CEO of Exempla Saint Joseph Hospital in Denver. "They really didn't have a long-term strategic plan. And in those days a lot of hospitals were still in the addiction business and competing. So, yeah, it was pretty bleak."
Cross' top priority: Erase $800,000 of debt owed on a $1 million line of credit. In 2000, the year before her arrival, Fairbanks lost nearly $442,000, a large amount to be sure but paling in comparison to the $2 million it hemorrhaged in 1994.
Insurance reimbursements covering whatever treatment a physician recommended historically had kept treatment centers financially viable. But the introduction of managed-care plans in the 1980s changed the status quo by reimbursing for fewer days of inpatient detox treatment. A typical stay now ranges from 10 to 15 days before a patient is released to outpatient care.
Fairbanks, in turn, began providing more charity care, but at a cost. Administration was slashed to the point that it hadn't renegotiated managed care contracts in 10 years.
At Cross' first staff meeting, she insisted—against the wishes of her chief financial officer—that they open the books to employees to make them aware of the situation's severity.
"The CFO said, 'You can't show them that,'" Cross recalled. "I said, 'We have to. Otherwise, this isn't going to work.'"
Cross immediately applied for Fairbanks to become a United Way agency in order to receive donations, and landed a grant from Lilly Endowment Inc. to fund a facilities assessment.
The assessment recommended $10 million in improvements, including $6.5 million to construct a new building next to the existing one, to offer outpatient services.
A capital campaign was launched to help fund construction. The building opened six years ago and serves 1,000 recovering alcoholics and addicts daily, enabling Fairbanks to treat more patients and increase revenue.
The second floor is home to Hope Academy, a charter high school for teenagers recovering from addiction. Twenty-two students graduated in May.
Fairbanks spent $2.4 million, which included a $1 million grant from the Richard A. Fairbanks Foundation, to upgrade the existing facility with a new computer system and new beds, among other items, to make the hospital more inviting to patients.
The hospital had 70 beds when Cross arrived—it's since expanded to 86—but at the time, only half might have been occupied, she said. That Fairbanks didn't even have brochures to market its services likely contributed to the overabundance of available rooms, Cross said.
Fairbanks also opened an outpatient facility in Kokomo last year and another in Plainfield in May. And it partners with Marion County Community Corrections to offer treatment at the Duvall Residential Center near Massachusetts Avenue and North Rural Street, in addition to Larue D. Carter Memorial Hospital, J.P. Craine House, and the Fathers and Families Center.
The expansions helped Fairbanks record a profit of $1.1 million for the fiscal year ending June 30, 2011, on revenue of $21.3 million.
Meanwhile, Cross plans to write and travel in her retirement, and has agreed to serve as an executive mentor one day a week for students at Butler University's College of Business.
She's confident Fairbanks will be in good hands.
"We've never had to use the line of credit in the past 11 years," she said. "Sometimes we had to use it to meet payroll, and that was scary."•
 
Please enable JavaScript to view this content.