Wilted leaves hang from potato plants in a far corner of Harvestland Farm west of Anderson.

Employees this spring improvised an irrigation system, tapping a pond in the center of the property. But by the end of June, they had drained the small body of water as they tried to keep crops alive.

An early spring was good for yields at the not-for-profit farm, which is run by the mental health group Aspire Indiana. But when the severe drought set in, the farm was forced to replant and hope for rain.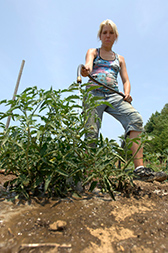 Alexis Hulett has to use a hose to water part of the field at Harvestland Farm in Lapel. Not-for-profit farms and community gardens are especially struggling from the drought. (IBJ Photo/ Perry Reichanadter)
"We've still been able to bring enough to make our farmer's markets look nice," said farm foreman Joseph Monroe. "We'll probably feel it when … people are expecting peppers and we don't have them yet."

The National Weather Service recorded just 0.09 inch of rain in Indianapolis last month, the city's driest June on record. The parched conditions have forced staff and volunteers at dozens of not-for-profit farms and community gardens to struggle with problems as basic as finding water.

Steve Mayer, a Purdue University extension educator in Marion County, said the dry conditions have forced small horticulture programs to be resourceful.

"Some community gardens do not have as ready of a source of water," he said. "They might have to go down the block to get it from a hydrant."

And when water hasn't been an issue, the heat has been.

Laura Henderson, executive director of Growing Places Indy, said her group is fortunate because two of its three urban gardens have in-ground sprinkler systems. The third is next to her home, where she easily can water the plants.

However, "even if they're alive, they're not thriving," Henderson said. "They're not growing. They're not producing. Just like in winter, things go dormant. When it gets really hot, they do the same thing."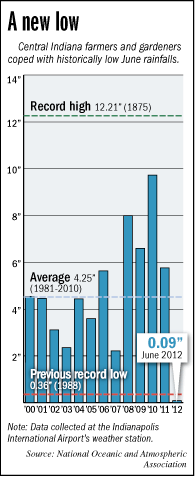 Besides growing and selling produce, Growing Places Indy conducts educational outreach, including summer programs that teach young adults about horticulture. Revenue from produce sales helps support the programs.

This year, the organization might see a 10- to 20-percent drop in crop yields if the heat continues, Henderson said.

"And that's just because we have water," she said.

Produce the group doesn't sell goes to other organizations, including Second Helpings.

The Indianapolis food rescue organization usually receives thousands of pounds of fresh produce in July and August from its various contributors, said Ben Shine, Second Helpings' spokesman.

"With crops, things can change in a week," Shine said. "All we need is a good week of rain, and everything will be fine. So we're kind of fingers crossed."

Even if the summer stays dry, Henderson isn't worried about Growing Places Indy's revenue because produce sales account for less than 10 percent of the budget.

Aspire Indiana is in a similar position. Harvestland generates less than half a percent of its budget, Chief Operations Officer Barbara Scott said. The organization uses farming for vocational rehabilitation, not as a revenue generator.

"We've found that folks are gaining a skill and they're going to work at another place," Scott said. "That's what it's all about."•