Last month, former Angie's List employees gathered for a reunion at Elevator Hill, the 18-acre parcel of near-east-side buildings that was once the online consumer-review company's headquarters campus.
The event drew hundreds, but many came for more than just a chance to commiserate with workmates. They also wanted to see their former boss—serial entrepreneur, philanthropist, activist and Angie's List co-founder Bill Oesterle.
"They came back because of Bill," said longtime Angie's List employee Cheryl Reed. "There's just something about him. These people ran the gamut, from folks in the gay rights community to hardcore Republicans to Democrats like me. So many people just wanted to say 'thank you' to him."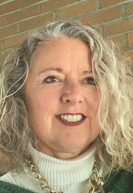 Oesterle, whose numerous friendships span the political, cultural and socioeconomic spectrum, is something of an anomaly these days. In a time when so many people hunker down in ideological silos, Oesterle, 56, has built a career out of bringing disparate groups together to support common causes, eschewing dogma in favor of community.
That approach led to a list of business and philanthropic achievements long enough to fill several resumes. On the professional side, he co-founded Angie's List in 1995 and served as its CEO from 1999 to 2015, oversaw Mitch Daniels' successful run for governor as his campaign manager, and continues to serve as a mentor and angel investor for numerous former employees starting their own businesses.
Oesterle's philanthropic efforts include founding Friends of 38th to help revitalize the 38th Street corridor, becoming a co-owner of the former Angie's List campus and assisting in its redevelopment, and purchasing the former Holy Trinity Greek Orthodox Church at 40th and Pennsylvania streets in 2008 and leasing it at no cost to Indianapolis Opera for more than a decade until the group could afford to buy it this year.
"I tend to find that the causes I'm interested in I have a very direct association with," said Oesterle (who lives on 40th Street). "They tend to be the communities I directly touch."
His primary goal—which has long stood above his other professional and service projects—is to stem the brain drain of bright young minds from Indiana. The effort began in 2002 with the founding (along with then-Angie's List Chief Operating Officer Scott Brenton and Angie's List Chief Marketing Officer Angie Hicks) of the Orr Fellowship, designed to attract newcomers to the Indianapolis workforce and build them into business leaders and entrepreneurs. And the work continues with his latest startup, TMap, founded to help bring homegrown talent back to Indiana.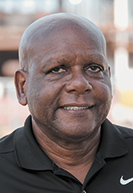 "Bill is smart—but a lot of people are smart," said John Thompson, CEO of Thompson Distribution Co. and First Electric Supply Co., as well as an investor in a number of Oesterle's efforts. "But Bill has a unique way of looking at things, at thinking about things and solving problems—like he's doing with TMap. He has a creative way of adding value to things he's doing."
And so it is that Oesterle, in recognition of his years of service as a community leader and entrepreneurial force, is the 28th recipient of the Michael A. Carroll Award. IBJ bestows the honor annually to a man or woman who has demonstrated the former deputy mayor's qualities of determination, humility and service. Carroll was among six people killed when two small planes collided over southern Marion County on Sept. 11, 1992.
'You'd better come back'
Oesterle was born in Lafayette, the youngest of the five kids of Eric and Germaine Oesterle. His father taught agricultural economics at Purdue University, while his mother (who left school to marry) was herself only a few credits short of earning a plant pathology doctorate from Cornell University in upstate New York.
He received less-than-stellar marks in high school, which meant he couldn't attend the University of Texas, his first choice. Instead, he enrolled at Purdue.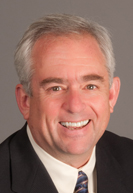 He graduated with a degree in economics, but fate steered him first toward politics. In 1987, he landed a fellowship in Gov. Robert Orr's office, where he struck up a relationship with one of Orr's aides, Mark Lubbers. It was the start of a long-running, productive relationship. Lubbers first enlisted Oesterle for a one-year job helping Orr develop a program to boost international trade, then found him a fundraising position at the Hudson Institute, a public-policy think tank which at the time was in Indianapolis.
"We had an initial conversation that probably lasted half an hour," Lubbers recalled. "He impressed me. I could tell he was going to be a superstar. He was ambitious and humble and eager—and optimistic about the state's future."
Oesterle's time at the Hudson Institute led to a fateful encounter with its then-president, Mitch Daniels. Lubbers had persuaded Oesterle to seek an MBA at Harvard Business School, but Daniels had some strong opinions on what he should do afterward.
"Mitch sat me down for breakfast before I went to business school and he pointed a finger at my chest and said, 'You'd better come back here. You owe it to us,'" recalled Oesterle, who was 23 at the time.
He did, indeed, return and built his career in Indiana. Daniels' words, he said, have always stuck with him, perhaps because they seemed so unusual.
"I had not heard that sort of message, that I ought to return to Indiana, from anyone before that time," he said. "But I remember it very profoundly. I have two brothers and two sisters. They're all older than me and arguably a lot more accomplished. And they all left. They never had this conversation about coming back. Why can't we deliver that message to Indiana kids at scale?"
The state certainly got its money's worth out of Oesterle, who has since become one of his home state's strongest proponents. He also boosted it economically by co-founding Angie's List, which he shepherded from a relatively small, mom-and-pop operation into a publicly traded company with almost 2,000 employees. It was acquired by New York City-based IAC in 2017 for $750 million.

'Creator of opportunity'
During his years at Angie's List, Oesterle also found time both to persuade Daniels to run for governor and to serve as his campaign manager during the 2004 race. Daniels was still President George W. Bush's Office of Management and Budget director when Oesterle kicked off a grassroots, under-the-radar draft campaign called Frugal Hoosiers for Mitch.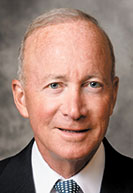 "Bill was the one who persuaded me," said Daniels, now Purdue's president. "He played on my conscience. I think he said, 'You told me to come home. Now I'm telling you the same thing. Come back.'"
Daniels acquiesced, but only if Oesterle ran the campaign. Oesterle obliged, creating an election effort that appeared folksy (Daniels traversed the state three times in an RV, staying overnight with constituents) yet raised a record $18 million war chest. Daniels won the election, ousting incumbent Democratic Gov. Joe Kernan.
One of the effort's operatives was Ben Ledo, at the time an Indiana Statehouse intern in his early 20s who wanted in on the "draft Mitch" movement. He was told to go see Oesterle at Angie's List headquarters.
"One day I kind of showed up there and asked to meet with Bill," Ledo said. "He was kind enough to do that, and then summarily put me to work for free."
Ledo began by setting up office cubicles in a dilapidated building that served as campaign headquarters. Then he was promoted to a paid gig driving the campaign's iconic RV. He parlayed that service into five years in the Governor's Office, followed by another nine at Angie's List. Today, he's senior director of logistics for a Fort Wayne trucking company.
"He's really the creator of opportunity for people who want to seek that out," Ledo said of Oesterle. "Bill is a risk taker, and when he believes in something, he's willing to stand up for it."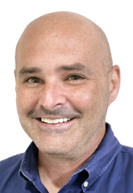 Ed Sherman likewise owes his start to Oesterle. He joined Angie's List as a customer service rep, but rose to become director of sales.
"That's one of the things about Bill," Sherman said. "He talks a lot about finding people who may not have a pedigree but are good people. And if you find those people and put them in a good situation, they'll perform well. It's about believing in people and giving them an opportunity."
In this particular case, Oesterle really went the extra mile. Sherman's wife got a job in southeastern Ohio, but Sherman decided to stay at Angie's List and go to Ohio on weekends. Oesterle let him move into an apartment over his own garage, so he'd have a place to bunk during the week.
"One of his many great qualities is that Bill is all about including people," Sherman said. "When he got married, without even thinking twice he included the entire company on the guest list. It always makes him uncomfortable when someone gets excluded."
No one left behind
That might be the root of Oesterle's titanic disagreement with the state GOP over the Religious Freedom Restoration Act—known as RFRA—which the Republican-led Legislature passed in 2015.
The law, signed by then-Gov. Mike Pence, aimed to give judges guidelines for protecting religious liberties in civil cases, but critics—including Oesterle—said the law would essentially authorize discrimination against the LGBT community.
Eventually, the Legislature amended the law to say it couldn't be used to permit discrimination, but Oesterle did not think that went far enough. He advocated for a full repeal.
In fact, he was in the front ranks of the opposition from day one. He threatened to cancel a $40 million expansion of the Angie's List campus (which he ultimately did); announced that he would quit his CEO position to focus on Hoosier gay rights issues (which he also did); and considered running against Pence (whose candidacy he'd supported with $150,000 in donations) for the governorship.
A prominent cog in the Indiana Republican machine taking such a radical stand might have seemed odd to outsiders. But it wasn't to anyone familiar with Oesterle's discomfort about leaving people isolated.
Reed said that, over the years, the two of them had discussed (often quite loudly and energetically) how Oesterle could be such an ardent Republican. The conclusion: He's a big fan of such old-school GOP values as smaller government and fewer regulations. But not so much of things like RFRA, nor any other initiative that he believes doesn't originate from a place of compassion and inclusion.
Reed said that spirit won her over.
She'd previously worked for Democrat Gov. Frank O'Bannon and was an ardent supporter of Kernan, who was ejected by Oesterle's campaign. Still smarting, she took a job at Angie's List, anyway. Oesterle wasn't part of the interview process, which was fine with her. She wanted nothing to do with him.
"But he wasn't a terrible person," Reed said. "In fact, I came to learn so many things from him. He's one of my favorite people in the world right now."
His numerous, almost routine, acts of personal largesse went a long way toward winning her over.
"He was coming into the Firehouse [the company's reception center, which was, in fact, an old fire station], and he happened to come in at the same time as a new call-center guy reporting for his first day," Reed recalled.
The man was obviously very sick with a cold. When Oesterle asked him why he'd dragged himself into the office in such a state, he said he only had a certain number of sick days and that if he missed work he'd be fired.
"Bill said, 'Go home and come in when you feel better,'" Reed recalled. "'I'm going to talk to your boss.' And he did."
In a similar vein, in 2003, when Oesterle and his team needed someone to run the company's mailroom, they took the unusual step of walking over to Horizon House, a day center serving the homeless. There they found and hired Jerry Schisler, a homeless man who within a few months grew the mailroom from just himself into a five-person team.

'Great faith' in Indiana
The idea of improving the state with compromise and teamwork, and by appealing to Hoosiers' better angels, seems somewhat quaint. Yet Oesterle sees it as the only way forward.
"I find the people of Indiana to be fundamentally reasonable," he said. "I have great faith in their ability to navigate these times."
He's also supremely confident that Indiana's "brain drain" can be solved. Put simply, too many skilled, educated people are leaving, and not enough are either being born or immigrating here. Hence his newest company, TMap. Located inside a 70-year-old art deco bank building on East 38th Street, it was founded with $1 million in seed money. Its goal is to find skilled people with Indiana connections who work outside the state and match them with Hoosier employers.
To make that happen, TMap built a millions-strong database of folks who went to school in Indiana during the past 25 years but don't live here. Purdue, Indiana University and the University of Notre Dame, among other state universities, contributed to the list. The names are combed through by TMap's proprietary software, which examines the skill sets of out-of-state candidates. They are then matched with potential in-state companies, who pay TMap a fee for successful placements.
An initiative launched by TMap—MakeMyMove—connects remote workers who are seeking to leave high-cost areas to communities offering incentives.
The fact that these are for-profit ventures, and not charities, is important to Oesterle. As always, and true to his Republican roots, he wanted a for-profit way to solve Indiana's population problem. The reason, in his view, is simple. Truly big problems require not a million dollars or even tens of millions to fix, but perhaps hundreds of millions over many years, plus the concentrated effort of a corps of talented people.
"A for-profit enterprise has the discipline to make that work," he said. "Capitalism, to me, is about solving problems. If you can do that at scale, you're successful. I'm trying to line up incentives so that we can face this big problem on the scale of tens of thousands of people. I don't think you can do that with just not-for-profit support. There's not enough of it."
Though the brain drain question has troubled him for decades, Oesterle is optimistic (as he is with just about everything) about fixing it.
"This company exists because I thought this was the biggest problem Indiana faced," he said. "There are seven-and-a-half billon people in the world. We only need 100,000 per year, and we're fine."
In fact, he's optimistic about pretty much everything to do with Indiana.
"It starts with the fact that I love this place," he said. "I can't fully explain the mystery of community, but I have that with these people. I believe wholeheartedly that our raw material is excellent. So it's really a matter of culture, expectation and organization. Those things don't depend on mountains or beaches. Those are human creations. Let's see what we can do about those."
'The gift of certainty'
Ever the multitasker, Oesterle opened his new company headquarters on East 38th Street in order to help revitalize the corridor. True to form, Oesterle wants 38th Street to stop being a dividing line between white neighborhoods to the north and black neighborhoods to the south, and instead become a racial connector.
"There are major institutions on this street," he said. "There are some of the best neighborhood associations in Indianapolis as well. Let's get together and advocate for the street. Let's lower the traffic rate. How about better speed enforcement? How about a bike trail that takes up a lane? There are lots of tools other cities have used that are available to us."
Oesterle said solving such problems is fun for him, and for the people he works with. But though his schedule is still busy, it's not as packed as it used to be.
Several years ago, he started having trouble swallowing and noticed a slight but increasing loss of fine motor control and slurred speech. After a couple of years of wondering what was wrong, he was diagnosed with amyotrophic lateral sclerosis, or ALS, a degenerative disease that affects nerve cells in the brain and spinal cord. It causes the gradual loss of muscle control, eventually making everything from speech to walking impossible.
"I'm pretty active right now," he said. "We'll see how that plays out. But, yeah, I'm busy right now."
Nevertheless, the disease has started to slowly curtail his activities. For instance, his days as an amateur airplane pilot are over. And getting ready to come to work in the morning is becoming an ever more drawn-out affair.
"It's aggravating to be me because I used to be really efficient at getting out the door in the morning," he said. "Now, I can't do that."
And yet, Oesterle thinks he's in a better place today than before his diagnosis, when he suffered from a grab bag of bewildering symptoms, with no idea what caused them. ALS is terminal, but this definitive answer brought with it a certain amount of peace.
"There were two years where they didn't know what I had," he said. "I hated that, because of the uncertainty. How can I make plans? Is there hope? Now, I don't have to worry about that. In a weird way, I have the gift of certainty."
At least he doesn't have to struggle with regrets about an ill-spent life. The father of six can look back on a track record of public service, a future in which he will continue to serve as long as possible, and a legacy of making Indiana better.
"The most poignant thing I can say is that, when you get this diagnosis, there's a very natural assessment of one's life," Oesterle said. "What am I doing? What do I want to do? I went through that process and came to the happy conclusion that I'm doing exactly what I want to be doing."•
Editor's note: IBJ's co-owners—Nate Feltman, Mickey Maurer and Bob Schloss—have invested in some of Oesterle's ventures, including the purchase and redevelopment of the former Angie's List campus. Oesterle is not an investor in IBJ Media.
Please enable JavaScript to view this content.