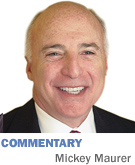 Off campus, I hope to become an audible and credible voice for the critical role of higher education in the nation's future, and an effective advocate of Purdue to those who might support its growth in quality and reputation.
Mitch Daniels, June 21, 2012
One could spend from now until next Fourth of July reading articles and commentary on Purdue University's magical selection of Mitch Daniels for its next president. I join the throng who are sure that Daniels will rank among its most successful presidents, including Steven Beering and Martin Jischke. That's no small feat.
On campus—students, faculty, fundraising, budgets, administration—I see no problem, but I do wonder what President Daniels can do off campus to benefit the nation and the world from the platform he has been presented. I suggest he glance at the template provided by Father Theodore Hesburgh, who served as president of Notre Dame for 35 years and used that position to lead on critical issues not only within the school but outside as well.
While serving as president of the university, Hesburgh joined a number of organizations, including the International Federation of Catholic Universities and the Association of American Colleges, serving as president of both groups. In 1956 the Vatican appointed him as a delegate to the International Atomic Energy Agency, which laid the groundwork for the landmark Nuclear Proliferation Treaty signed by more than 100 nations. He served in that capacity for 15 years.
In 1957, when segregation and racial discrimination became visible, volatile issues, Congress created the U.S. Civil Rights Commission to study the subject and make recommendations. Some may have questioned Hesburgh's suitability for his appointment to this commission. He was well into his 20s before he had any significant contact with blacks. Moreover, the student population at Notre Dame was a homogenous lot. Yet he was appointed by President Dwight D. Eisenhower as one of the commission's six members and served for 15 years. The Omnibus Civil Rights Act of 1964, a landmark piece of legislation followed by civil rights bills in 1965 and 1968, were seminal laws based in large part upon the work done by the commission.
In 1961, President John F. Kennedy signed an executive order creating the Peace Corps. He gave control to his brother-in-law, Sergeant Shriver, who in turn asked Notre Dame to conceive of a pilot project for the group. Hesburgh offered Bangladesh, Guyana or Chile. Shriver chose Chile. Hesburgh was instrumental in launching that first Peace Corps project, an effort to teach reading and writing in the rural central valley of that South American country. Hesburgh obtained the permission of the Chilean government necessary to allow the project to begin. Later, Notre Dame trained many Peace Corps volunteers.
In 1989, Hesburgh was appointed to the Knight Commission on Intercollegiate Athletics with a task to clean up the moral mess in big-time college football and basketball, which included faking grades and paying student athletes. The Knight Commission managed to transfer control of the sports programs from athletic directors to university presidents. The commission insisted that presidents take responsibility for the rampant cheating occurring in their athletic departments.
Hesburgh was busy with his duties at Notre Dame but still was away so much that he was the subject of a campus joke: What's the difference between God and Hesburgh? God is everywhere; Hesburgh is everywhere but Notre Dame.
Daniels has made it clear that he is not willing to run for a national office. His political career is probably at an end but not his interest in the issues of the day, all carefully parsed in his book "Keeping the Republic"—health care, Social Security, the national debt and education, just to name a few.
The Purdue appointment is an opportunity to enhance the international reputation of Purdue and enable "Our Man Mitch" to excel on the world stage.•
__________
Maurer is a shareholder in IBJ Corp., which owns Indianapolis Business Journal.  His column appears every other week. To comment on this column, send e-mail to mmaurer@ibj.com.
Please enable JavaScript to view this content.