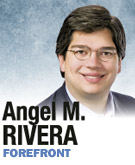 During his time in office, Gov. Mitch Daniels has maintained a plain-spoken demeanor, recruited talented professionals to his administration, and remained laser-focused on fixing the state's fiscal woes. On more than one occasion, he has quipped that any errors would be errors of commission, not of omission.
His leadership style is very different from your typical ivory tower academic at a research university. As an Indiana University grad, I am jealous of all the success he might bring Purdue, and as a taxpayer I'm excited about the prospects.
Like most, I was surprised by the appointment (kudos to The Exponent, Purdue's student paper that wrote about it about a month ahead of the Indianapolis media).
My last conversation with the governor about his future focused mostly on jobs he did not want. The coasts will miss out on a dynamic business executive.
In October 2008, after a day-long motorcycle ride, I asked Daniels what he wanted to do after his second term ended. He described heading west on his Harley Davidson without a specific destination. Maybe stopping at random sights like the "world's largest gumball."
Long motorcycle rides generally include a conversation planning a future ride that may or may not actually occur. While I share his longing for an undisturbed cross-country ride, I am glad he has decided to postpone it. Besides, mid-January is hardly ideal riding weather.
Daniels as president of Purdue brings a lot of national exposure, street credibility with business and political leaders, and proven management and leadership skills to guide the university toward a successful future. Students at the Krannert School of Management could have unique opportunities working with the administration setting up public-private partnerships and streamlining operations.
In the summer of 2003, early in his first campaign, a group of friends (including now-Sen. Jim Banks) and I hosted a hog roast to introduce candidate Daniels to young Hoosiers. A few hundred of us showed up. The food was excellent, and a big sign read, "We want to stay."
Our goal was clear: We did not want to have to leave Indiana to find a good job. We wanted to be able to find great opportunities, innovate and raise our own families right here in Indiana. Our state needed to shake off its aversion to reform in order to become a success story.
Then-candidate Daniels liked our message, and it became an ongoing theme during his campaigns and his two terms as governor. At Purdue, he can continue working toward this goal. Purdue, an engine of innovation and a magnet for international talent, is in a strong position to support business growth and attract capital to Indiana.
I predict ambitious goals and dramatic achievements for the university. Judging by his record as governor, expect expenses to be cut, a variety of performance measurements to be tracked closely, and a new prejudice against "business as usual."
He might even bring his knack for constantly benchmarking Indiana against peer states, injecting a healthy dose of competition to higher education, and forcing other universities to improve performance in their efforts to keep up.
I hope and expect Daniels will find ways to cut tuition costs. A national debate about the human and economic implications of student debts on college grads (and dropouts) is heating up. Watch for Gov. Daniels—President Daniels by then—to devise and implement practical approaches to reducing the debt load of Purdue graduates and increasing the value of a Purdue degree.
That's good news for all Hoosiers—especially students and their families.•
• Rivera is a sales consultant and former at-large city-county councilor. Send comments on this column to ibjedit@ibj.com.
Please enable JavaScript to view this content.