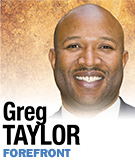 State Sen. Mike Delph, a Republican, agreed to write an op-ed about the decision but missed the deadline. He may contribute an op-ed at a later date.
The recent decision by the U.S. Supreme Court on the Arizona immigration law draws attention to a similar Indiana law. Whether Indiana's law, approved in 2011, is constitutional is a question that will have to be answered by the courts.
The pending challenges to two provisions of Indiana law now in federal court along with the U.S. Supreme Court decision will speak to that question and the larger question of the role of states in regulating immigration.
Political posturing only oversimplifies a complex situation. The issues surrounding Indiana's immigration law are not necessarily as black and white as proponents would like us to believe, and how we address these challenges has ramifications beyond our state borders.
The court's opinion found that "the federal power to determine immigration policy is well settled." The opinion goes on to read, "Immigration policy can affect trade, investment, tourism and diplomatic relations for the entire Nation, as well as the perceptions and expectations of aliens in this country who seek the full protection of its laws."
Immigration policy has broad impact, from the human reality of individuals living among us to our nation's role in the international community.
The appearance of how we treat people means something. The environment and protection created by our laws and how we enforce them mean something. And the role of our state and our nation in the world means something.
A concern expressed to legislators by a chorus of voices during the 2011 deliberation of Indiana's law was how immigration policy influences the perception of our state.
Concerns were expressed that an anti-immigrant atmosphere will affect economic development and employers' ability to recruit talented foreign workers. Will it deter foreign faculty members from training students at our state's universities, and foreign students from staying and becoming part of an attractive work force after obtaining higher degrees at those universities? Will foreign investors see our state as fertile ground for economic opportunities or as a hostile environment?
For example, one provision under review by federal court makes it a crime for anyone to accept an ID, other than a passport, issued by a foreign consular as a valid form of identification. Indiana's law can put banks, retailers and others in conflict with international agreements, such as treaties. It could also be in conflict with the fact that the U.S. Treasury allows banks to accept those IDs.
Another example from Indiana's law is the role of local law enforcement in detaining suspected illegal immigrants. While allowing local officers to arrest individuals with pending immigration orders might appear straightforward, an order as described in the law does not necessarily mean the individual is subject to immediate deportation. Such an order could be in effect while the individual awaits a decision on a pending application for refugee status or a visa.
Again, this is a distinction and legal determination best left to federal immigration officials, not our county courthouses.
The reality is that immigration is at the heart of the American story, and it has never been a straightforward affair. There are laws to be followed and policy to be refined.
To oversimplify the arguments and portray ourselves as inhospitable does nothing to help move our state forward.•
• Taylor, a Democrat, represents Indiana Senate District 33 in Indianapolis. Send comments on this column to [email protected].
Please enable JavaScript to view this content.