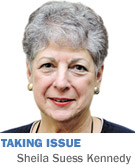 I participated in a discussion of "Sharia Beyond the Headlines" at the Indianapolis InterChurch Center. The event was sponsored jointly by the Center for Interfaith Cooperation and IUPUI's School of Liberal Arts, and it drew a capacity crowd.
The immediate impetus for the symposium was recent legislation in several states forbidding American courts from "imposing" Sharia law. As professor Edward Curtis explained during opening remarks, and Judge David Shaheed underscored during our panel, such efforts betray a lack of understanding of what Sharia is—a "path" to righteous living for Muslims, focused primarily on the obligations of individuals to their God, and subject to various interpretations.
These prohibitions, and similar efforts to ward off "foreign" legal influences, are nothing new.
I grew up Jewish in Anderson, where there were a total of 30 Jewish families. I fielded questions like, "Do Jews have tails?" Less naïve—and nastier—comments assumed Jews' dual loyalty, and a commitment to Israel that would trump our allegiance to the United States.
Fast forward to 1960. I was in college and Kennedy was running for president. People warned me that, if he won, the pope would rule America. They said Catholicism was incompatible with Americanism.
More recently, it's been anti-immigrant rhetoric about Latinos. "They" won't learn our language; "they" will change America's culture.
It's probably human nature to fear and demonize the "other." (When my husband's pocket was picked in Spain, a nice man from Barcelona explained that it was clearly the work of Moroccans. These exaggerated fears of people who don't look or act or believe like us have really become counterproductive.
Also, it's obvious that the people agitating for these laws have no idea what courts do, or how law works.
If I die leaving instructions to divide my estate in accordance with Islamic law, should the court be forbidden to enforce my will? If I contract to do business with a French company, and agree that French law will govern any disputes that arise, must American courts ignore that decision? If orthodox Jews voluntarily take a dispute to the Beth Din–a Jewish arbitration tribunal, shouldn't American courts enforce that tribunal's decision just as they routinely enforce thousands of other arbitrations?
The First Amendment's Free Exercise Clause already requires courts to abstain from deciding purely religious disputes. Courts will not take jurisdiction over arguments growing out of religious doctrine, for example. And religious belief cannot successfully be used as a defense in cases where American laws have been broken. "God wanted me to blow up that building" doesn't cut it in a court of law, no matter whose god we're talking about.
The passage of legislation to prevent the nonexistent "imposition" of Sharia rests on profound misunderstanding of the operation of law and the role of the courts.
It's also a great example of the old "elephant" story: A man in a room is making circles in the air. Asked what he's doing, he says, "Keeping the elephants away." The questioner protests that there are no elephants, to which the man responds triumphantly, "See. It works!"
During my own lifetime, I've seen American society get more comfortable with Jews and Catholics and various "others," and I have some confidence that we'll live through the current hysteria over Muslims aka "Islamic terrorists." But better understanding of Islam and our own legal system—not to mention some common sense—would help a lot.•
__________
Kennedy is a professor of law and public policy at the School of Public and Environmental Affairs at IUPUI. She blogs regularly at www.sheilakennedy.net. She can be reached at skennedy@ibj.com. Send comments on this column to ibjedit@ibj.com.
Please enable JavaScript to view this content.