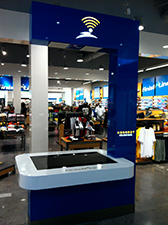 The in-store interactive tablets—once they're up and running—should allow customers to explore Finish Line's online offerings and product reviews. (IBJ photo/Cory Schouten)
It's the store of the future for home-grown athletic shoe and apparel retailer The Finish Line Inc.
The prototype—launched May 25 at Castleton Square Mall—aims to use technology to marry brick-and-mortar to the company's online operation.
Associates ring up sales on handheld mobile devices that also offer access to the chain's inventory, and customers can explore online offerings and product reviews on a series of tablets and a 42-inch touch-screen table at the store's entrance.
Only problem: The interactive tablets—a centerpiece of the new so-called omnichannel strategy Finish Line plans to roll out across its 640 stores in the coming months—are not yet up and running.
The tablets were showing blank screens or error messages on a recent store visit, and chain officials say the technology is still in a testing phase.
Finish Line CEO Glenn Lyon didn't mention as much in a conference call with Wall Street analysts June 29. He did rave about double-digit gains in sales for all product categories in the new high-tech store.
Lyon
"Since the store reopened last month, consumers have voted with their wallets and their feedback is that they love what we have done to enhance the store experience," he said, according to a transcript. "While it is still early and this location is larger than our typical footprint, the initial results give us added confidence as we embark on our most aggressive retrofit schedule in years."
In an interview, Lyon said the company never expected the technology to be plug and play. Staffers are working to ensure fresh and relevant content and quick connections.
"This is not a glitch," Lyon said. "It's a process. Our expectations are our expectations."
The stakes are high for Finish Line: The chain plans to spend $85 million this fiscal year on capital expenditures to transform its store base—triple what it spent last year.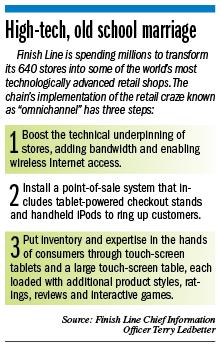 According to a presentation to investors, the investment will be split evenly between digital initiatives—including store technology and supply-chain upgrades—and brick-and-mortar. The latter category includes new stores, relocations and remodels.
About $15 million of that total will buy Apple iPods enabled for mobile checkouts via credit and debit cards and Windows-based tablets giving customers an interactive in-store experience.
One of the cooler features would allow customers to place microchip-equipped shoes from the store's shelves onto a touch-screen table to pull up specifications, reviews and other available color schemes.
The company has turned on the tablets for testing in the Castleton store and plans to allow the first customers to use them under watchful eyes in the next few days, said Terry Ledbetter, Finish Line's chief information officer.
"We feel like we've got a little bit of work to do before it's in a state we want customers to look at it," Ledbetter said. "I don't care how much pressure I get. We can't take something live that's going to disappoint the customer. It should at least out of the gate wow them."
The fact the tablets aren't up and running is a concern for Sam Poser, an analyst in New York for Sterne Agee who covers Finish Line.
Poser said the company left analysts with the impression the Castleton store was fully operational, since Finish Line already tested the concept at a pilot store within its corporate headquarters.
The company said in late March that its aggressive investments in technology would result in lower per-share earnings growth than Wall Street expected, sending its shares tumbling about 15 percent to $21. (They were trading at about $20 as IBJ went to press.)
The concern among investors, Poser says, is whether Finish Line's plans called for too quick a rollout.
The company plans a full remodel including brand showcases like Nike Track Club for about 20 locations this year but will introduce the technology to more stores. About 250 locations are scheduled to get tablets in fiscal 2013, while all stores will get mobile checkout capability.
"All ideas can be good ideas, but nothing goes as well as planned," Poser said. "Even if it's a great idea, you end up having to do things twice or three times because you didn't work out all the kinks."
Other analysts are not so concerned.
Northland Securities analyst Reed Anderson told Footwear News for a story July 9 that Finish Line's investments make it a pioneer in merging online and store retail.
The chain's online sales jumped 28 percent for the quarter ended June 2.
"They certainly are getting a lot of traction on the digital side of the business," Anderson told the industry publication. "If you look at their competitors, they're ahead of anyone else coming out of a brick-and-mortar background."
Lyon said Finish Line won't hesitate to hold up the rollout if there are problems at Castleton Square.
"When you lead, you're vulnerable to criticism," he said. "I'm willing to invest carefully and make sure the customer experience is enhanced. But ultimately, tablets [and other devices] will be part of the retail experience."
Lyon initially declined an interview request through a company spokesman, who said Finish Line executives were preparing for the company's annual shareholder meeting on July 19.
The spokesman said the company would not allow a photographer to take photos at the prototype store, blaming a new shipment of store inventory.
Company officials agreed to an interview after an IBJ reporter visited the store and observed that none of the Finish Line "Connect: Seek. Shop. Share" stations were operational.
Lyon said Finish Line has nothing to hide and no plans to slow down the implementation of its technology plan.
Ledbetter said the transformation of Finish Line's stores has three steps: replacing the "technical underpinning" of the chain's stores for increased bandwidth and wireless access; providing store associates with a new point-of-sale system including handhelds; and giving customers access to additional product information and inventory via tablets.
Behind the scenes, even more technology upgrades must be integrated seamlessly, including those for the chain's inventory and fulfillment systems.
"This is a layer cake," Ledbetter said. "The technology has to be put in place in this order to make it work. As we get customer and store feedback, we'll continue to make changes and new versions."•
Please enable JavaScript to view this content.