The key to understanding the recently announced partnership between American Health Network's physicians and Franciscan St. Francis Health hospitals is an insurance company.
American Health, the state's largest independent physician practice, sought out a partnership with the Franciscan hospital system to compete for bonus payments under a new "shared savings" program created by the 2010 health reform law.
The program, run by the federal Medicare health plan for seniors, compares overall health care costs for a group of patients from one year to the previous year and splits any savings with the doctors caring for those patients.

Park
What American Health was really after in the partnership wasn't Franciscan's hospitals, but its relationship with Advantage Health Solutions Inc., a health insurance company Franciscan co-owns with other Catholic hospital systems.
"We needed someone with health insurance infrastructure," said Dr. Ben Park, CEO of American Health, which employs more than 150 physicians in Indiana and about 50 in Ohio.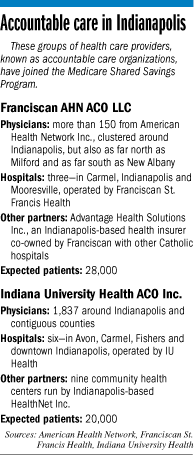 Indianapolis-based Advantage has created an IT system that easily connects with any heath care provider—whether or not it has an electronic medical record system.
That IT system, called ADVantis, will help American Health physicians track all the 28,000 Medicare patients they serve—even as those patients get care from other physicians, outside hospitals, blood labs, drugstores, urgent care centers and nursing homes. The system also can track the cost of all those health care encounters.
"You really have to have all of that as a physician if you're going to be able to best manage patient health," said Vicki Perry, CEO of Advantage Health Solutions Inc.
Managing the health of Medicare patients is what the "shared savings" program is all about. The program tracks how many of a doctor's patients receive recommended tests and vaccinations, as well as how few patients with chronic diseases like congestive heart failure end up needing a stay at a hospital.
Overall, better care should prevent hospitalizations and expensive procedures. If doctors do that successfully, Medicare promises to split any savings with them 50/50—up to a maximum of 10 percent of the total payments Medicare makes to a doctor in a year.
Park said he talked to all four of the major Indianapolis hospital systems after the Medicare shared savings program was kicked off by the 2010 Patient Protection & Affordable Care Act. The shared savings program is one of several new Medicare programs to promote what the law calls accountable care organizations.
Park also talked to health insurers WellPoint Inc. and UnitedHealthcare about partnering with American Health to create an accountable care organization to take advantage of the shared savings program. None of them, other than Franciscan, were far enough along to do it, Park said.
Franciscan jumped into the accountable care concept with both feet. In December, Franciscan and 700 physicians won approval as an accountable care organization under an earlier version of Medicare's shared savings program known as the Pioneer ACO program.
"We feel the viability of our health system nationally is at risk. We need to identify, create and implement new ways of managing our activities," said Bob Brody, CEO of Franciscan St. Francis Health.

Brody
Brody said the accountable care activities could in the future extend to other areas in which Franciscan or American Health operate.
The state's largest hospital system, Indianapolis-based Indiana University Health, also won approval in July to participate in the Medicare shared savings program.
"We believe the future of health care will require providers to improve the value of care that they deliver," said Dr. John Fitzgerald, CEO of IU Health Physicians. "Given that that has been our focus these past two years, it was a natural program to get into."•
Please enable JavaScript to view this content.