Big truck dealers would be happy to sell your business a diesel-electric hybrid truck.

But you might think twice about the economic viability of such a vehicle first, say two researchers at Indiana University's School of Public and Environmental Affairs.

John D. Graham and Kerry Krutilla—who risk being regarded as blasphemers by green disciples—question the higher price of such vehicles over conventionally powered vehicles.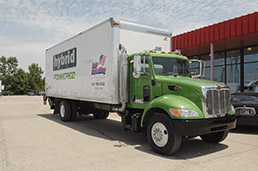 Researchers say government subsidization of hybrid trucks is not cost-effective. (IBJ File Photo)
They cite volatile fuel prices, uncertain technology and other such trends in saying that fuel savings and environmental benefits might not be sufficient to recover higher investment costs.

The authors of "Are Green Vehicles Worth the Extra Cost?" note that federal fuel consumption regulations are improving the economics of conventional diesel vehicles, for instance.

The federal government has been promoting hybrid use, but the effects of tax breaks available to buyers of such vehicles, and reduced fuel tax collections, has worsened the federal fiscal picture, they write.

"Looking over a 20-year period, there aren't many scenarios where the government would be justified in significantly subsidizing hybrid truck manufacturers or consumers," said Graham, a former administrator in the White House Office of Management and Budget.

Of course, he and Krutilla caution that conditions can change.

The study received a grant from truck-maker Navistar, which has developed hybrid trucks along with most other truck manufacturers.

The article was published in the Journal of Policy Analysis and Management.•