The $791 million Hoosier Lottery wants to be among the fastest-growing in the country, and it's looking to the gambling industry to help it reach that goal.
The lottery threw open bidding July 11 for a 10-year contract on marketing, sales and distribution services. The response from the private sector is likely to be enthusiastic, as Indiana will be one of the first states to enter a major outsourcing deal since the U.S. Department of Justice said states could engage in non-sports gambling online.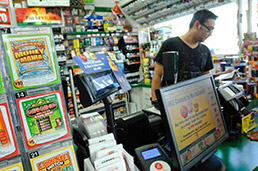 Hoosier Lottery games are sold at 95 percent of the state's convenience stores, including this Xpress Mart in Carmel managed by Krutav Patel. (IBJ photo/ Perry Reichanadter)
Lottery officials have been closely watching Illinois, which in March became the first state to start selling lottery tickets online. Indiana could do the same with approval from the five-member Indiana lottery commission, though that's not guaranteed at this point.
Hoosier Lottery asked bidders to show how much income they could return to the state under the current setup of draw games, instant-win tickets and Powerball.
Any expansion to the program—like adding Keno, or delivering the games online—is to be laid out in an "enhanced bid." Those ideas will help decide who gets the contract, but the commission doesn't promise to carry them out, spokesman Al Larsen said.
"To understand what's going to be the best deal for the state, we're going to want to know what these experts believe will score us the greatest amount of net income for that period," Larsen said.
The lottery typically returns more than $200 million a year to state coffers, but officials think there's room for improvement. The commission's stated mission is to be one of the top five lotteries in the country, as measured by year-over-year income growth.
While Indiana touts a $2 billion surplus, a major source of revenue—casino taxes—is on the wane. Revenue from casinos, which provided $660 million in 2011, will drop as neighboring states introduce competition, budget forecasters predict.
"You want to bolster revenues as much as you can to try and account for that," said political analyst Ed Feigenbaum, who publishes the Indiana Gaming Insight newsletter. "This may be an opportunity to do it."
Lottery income dropped 15 percent, from $210 million in the 2008 fiscal year to $178 million in 2009.
The trend is on the upswing again, with income forecast at $212 million for the year ended June 30 and budgeted at $226 million for 2013.
The earnings go into the Build Indiana Fund to offset vehicle excise taxes charged by local governments. The fund has also used lottery money to make contributions to pension and disability funds for police, firefighters and teachers.
Parsing privatization
Lottery officials are careful not to refer to the outsourcing as "privatization."
That has much to do with the U.S. Justice Department's 2008 opinion that states could not legally lease their lotteries. The opinion was issued in response to a request from New Jersey and Indiana.
Running for his second term, Gov. Mitch Daniels wanted to raise $1 billion for college tuition scholarships, either through a long-term lease of the lottery or by leveraging its future revenue for a bond issue.
"They made it pretty clear you can't just turn over the keys and say, 'You run this in our name and send us a check every month,'" Feigenbaum said.
Under the current proposal, the lottery commission would continue to set game rules and jackpots. The commission's staff would keep administrative oversight, doing things like conducting drawings, paying prizes and vetting retailers.
Otherwise, Hoosier Lottery says, it's looking for a company to perform a "broad range of functions." The request mentions 13 in particular, including repositioning Hoosier Lottery's brand, developing the selection of games, developing a customer-loyalty program, and creating baseline data on the "strength of the franchise."
Strategies could include reconfiguring the retail network, potentially increasing its scope and reach, and optimizing the retail-commission structure.
Most of the lottery's 180 employees are in sales, marketing and distribution, and the new service provider could opt to hire or not hire them, Larsen said.
The winning bidder would be on the hook to deliver the income it promised, but it could also earn "significant monetary payments" and a contract extension if it meets and exceeds objectives.
Indiana seems to have patterned its outsourcing plan on Illinois, which in 2010 awarded a 10-year contract to Northstar Lottery Group, a partnership of two industry giants, Scientific Games and Gtech.
Mark Malouf, who follows Scientific Games for Craig-Hallum Capital Partners in Boston, thinks Indiana will be attractive to bidders because they're looking to prove themselves to other states that are moving more slowly to the Illinois model.
"Even the smallest of states would be considered a prized outsourcing contract because of the nature that it's one of the first."

The bid deadline is Aug. 31, and the lottery expects to close a deal by Nov. 1.
The lottery went ahead with the request for bids after receiving 10 responses earlier this year to a call for informal proposals. (The commission has not disclosed the names of respondents.)
"I would say that's healthy, very healthy," Malouf said.
Loosening wallets
Hoosiers aren't big lottery spenders, but that could change.
At an average $2.37 per week, Indiana has the lowest per-capita spending among four states with comparable offerings, Marketing Director Susan Golightly said in a February presentation to the commission.
Pennsylvania residents had the loosest wallets in the group, spending an average $4.87 per week.
Malouf thinks the private sector can make lotteries more profitable, even without adding new game categories or going online.
Northstar boosted sales for Illinois by expanding the retail network and offering fresh games more frequently, Malouf said. "Those two things in and of themselves can have a dramatic effect on sales."
Hoosier Lottery offers about 40 different scratch-off tickets, plus nine pull-tabs, which are another form of instant-win, and nine draw games. The lottery is available at 3,935 retailers, and about 95 percent of the state's convenience stores already offer the games, according to the staff.
Independent gambling industry analyst Patricia McQueen, president of The Wagering Resource, doubts that outsourcing alone will boost profitability.
"It sort of remains to be seen whether they do a better job," said McQueen, who is based in Massachusetts. "A lot of it has to do with demographics and what products are allowed."
Lottery spending is much higher in Michigan and Ohio because those states have Keno, which is a live Bingo-style game, Golightly told the commission back in February. Michigan residents spend an average $3.56 per week, while Ohioans spend $4.08.
Per-capita spending masks what regular players—who are invariably low-income—really spend, said Rachel Volberg, a Massachusetts-based gambling policy consultant.
While those people spend a disproportionate share of their income on the games, they don't necessarily end up with gambling problems, added Volberg, president of Gemini Research. Slot machines, table games and horse racing are more closely associated with addiction, she said.
Hoosier Lottery tells potential bidders their proposals should emphasize responsible gambling and methods of attracting "new, light and lapsed" players.
Nevertheless, a more aggressive lottery could awaken organized gambling opposition.
Dan Gangler, head of the Indiana Coalition Against Legalized Gambling, said his group has not been active lately, but he would not want to see lottery expanded.
"I would completely oppose Internet lottery," he said. "How do you monitor it?"•
 
Please enable JavaScript to view this content.