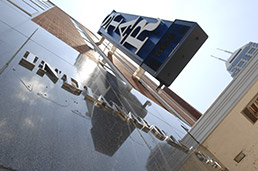 Analysts expect the
Indianapolis Star
to increase subscription rates about 30 percent by September. (IBJ file photo)
After more than 10 years of providing free online content, the Indianapolis Star is laying the foundation for a pay-per-view system that would cost online-only readers about $13 a month, industry sources said.
Star parent Gannett Co. Inc. already has erected online paywalls at 49 of its 82 newspapers this year, and the sources said the Star can't be far behind. Eleven Gannett papers this month alone have started charging for online content as part of the company's rapid-fire response to declining print circulation and advertising revenue.
Star executives sent the company's staffers a confidential memo earlier this month laying out information on the fee-based system. Sources said Star officials plan to launch the newspaper's online paywall in August or September.
Star Publisher Karen Crotchfelt and Chief Marketing Officer Doug Wilson declined to comment.
Sources within the Star said the local newspaper's pay-per-view website will work similarly to those of newspapers in Lafayette; Louisville; and Nashville, Tenn., which also are owned by Virginia-based Gannett.
The Star's print subscribers will get free online content as part of their subscription, but industry analysts said those same subscribers should expect print subscription increases of 20 percent to 30 percent by September. At some Gannett publications, newsstand prices have doubled.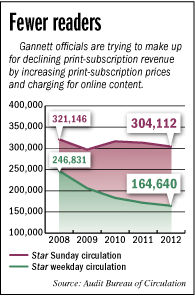 "As they start to roll this out, Star subscribers will be getting a letter in the mail announcing this new all-access content subscription model," said Jim Hopkins, a former USA Today editor and reporter who now pens a blog focused on happenings within Gannett. "The letter will be touting all this free access, but also announcing a hefty subscription increase."
Even so, Gannett CEO Gracia Martore boasted to analysts this month that subscription cancellations due to price hikes at 25 publications have been lower than the 5-percent decline officials expected.
The theory, Hopkins explained, is that the higher prices will more than make up for minor subscription losses. The revenue from online-only subscribers is also supposed to add to the company's bottom line, he added.
But analysts are concerned that increased subscription rates and the online paywall could send readers of both products away in droves.
"It's a brave new world, so nobody really knows how this will turn out," Hopkins said.
People who don't subscribe to the Star's print edition will be allowed to access a limited number of online stories per 30-day period, then will be locked out. Such a system—called a "metered" model or "leaky paywall"—has become more common in recent years.
Only a few publications, such as The Wall Street Journal, have been successful with a more aggressive paywall, where almost no stories can be viewed without a subscription.
When IndyStar.com readers without a subscription click on a story, they will be shown how many more articles they can view free during the 30-day period, and given an option to subscribe online.
The Lafayette Journal and Courier allows non-subscribers to view 10 free articles a month, while the Louisville Courier-Journal and Nashville Tennessean allow twice as many views. The Lafayette and Nashville papers offer online-only access for $12 a month and Louisville charges $13.
Gannett gives its local papers some autonomy in determining the financial terms of its online paywall, and Star executives are in the final stages of determining how much to charge readers, sources said.
Local backlash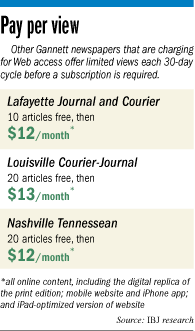 Martore told analysts she has heard little backlash in markets where Gannett has rolled out its online paywall and doesn't expect much in markets where the pay-per-view system will be rolled out later this year. She maintains that Gannett's system is different from other newspapers' paywalls.
"In our strategy," she said, "content is king and the foundation of the model's success. Under the new plan, for a monthly fee, all subscribers in our markets will get access to all of our content on all digital platforms when and where they wanted, all during the course of the day."
Hopkins scoffs at the notion that content is king at Gannett, noting that layoffs at almost all its publications—including the Star—have resulted in less news coverage.
"Reducing the quality of content, then asking people to pay more for it seems like a strange way to do business,'" he said.
Locally, the backlash among advertisers and subscribers about the Star's plan already has begun.
Since many of the people who read IndyStar.com are not print subscribers, local media buyers fear a pay-per-view system will lead to a dramatic drop in website readership.
"With this new system, advertising on the Star's site would be less appealing unless they dramatically decrease their [advertising] rates," said Rick Doyle, MZD Advertising media director. "Their online audience is going to no doubt be considerably smaller with a fee-based system."
A big reason is that other local news sources offer much of the same news for free, he said.
"The publications that are able to charge for online content are those that are very well established and highly regarded, such as The Wall Street Journal," Doyle said. "A publication has to have unique content that is highly desirable; otherwise, people will find the news and information somewhere for free."
Subscriber squeeze
Steve Tate, an Indianapolis-based construction project engineer and 25-year-plus Star subscriber, cringed at the thought of a dramatic subscription price increase.
"More than a 20-percent increase could be a breaking point for me," said Tate, 54. "That kind of rate bump would definitely send me shopping and if it's a 30-percent bump, I might dump it right away and look for other options for my news."
Tate currently gets the print edition Wednesday through Sunday, and said he generally reads it "cover to cover." He also said he looks at IndyStar.com four or five days a week, usually on his iPad or iPhone.
"I depend on [IndyStar.com] a lot when I'm traveling," Tate said. "I seldom look at other local news sites. But if there's a rate hike associated with using it, I'd definitely consider looking elsewhere."
Forced hand
Gannett officials have been forced to look for new revenue sources due to declining print circulation and advertising revenue, said Bill Mitchell, a faculty member for The Poynter Institute, a Florida-based journalism school and think tank.
"They realize they're not going to be able to make up for revenue losses on the print side through online advertising alone," said Mitchell, a former Detroit Free Press reporter and editor and Time magazine bureau chief. "For every $10 they lose on print advertising, they're only picking up $1 in online advertising. So now they're trying to get what revenue they can from subscribers."
The Star's print circulation has been in a free fall. Weekday circulation has dropped each of the last five years, declining from 247,000 in 2008 to 165,000 this year. During the same period, Sunday circulation has dropped from 321,000 to 304,000.
Gannett on the whole has been struggling as readership shifts from print to online.
That shift began in earnest in 2000, Doyle said, with a dramatic acceleration that coincided with the proliferation of in-home broadband service in 2006.
Beginnings of growth?
Gannett's second-quarter revenue dropped 2.1 percent, in line with analysts' estimates. Advertising sales at the publishing division fell 8 percent compared with the same period in 2011. Those setbacks come on top of steep declines during 2011.
While the company's overall financial results don't paint a rosy picture of the print industry's future, Gannett's Martore said digital gains give Gannett more than a ray of hope. With the paywall system rolling out and other digital revenue on the rise, Martore predicted the company would "return to growth by 2015."
In the company's newspaper division, digital revenue rose 29.3 percent compared with the second quarter of last year due to better sales of digital advertising and the company's new paywalls.
Martore said the paywalls and associated expenses cost $30 million. Gannett officials said it expects the paywalls to be worth $100 million in revenue by the end of 2013.
Even with the digital gains, Gannett hasn't been able to stem the financial slide. Its overall second-quarter profit was $119.9 million, or 51 cents per share, compared with $151.5 million, or 62 cents per share, in the same quarter last year.
"As we said in February, [this is] not a one- or two-quarter phenomenon," Martore said. "We are making progress and we are on track."•
Please enable JavaScript to view this content.