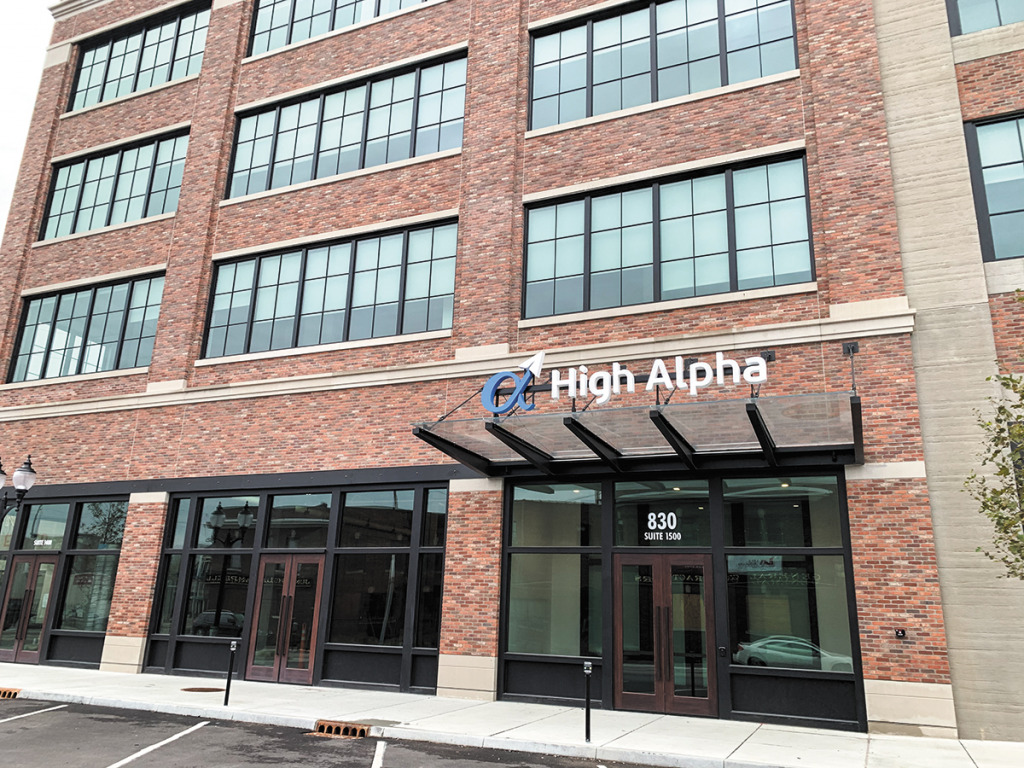 Indianapolis-based High Alpha announced Wednesday it has raised $18 million to seed a new group of yet-to-be-announced cloud-based software startups and prepare them to seek additional venture capital from both outside investors and the firm's own investment arm.
The announcement comes six months after that investment division—High Alpha Capital—announced it had closed a $110 million venture fund, its biggest fund to date.
In all, High Alpha has raised money for three funds that it has used to launch more than 30 companies. Each of those funds has a corresponding venture studio—essentially a startup factory that moves ideas from concept to commercialization—although the studios operate under one roof and with the same staff.
Companies under the High Alpha Venture Studio umbrella are provided with expertise to help the business grow, including help with branding, design, product development, engineering, human resources, sales, marketing, finance and data science.
High Alpha's first effort, in 2015, raised $21 million, which was used to launch a dozen companies, said the company's marketing director, Drew Beechler.
In 2018, High Alpha closed on an $85 million second fund, plus raised $16.5 million for its Venture Studio II, which has helped to launch 15 companies to date, including Mandolin, Bolster, Filo, Trava and Shaker.
The latest $110 million fund and the $18 million for High Alpha Studio III is expected to jumpstart an even larger number of companies, Beechler said. "Our ambition level and our goals keep getting bigger," he said. "What success looks like keeps changing and we keep raising the bar."
Two repeat, out-of-state investors—San Francisco-based Emergence Capital and Boulder, Colorado-based Foundry Group—provided the $18 million, which High Alpha will use as the founding investments for ideas that it turns into startups.
"We always write a check into that business to help it get off the ground," Beechler said. "That initial check and investment will come out of the $18 million in funding."
Then, if the startup appears viable, it will seek additional investments, which would come from the $110 million High Alpha Capital III fund, as well as from outside investors.
High Alpha Managing Partner Scott Dorsey, one High Alpha's founding partners, said the venture studio concept—which was novel when the company launched in 2015—"is proving to be one of the most effective and efficient ways to conceive, launch and scale successful high-growth startups."
Tech veterans Eric Tobias, Mike Fitzgerald and Kristian Andersen are High Alpha's other three founders and partners.
High Alpha said it was adding Foundry Group partner Jaclyn Freeman Hester and Emergence Capital principal Carlotta Siniscalco to its board of directors.
In a statement, Siniscalo called High Alpha the nation's "leading B2B venture studio."
"We are bullish on the fact that High Alpha's model provides opportunities for a broader range of individuals to step into entrepreneurship, a critical component for driving the next generation of enterprise software," she said in a statement.
Please enable JavaScript to view this content.