Afghanistan, a landlocked nation with an economy encumbered by abject poverty and decades of conflict, became one of the largest importers of Hoosier products last year.
However, experts disagree on whether that growth can last.
While Indiana exports overall rose 12 percent in 2011, to a record $32.2 billion, shipments to Afghanistan rocketed 323 percent, to $828 million, Indiana University researchers reported this month.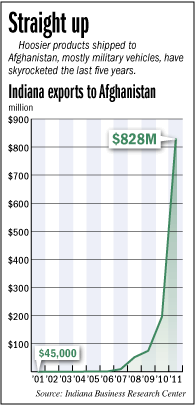 IU's Indiana Business Research Center said the Middle Eastern nation became the 10th-largest foreign market for the state.
No. 1 export destination Canada's $11.8 billion dwarfed Afghanistan's $828 million. But the war-torn, agriculture-based country fell just $32 million behind Brazil, a nation that has received international recognition for its recent economic growth.
Fighting in Afghanistan has boosted exports from less than $50,000 in the early 2000s.
"We just don't know how sustainable it is," said Tanya Hall, an economic research analyst at the IU research center.
That is because the war has to end.
Special-purpose vehicles—such as the Humvees A.M. General produces in Mishawaka—were 97 percent of all the exports, according to data Hall provided.
The South Bend-based military contractor announced in 2010 it had entered into a $619 million contract with the U.S. Army to produce more than 2,500 Humvees by late 2013 for Afghanistan's military.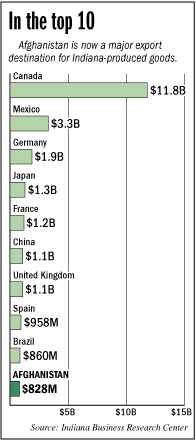 A.M. General spokesman Jeff Adams said in an e-mail that out of the 280,000 Humvees the company has made since 1985, 45,000—or 16 percent—have been for "friendly foreign militaries." Adams did not have specifics on how many Humvees A.M. General produced for Afghanistan in 2011.
Some industry analysts forecast growth for U.S. companies in the Middle East.
And while Afghanistan is the sole Middle Eastern country to rank as a top-10 importer of Hoosier products, others in the region, such as Saudi Arabia, could become significant markets, according to researchers at PricewaterhouseCoopers LLP.
In a May report on the aerospace and defense industries, the consulting firm cites a $327 billion backlog of international orders as evidence that U.S. military contractors have overseas growth ahead.
A lot of those backlogged orders are from the Middle East and eastern Asia.
Iran's and China's growing militaries, as well as tensions between North Korea and South Korea, have caused the countries' neighbors to invest in their own armed forces, said Scott Thompson, the U.S. leader of PricewaterhouseCoopers' aerospace and defense practice.
"It's a bit of a Cold War on a lesser scale than the Soviet-U.S. Cold War," Thompson said.
At the same time, Indiana manufacturers are going to face the same challenge as the rest of the Western world in tapping growing foreign markets—they're going to have to scramble for customers, said Guy Anderson, a chief analyst and editor for IHS Jane's defense industry publications.
"The problem at this point for Western exports is, it's going to be an absolute blood bath in the world markets," Anderson said.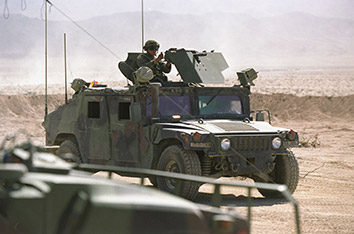 Afghanistan was Indiana's 10th-biggest export market in 2011, thanks to strong sales of special-purpose vehicles, including Humvees made by A.M. General. (Photo courtesy of A.M. General)
He said the BRIC countries—Brazil, Russia, India and China—will be vital, especially as North American and European nations tighten their defense spending.
"It's tracking to the general trend," Anderson said about Indiana's overseas military sales. "It's what you find: As GDP goes up, so does the military."
But Afghanistan's GDP could plummet with the rest of its economy in a few years, tearing away Indiana's export growth there.
The World Bank estimates that foreign aid makes up 97 percent of Afghanistan's GDP. As U.S. troops and other NATO forces pull out, they will take their money with them.
The Indiana Business Research Center's Hall said agriculture could be one of the best opportunities to sustain Indiana exports to Afghanistan.
The country's reliance on farming would be one of the few private sectors needing the heavy-duty equipment Indiana produces.•
 
Please enable JavaScript to view this content.