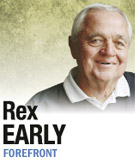 Mickey Mantle played baseball for the New York Yankees, where he hit 536 home runs. He was one of the greatest switch-hitters in baseball.
For you non-baseball fans, right-handed hitters hit better against left-handed pitchers and left-handed hitters hit better against right-handed pitchers. A switch-hitter can hit either way, right-handed or left-handed. It is quite an advantage.
We now have a politician who is a switch-hitter wannabe.
That is Democratic congressman Joe Donnelly. It seems that 99 percent of our congressmen want to serve in Congress a lifetime and Donnelly is no exception. His problem is that his congressional district was changed, so—to retain his seat—he would have to run against Republican Jackie Walorski, who would clean his clock.
He obviously thinks, with Sen. Lugar gone, he has a better chance to win Lugar's Senate seat than does Republican challenger Richard Mourdock.
Donnelly seems to be a nice guy. A person you might even want to go fishing with (the ultimate compliment). But Jimmy Carter was probably a nice guy. I would have liked to go fishing with Bill Clinton if my wife would have let me.
This election ain't about nice guys. This election is about the future of our country, and whoever wins this Senate seat could very well determine whether the Senate has 51 Democrats or 51 Republicans.
Donnelly's campaign plan is to convince voters he is really a "switch-hitter."
I'm here to tell you that anybody who has voted twice for Nancy Pelosi for speaker of the House is not a switch-hitter. In fact, voting for her is the ultimate test of a pure left-handed hitter.
In addition to Pelosi, switch-hitter wannabe Donnelly also has the burden of being an important backer of ObamaCare. The Indianapolis Star headline said Donnelly's support of ObamaCare was "a key vote." He voted for it again on July 11 this year when five Democrats who are real switch-hitters joined with 100 percent of the Republicans who voted to repeal ObamaCare.
ObamaCare will impose $800 billion in new taxes and add $2 trillion to the national debt as well as add an average expenditure of $2,100 per family for health insurance. Donnelly has voted for it three times.
The Club For Growth PAC grades spending cuts. There have been 45 proposals to reduce spending for fiscal year 2013. Donnelly voted for two of the 45, opposed 29 spending cuts, and did not vote for another 14 amendments. He has a score of 6 percent.
He has also voted to raise the debt ceiling seven times in his three terms in Congress, and his latest TV ad says he is for spending cuts. Wow!
The American Conservative Union rates members of Congress based on their votes on key conservative issues. Donnelly and Andre Carson have always been in the lower 30 percent.
Donnelly was described by the Star as "a moderate and bipartisan-minded congressman." If you sign off on that, I've got some oceanfront property in Arizona I would like to sell you.
Donnelly is not a switch-hitter. He almost always votes from the left and will continue to do so for Harry Reid, if elected.
Gov. Daniels said, "Those basic principles that Mourdock represents, I think are shared by a majority of fellow citizens and that's what I call 'mainstream'."
I hope those who are still miffed about Lugar's loss will follow Daniels' lead and vote for Mourdock.
I have known Mourdock more than 20 years. He will make a good senator and he will have a good Indiana mentor in Sen. Dan Coats.
Now to the most serious problem in Indiana: Asian carp are now in the lower Wabash River.•
• Early served in the Indiana House and as a Republican state chairman, as well as on the Republican National Committee. Send comments on this column to ibjedit@ibj.com.
Please enable JavaScript to view this content.