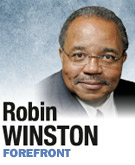 Here in central Indiana, we have the perfect opportunity to make improvements to our mass transit system. Knowing the aversion of voters to support tax increases, how can we get this done?
First, the processes must be inclusive. Those in power must ensure numerous public meetings in diverse locations so the support for an expansion of mass transit will reflect the diversity of our region.
Second, expansion of mass transit needs to be defined as access to better jobs to those who rely on those services. The resident of Carmel should be assured that there will be reliable, efficient mass transit to get into Indianapolis for work.
However, it is also essential that the East 38th Street resident be assured that reliable, cost-efficient and accessible mass transit is available for transportation to jobs in various areas of our community.
Third, any enhancements to mass transit need active support of the private sector. Corporate leaders should be enlisted in efforts to defray the cost of public transportation as an additional benefit of employees.
Fourth, existing facilities need to be upgraded. In many cases, present users of the system are forced to stand in the mud or snow because there is no shelter at their location. If we are going to convince residents to support an expansion of mass transit, we must ensure that the present mass transit offerings are enhanced.
Fifth, mass transit must become part of our region's tourism initiative. Imagine the impact of a successful mass transit outreach program if residents of Zionsville could be ensured ready transportation to events downtown along Georgia Street. Conversely, imagine the same impact if an adequate transportation system were available to those living on the west side who might want to attend the annual Latino Festival downtown.
Sixth, an effective mass transit system would help reduce the barriers of neighborhood social economic divisions and would provide a true sense of community for this and future generations. With the continued expansion of public, private and charter schools, our children should be able to join classmates for social activities no matter where they live.
At this point, an inadequate mass transit system makes that impossible. If we are going to remove the wall of division, mass transit could play a key role.
Seventh, we continue to place a premium on making Indianapolis a world-class city. Initiatives such as Indy Hub, Indy Fringe and the Heartland Film Festival all are designed to attract young professionals to live in our urban core. Many of these young professionals move from communities where mass transit is successful. Here in Indianapolis, the lack of adequate mass transit is a deterrent to attracting young professionals to relocate and live in our communities.
Eighth, mass transit has the capability of leveling the playing field for the less fortunate. Studies have shown that many users of mass transit rely upon this source as their only reliable transportation. It is their access point for work, shopping and movement around our growing community.
To be restricted simply because of the limits of available transportation is not fair and not equal.
Ninth, the environmental impact of an outstanding transportation service cannot be minimized. Having access to mass transit will reduce air pollution and the impact of Knowzone Action Days, and will provide a better air quality in our community.
Finally, the sheer magnitude of improving our mass transit will require unprecedented cooperation among diverse interests. We must work in a bipartisan fashion to address this issue.
Surely a community that can raise millions of dollars and rejuvenate neighborhoods as a result of the successful bid for the Super Bowl can marshal those resources to make fundamental changes in our mass transit system.•
• Winston is president of Winston/Terrell Group, an Indianapolis-based government affairs, public outreach and community relations firm. He was chairman of the Indiana Democratic Party from 1999-2001. Send comments on this column to ibjedit@ibj.com.
Please enable JavaScript to view this content.