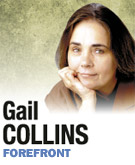 Right now you are probably asking yourself: "What would it be like to live in a place with an unemployment rate of 1 percent?"
Me, too! So I went to Williston, N.D., to find out. There are certain things that journalists do as a public service because you, the noble reader, are probably not going to do them for yourself—like attending charter revision meetings or reading the autobiography of Tim Pawlenty. Going to Williston is sort of in this category. The people are lovely, but you're talking about a two-hour drive from Minot.
If you did come, however, you would feel really, really wanted. Radio ads urged me to embark on a new career as a bank teller, laborer, railroad conductor or cake decorator. The local Wal-Mart has a big sign up, begging passers-by to consider starting their lives anew in retail sales. The Bakken Region Recruiter lists openings in truck driving, winch operating and canal maintenance work, along with ads for a floral designer, bartender, public defender, loan officer, addiction counselor and sports reporter. All in an area where the big city has a population of around 16,000.
There's an oil boom. The Bakken formation, which runs under the western part of North Dakota and into Montana, contains a huge amount of oil, which the industry figured out how to extract about five years ago. Williston's median income, which was less than $30,000 when the serious drilling started, has jumped to well over $50,000 a year. Job-seekers flooded in. The schools are now so crowded that teachers are holding classes in modular units, some dating to the '80s, and one that was constructed by a high school shop class.
"It's a place of opportunity," says E. Ward Koeser, the genial head of a local communications company who has also been Williston's part-time mayor for the last 18 years. A waitress at a restaurant that Koeser patronizes recently told him that she made $400 in tips on a single night. "Although I'm sure that's not the norm," he added hastily.
You are probably wondering about the downside.
Well, the oil is extracted through the environmentally suspect method of hydrofracking. Also, an endless progression of large trucks creates spills, ties up traffic and tears up the roads.
"Is it dustier, dirtier—yes," the mayor said. While it's normal for some of the town's retirees to move south, these days, he acknowledged, a lot of residents are just packing up and going to Bismarck. "My goal," Koeser said intently, "is that the day comes when they say: 'I want to move back to Williston."'
The mayor is a stupendously positive thinker who wants to build Williston into a city that rivals Fargo and Bismarck as a convention destination. "Why can't Williston be the best little city in America?" he demanded.
Well, right now because there's no place to live. Honestly, no place. To house its teachers, the school district has already purchased two apartment buildings, which have long since been filled even though the residents are all required to share their homes with another teacher. Superintendent Viola LaFontaine has taken to the radio airwaves, urging citizens to come up with places for the new faculty to stay.
"We've been getting good applicants," LaFontaine said. "But they'll make $31,500. When they find out an apartment is $2-3,000 a month, they say they can't pay that."
Many of the oil workers stash their families back wherever they came from, and live in "man camps," some of which resemble giant stretches of storage units.
"The man camps—I call them the necessary evil," said Koeser, who added, apologetically, "that's a little derogatory."
If the place you love can't quite climb out of the recession, think of this as consolation. At least you're not living in a man camp and waiting half an hour in line for a Big Mac.•
• Collins is editor of The New York Times editorial page. Send comments on this column to ibjedit@ibj.com.
Please enable JavaScript to view this content.