Chicago tourism officials earlier this year unleashed a major advertising campaign that threatens to encroach on one of Indianapolis' primary leisure travel segments.
The Second City for the first time ever is marketing itself to other cities in the Midwest, such as St. Louis and Cincinnati, that are key targets for Indianapolis.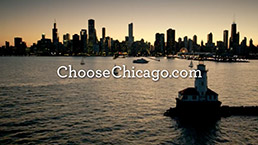 Chicago's tourism arm, Choose Chicago, has earmarked $2 million this year to attract Midwestern residents to the city. (Photo courtesy of Choose Chicago)
Officials for Choose Chicago—the city's new arm charged with overseeing leisure and corporate travel initiatives—have allocated $2 million this year to lure Midwestern residents to come visit the city on the shores of Lake Michigan.
The television and radio ads can be seen and heard frequently in the Indianapolis market. Choose Chicago—which is headed by former Indianapolis Convention and Visitors Association CEO Don Welsh—is also using online and outdoor advertising as part of the marketing effort.
Already, the ad campaign is driving significant business, Welsh said. According to a study by Carmel-based Strategic Marketing & Research Inc., Chicago's regional winter campaign produced 142,000 visits and $119 million in total spending. Chicago officials said they expect a bigger return from their summer campaign.
Nearly 15 percent of the new travel business generated by the campaign came from Indianapolis. That isn't a major concern to Indianapolis tourism officials since it isn't likely to hurt the local tourism market. But Chicago's surge in other regional markets where Indianapolis targets travelers is seen as a threat.
Choose Chicago spent $721,000 on the campaign's first phase running from January to early March and highlighting the city's winter attractions. The organization is spending another $1.28 million for a summer campaign running from late May to mid-August. Choose Chicago officials are promising more of the same in 2013.
The ICVA has long identified Midwestern markets as key to its leisure tourism efforts. The ICVA has had an annual regional advertising campaign since 2004. This year, it will spend $1.4 million for its regional campaign in cities from Louisville to Chicago. Tourism experts said pressures from Chicago's campaign may force ICVA to up the ante.
The regional leisure market isn't the only arena where Indianapolis and Chicago compete. Last October, Welsh and other Chicago tourism officials launched the Chicago Sports Commission, which will compete for events with the Indiana Sports Corp.
In the leisure arena, ICVA spokesman Chris Gahl thinks Indianapolis' attractions will more than hold their own against those in Chicago and other Midwestern cities.
"If Chicago is advertising in some of the same markets we are, we'd certainly be competing for some of the same leisure travelers," Gahl said. "But we offer a much different experience to leisure travelers, and that's what our ad campaign is trying to convey. We're not focused on what other cities are doing."
In an effort to be more efficient and create a cohesive effort to lure more visitors, Chicago Mayor Rahm Emanuel earlier this year combined the Chicago Convention and Tourism Bureau—which Welsh had led since leaving the ICVA in January 2011—and the tourism portion of the Chicago Office of Tourism and Culture.
The move, Emanuel said, will save $1.3 million annually, much of which has been poured into the new marketing effort.
Welsh has enlisted some of Chicago's biggest attractions—including Broadway in Chicago, The Field Museum, Museum of Science and Industry, Navy Pier and Shedd Aquarium—to bolster the campaign as co-op partners.
The ICVA also has called in a number of co-op partners to bolster its regional campaign. They include the Indianapolis Motor Speedway, NCAA Hall of Champions, White River State Park, Indianapolis Zoo and the Indianapolis Museum of Art.
Chicago's ad campaign is part of a larger effort to raise the city's status as an internationally acclaimed travel destination, said Choose Chicago Chief Marketing Officer Warren Wilkinson, who followed Welsh from the ICVA to Chicago.
"Chicago has historically not played in this regional area for several reasons, but the biggest one being that our tourism was a fractured effort," Wilkinson said. Chicago currently draws 42 million visitors annually, Choose Chicago officials said, and Emanuel is pushing the organization to grow that number to 50 million by 2020.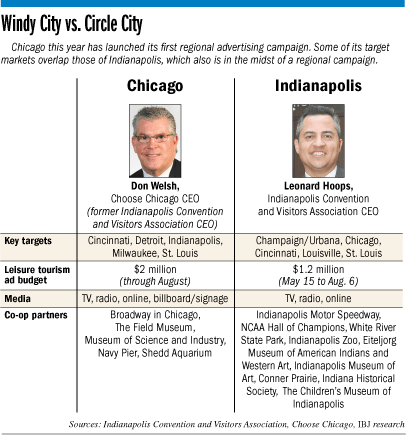 While Chicago officials downplay competition between the Windy City and the Circle City or any other Midwestern city, tourism experts point out that cities are competing to lure a finite number of travelers.
"In this economy, there's a limited amount of expendable income for almost every traveler," said Anne Banas, executive editor for Boston-based Smarter Travel. "Right now, that amount of expendable income doesn't seem to be increasing quickly."
Chicago's aggressive growth plans mean the city will likely have to gain tourists at the expense of other Midwestern cities, Banas concluded.
Chicago, with its vast resources, will be a formidable competitor in the regional travel market, said Jay Gladden, dean of the School of Physical Education and Tourism Management at IUPUI. He called Chicago's 2012 ad campaign "a sizable advertising spend" for a regional leisure travel initiative.
"From a marketing standpoint, it's never good to rest on your laurels, and Chicago feels they need to do something to remind people what they have to offer," Gladden said. "They clearly think this is a potentially lucrative growth area."
There's good reason for cities to go after regional travelers. Though Indianapolis' convention business is growing with the recently completed Convention Center expansion, leisure travel, which includes big sporting events held here, still accounts for 63 percent of central Indiana's tourism income, according to D.K. Shifflet & Associates, a Virginia-based travel research firm.
And a study conducted by the U.S. Travel Association, a Washington, D.C.-based industry group, said the biggest factor in determining which travel destinations saw the biggest increases during the first half of this year was "affordability of travel."
That trend may play into Indianapolis' hand. Tourism experts said a long weekend in Indianapolis costs a person about 30 percent less than it would in a city like Chicago. The average daily hotel rate in Chicago for June was $140 compared with Indianapolis' $85, according to Tennessee-based Smith Travel Research.
The USTA study concluded from monitoring online searches that U.S. travelers are planning more domestic trips this summer than in the past. In contrast, searches for international destinations plummeted. 
The trend of travelers looking to get away but not go too far could also aid Indianapolis, Gladden said.
"One big advantage Indianapolis has, certainly over Chicago, but also a lot of other cities competing for Midwest leisure travelers, is its location," Gladden said. "A lot more people could easily drive to Indianapolis within five hours than they could to Chicago, and that's a huge advantage."•
Please enable JavaScript to view this content.