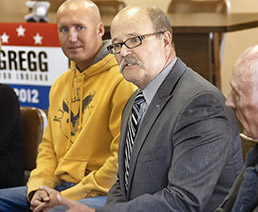 John Gregg has relied on meet-and-greets like this one in April in Wabash to build his profile in the absence of high-dollar fundraising. (AP photo)
Technically, the Indiana governor's race is wide open, but some deep-pocketed donors see Democrat John Gregg as a long shot.
Gregg tripled his fundraising pace in the second quarter, but much of that was fueled by unions, rather than business groups and executives who've supported Democrats in the past.
More than half the large gifts, $5,000 or more, that Gregg received in the quarter ended June 30 came from unions and labor-related groups. While people with business ties are giving to Gregg, it's not on the level of 2004, the last time Democrats weren't facing an incumbent.
That year, Democratic Gov. Joseph Kernan pulled major contributions from real estate and wholesale-alcohol executives, plus engineers and other professionals who tend to give to both parties.
Gregg, a former House speaker who left office in 2002, has collected $2.5 million in major contributions, compared with $3.6 million that flowed by this point to Kernan.

Pence
Kernan ultimately lost to Republican Mitch Daniels, who will end his two terms with strong majorities in both houses of the Legislature. Daniels' broad popularity in the business community has cast the glow of favorite upon Gregg's opponent, U.S. Rep. Mike Pence.
"Gov. Daniels has done a very good job for the state of Indiana financially," said Michael Bluestein, CEO of Lafayette-based metal-salvage company Oscar-Winski. "I think Mike Pence has a better chance of winning. That's how a lot of people feel."
Bluestein contributed $5,000 on three occasions during Kernan's bid to retain the seat he assumed after the 2003 death of Gov. Frank O'Bannon. Bluestein hasn't given to either candidate in this cycle.
"There's less optimism about the Gregg campaign. I hear that a lot," Indiana political analyst Brian Howey said.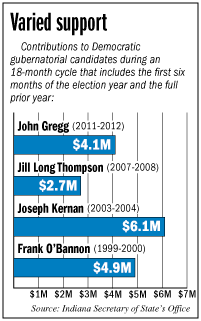 Gregg tripled his overall fundraising in the second quarter to nearly $1.8 million. But he's still off-pace for mounting a serious challenge to Pence, who ended the second quarter with $5.5 million in the bank to Greg's $3 million, Howey said.
Gregg has collected $4.1 million since launching his campaign in May 2011, but that number needs to be at least $6 million going into the fall, Howey said. "If you can't do that, you're not going to be competitive."
Pence recently launched his fifth in a series of biographical television ads, while Gregg has yet to buy TV time. He will be on air sometime this summer, Communications Director Daniel Altman said. In the meantime, he's traveling the state unveiling policy proposals and meeting with voters and media.
"It's helped his name-recognition go up significantly," Altman said.
Altman noted that half of all contributions to Gregg in the second quarter were $100 or less, and 97 percent of them came from Hoosiers.
"It says that John's support is right here in Indiana," he said.
Gregg supporters like to point out that Pence has gotten a huge boost from out-of-state sources. His ads began airing shortly after Pence received $1 million from a Republican Governors Association political action committee, the Center for Public Integrity in Washington, D.C., reported in July.
Super-PACs like the one used by the Republican Governors Association are not allowed to give directly to federal-office candidates, but they can get around that in Indiana, which is one of a handful of states that allows unlimited gifts to candidates from PACs and individuals.
Gregg has received $18,000 in cash from the Democratic Governors Association–Indiana, but some of his larger contributions have come from regional and national union groups. Altman said those groups are giving because of their members in Indiana.
High-profile businessmen—including Indiana Pacers owner and retired Simon Property Group Inc. executive Herb Simon and Indianapolis banker David Becker—have made large contributions. (Simon gave a total $30,000, while Becker donated $20,000.)
Gregg also received $50,000 from the Victory 2012 political action committee, which prominent Democrats established in 2009 to back their House of Representatives candidates in 2010. The Indiana PAC continues to give to statewide races.
"We want to be able to give him more, but at the present moment we don't have it," Executive Director Jenny Hill Weiser said.
But a couple of prominent Democrats in business are missing so far from Gregg's donor rolls. One is Indianapolis real estate executive Michael G. Browning, who gave Kernan more than $150,000 and in the next cycle supported both Daniels and his Democratic challenger, Jill Long Thompson, with major gifts.
Another is Emmis Communications Corp. CEO Jeff Smulyan, who gave Kernan $20,000. He gave to neither side in 2008.
"I am going to be doing a fundraiser for John," Smulyan said. "It's just something I haven't gotten around to yet."
Lawyers, engineers and certain business groups tend to give equally to both sides, but they will ramp up their giving to incumbents or a favored candidate. Marc Carmichael, president of the Indiana Beverage Alliance, said his group's PAC will limit giving in this gubernatorial race to $10,000 each.
The industry and executives affiliated with it can be prompted to give much more. That was the case for Kernan, whose relationship with United Beverage of South Bend prompted $185,000 in gifts from various executives and owners in beer wholesaling.
"I do think groups are keeping their powder dry on the governor's race," Carmichael said. New polling results could change that, he said. "I think people are holding back and waiting until after Labor Day to see how things are going."
Gregg had a chance to change the underdog perception early in the year, said Andrew Downs, director of the Mike Downs Center for Indiana Politics at IPFW in Fort Wayne. The independent Howey-DePauw University poll, released in March, found that 71 percent of the survey didn't know Gregg, a 57-year-old lawyer from Sanborn.
But it also showed that Pence, a ranking congressman from Columbus, lacked name recognition among 30 percent of those surveyed.
Pence addressed the gap with his early advertising.
"If Gregg had been able to get on television sooner, then we might be looking at very different campaign finance reports today," Downs said.
The overall poll results showed Pence leading by 13 percentage points.
That left Democrats to decide between backing Gregg or U.S. Rep. Joe Donnelly, D-South Bend, who's in a close race against state Treasurer Richard Mourdock for U.S. Sen. Richard Lugar's seat, Howey said. "The perception is that Donnelly has a real shot at winning that."
Altman said he's not aware of any competition for money from the Senate race. He said Gregg is happy with the fundraising so far.
"We're raising the money we need to run a successful campaign," he said.•
Please enable JavaScript to view this content.