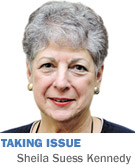 One of the things I try to explain to students is the importance of process.
This is, of course, a central principle of civil liberties. Protecting public safety is a good example; important as that end is, we cannot achieve it by means of a police state, or by engaging in random searches for which no probable cause exists.
The principle goes well beyond civil liberties. Economic development efforts focused on bringing new businesses into an area need to avoid recruitment incentives that privilege new enterprises at the expense of those already operating. Initiatives to redevelop blighted areas need to treat property owners and bidders on proposed projects fairly. When voters believe government officials have favored their friends, or disregarded the rights of others, the trust essential to governance is eroded and other goals are endangered.
We have a perfect example of that scenario right now in Indianapolis.
The development of the Massachusetts Avenue corridor is one of our city's success stories. When I was in city hall, Mass Ave was home to broken-down and boarded-up buildings interrupted by gaping holes—bare ground where buildings no longer stood.
Today, it's the center of a vibrant arts scene, with restaurants, theaters, galleries and businesses. There are still a few gaps to be filled in, however, and one of those is the block occupied by the fire headquarters building and Barton Towers, both constructed back when any structure on the avenue was seen as an improvement. Today, those buildings are a jarring interruption of the pedestrian flow on the Avenue.
The administration has proposed redeveloping that block in order to continue street-level activity and provide needed amenities like parking. It's an important and necessary initiative, but it is threatened by concerns about the way the administration has conducted business in the past.
There was the parking-meter deal that benefited a well-connected vendor. There are serious questions about the parking garage in Broad Ripple, where taxpayers take the risk but a well-connected developer gets the reward. CityWay is a great project, but knowledgeable observers criticize city-provided incentives as an unnecessary giveaway.
Proposed financing for the Mass Ave project is through extension of an existing tax increment financing district. Democrats on the council are threatening to derail the project unless the administration becomes more forthright and transparent about its use and abuse of TIF districts. Several councilors believe that TIF repayments that should have gone back into the city's general fund have instead been diverted into a mayoral account subject to less oversight and control.
The council's concerns are valid. At the very least, the administration has been less than transparent. But now, Ballard's chickens have come home to roost on Mass Ave, and the failure of that project would be a setback for Mass Ave merchants, for downtown and for the whole city.
The administration's deal-making, and its lack of appreciation for the importance of transparency and process, has generated this resistance from the council. But while that's understandable, the council's willingness to block an important project in order to make its point would be a similar failure. The questions need to be answered, but not at the expense of needed redevelopment.
In this age of toxic partisanship, I suppose it is unrealistic to ask both sides to grow up and have a conversation in which the interests of the city come first.
"He started it!" may be true, but it isn't the best place to start that discussion.•
__________
Kennedy is a professor of law and public policy at the School of Public and Environmental Affairs at IUPUI. She blogs regularly at www.sheilakennedy.net. She can be reached at skennedy@ibj.com. Send comments on this column to ibjedit@ibj.com.
Please enable JavaScript to view this content.