Indianapolis has a long list of attributes needed to secure its second Super Bowl in 2018.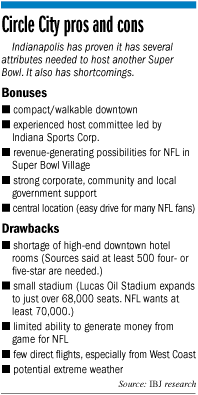 It also has two glaring deficiencies.
Downtown is short of the four- and five-star hotel rooms preferred by National Football League sponsors and partners, and Lucas Oil Stadium—which held 68,658 for the 2012 Super Bowl—is smaller than the NFL would like.
There's little city and state officials can do to remedy the stadium issue, short of constructing a new venue. Given that this stadium is less than 4 years old, and it would cost close to $1 billion to significantly improve it, the chances of building a new one are about the same as Peyton Manning's not making the Hall of Fame.
The hotel issue, on the other hand, is more fixable. But that doesn't mean it will be free of controversy.
Local hoteliers haven't been shy about voicing their concerns over a potential new downtown hotel. And the developer of such a large-scale project—500 or more rooms with an estimated cost of more than $200 million—likely would request significant tax breaks, opening the door for local taxpayers to join the chorus of criticism.
"This is certain to be a hot-button topic," said Tim Worthington, president of Platinum Hotel Solutions, a locally based consulting and development firm.
February's Super Bowl in Indianapolis scored mostly rave reviews, but NFL executives and team owners complained that there weren't enough high-end downtown hotels, primarily for the league's deep-pocketed partners who want to be in the hub of activities.

Irsay said he's heard "constructive criticism" about the city's hotel offerings.
"The 2012 Super Bowl has been unprecedented in terms of the overwhelmingly positive response for the host city," said Indianapolis Colts owner Jim Irsay. "With respect to the hotel situation, we did hear what I would call some constructive criticism."
Irsay initially said through his Twitter account that a new hotel would be needed to land another Super Bowl. He later told IBJ that adding a hotel isn't a deal-breaker. Others aren't so sure.
"The lack of downtown hotel space is an issue that kept cropping up at this year's Super Bowl," said Marc Ganis, president of SportsCorp Ltd., a Chicago-based sports business consultancy that has several NFL teams as clients. "It may be an issue they'll have to address if they want to bid again. And they can't just add any hotel rooms. Anything below four-star hotel rooms would be irrelevant."
AAA did not award any area hotels its top five-diamond rating this year, but did give eight downtown hotels—which have a combined 3,246 rooms—four diamonds. Forbes Travel Guide, on the other hand, did not give any Indianapolis-area hotels its four- or five-star designation.
Indianapolis' 2012 Super Bowl Host Committee CEO Allison Melangton, who has been tapped to lead the 2018 bid, doesn't think the hotel issue is an urgent one.
"As the bid specifications are currently written, we have enough hotel rooms," said Melangton, who will take over as Indiana Sports Corp. president next month. "That said, having been involved in a number of event bids, I know those bid specs can change."
The NFL calls for more than 20,000 hotel rooms in the metro area. All told, central Indiana has 33,000.
Melangton said she heard a handful of complaints from NFL officials that the city needs more "five-star hotels," but she said some local media blew the issue out of proportion.
Ticking clock
Local officials aren't on a two-minute drill yet, but the clock is ticking if they want to push for a large downtown hotel development in time for a run at the big game. NFL owners will choose a site for the 2018 championship in May 2014.
"Before they vote, team owners will want some proof a promised development is going to happen," Ganis said.
It would take close to two years to plan, design and acquire land needed for a new hotel, industry experts said. If the city's most recent hotel project—the 1,005-room JW Marriott—is any indication, it will take just as long to build.
Negotiating an incentive package between local government officials and the developer also could take considerable time. It's not unusual for local governments to fill funding gaps for hotel projects, either through tax abatements or direct cash infusions, in the interest of attracting visitors and creating jobs.
The city pitched in more than $50 million toward the $450 million JW Marriott hotel complex, which was completed in early 2011. And in 2005, the city put up $25 million for The Conrad Indianapolis hotel, restaurant and condo development at the corner of Washington and Illinois streets, including $3.75 million in exchange for the economic equivalent of an 8-percent ownership stake.
Another potential hurdle: There's no obvious place to build a massive hotel downtown.
Five years ago, Indianapolis-based Browning Investments and a Milwaukee developer proposed a 44-story hotel on Pan Am Plaza, but a city selection committee instead chose the JW Marriott project developed by Merrillville-based White Lodging Services and Indianapolis-based REI Real Estate Services.
Earlier this year, the owners of the plaza and parking garage beneath it reached an agreement to allow development there. But a hotel project likely will include only 200 to 300 rooms, Indianapolis Convention and Visitors Association officials said. Officials for plaza owner Kite Realty Group Trust haven't pitched a specific project, but a preliminary site plan calls for a relatively small hotel as part of a larger retail development.
The CityWay development under construction a few blocks east is set to include 209 upscale hotel rooms, but about 275 rooms will evaporate early next year when IUPUI converts its University Place Conference Center and Hotel on West Michigan Street into student housing, dining and classrooms. University Place housed the AFC champions during the 2012 Super Bowl and is one of a few area hotels to earn a four-star rating.
Filling beds
City tourism leaders said they're not likely to press development of a new downtown hotel unless occupancy surges. Mayor Greg Ballard has taken a wait-and-see approach.
"You don't build a church for Easter Sunday," said ICVA CEO Leonard Hoops. "We'd have a whole lot of pushback from within the local hotel industry to adding a whole lot of inventory right now."
The reason is simple: "We're short of the threshold of 70-percent year-round occupancy that developers and the ICVA would consider a sign that a new hotel is needed," he said.
But it's close. In 2011, downtown hotel occupancy averaged 66.4 percent—a surprise increase from 65.3 percent the previous year, despite the opening of the four hotels in the Marriott complex that February. The Marriott hotels pushed downtown inventory from 5,500 rooms to 7,100, a gain of nearly 30 percent.
"I think it's surprised some people, even industry experts, how quickly those rooms were absorbed into the market," said John Livengood, president of the Restaurant & Hospitality Association of Indiana. "But you have to be careful about further developments. The balance between a healthy and unhealthy hotel market can be pretty delicate."
Hoops has been criticized in some circles as being too conservative. His predecessor at ICVA, Don Welsh, pushed for a big new downtown hotel by 2015. Welsh departed to lead Chicago's tourism and convention efforts in early 2011.

Hoops
"I wouldn't say I'm conservative," Hoops said. "I look at the data, and I'm realistic."
Downtown hotel occupancy this year is forecasted to increase more than 10 percent, to about 68 percent, according to Smith Travel Research, with revenue per available room also expected to see a near-double-digit percentage increase.
"You have to be careful how you interpret the 2012 numbers," said Mark Eble, a hotel consultant and Midwest regional vice president for San Francisco-based PKF Hospitality Research. "A good part of that growth has to do with the Super Bowl."
During the week of the Super Bowl, Eble said, hotel occupancy and prices were considerably higher than they would be during a normal February.
Aggressive approach
Even so, Eble thinks the local data—current and historical—could justify building a downtown hotel by 2018.
ICVA's own data says Indianapolis could be ready for another 500-plus-room downtown hotel by 2019 or 2020. And Hoops admits that Indianapolis' lack of hotel brand diversity also hurts its overall convention and tourism business.
"If we want to keep growing, another downtown hotel is inevitable," he said.
So why not push the project ahead a couple of years if it could land the city another Super Bowl? After all, Eble said, Indianapolis has a reputation for using infrastructure—built before pure market forces call for it—to spur growth.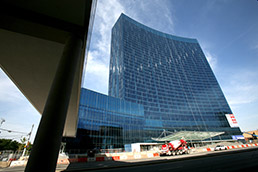 The downtown hotel market quickly absorbed the space created by the JW Marriott's 1,005 rooms in 2011. Occupancy rates last year rose, to 66.4 percent. (IBJ file photo)
"Any big hotel like the JW can't exist by merely taking a slice out of the existing pie," Eble said. "It has to grow the pie. Indianapolis has been built on this kind of strategy, and in some ways it's hard to argue with that. We've left our old competitors—cities like St. Louis, Cincinnati and Columbus—behind."
Though market forces might not call for a new hotel by 2018, Eble wouldn't be surprised to see officials make a push in that direction.
"In my experience, most development people and politicians aren't big on patience and waiting," he said. "They're paid to make things happen."
Downtown hotels wouldn't be the only ones at risk if another big downtown hotel were built too soon.
Outlying hotels typically have counted on booking overflow guests when downtown hotels fill up for major events, said Jim Dora Jr., president and CEO of General Hotels Corp., which operates 10 hotels in Indiana. Dora said some of his outlying hotels are still feeling the pinch from the JW opening more than a year ago.
But the allure of a high-profile event like the Super Bowl might be enough to tip the scales in favor of an aggressive growth strategy.
A study by Rockport Analytics commissioned by Indianapolis' host committee estimated the direct economic impact of this year's Super Bowl on Indianapolis was $176 million. Mark Miles, chairman of the 2012 Super Bowl Host Committee, called that figure "conservative."
Troubled market
Despite the boost, lingering economic woes caused a rash of hotel bankruptcies in Indianapolis and across the country this year. In February, for instance, an affiliate of Fishers-based Dora Brothers Hospitality Corp. sought Chapter 11 protection for the Comfort Suites City Centre on the southwestern fringe of downtown next to Lucas Oil Stadium. Court records say its largest creditor, New York-based German American Capital Corp., is owed $12 million.
In November, affiliates of Indianapolis-based MHG Hotels LLC that own a Comfort Inn in Avon and a Comfort Suites in Fishers filed for bankruptcy protection. Four other MHG hotels—Fairfield Inns in Noblesville and Seymour, a Quality Inn on South Harding Street in Indianapolis, and a Holiday Inn in the Chicago suburb of Aurora—slid into bankruptcy court in 2010.  MHG filed a reorganization plan in May and hopes to exit bankruptcy soon.
"Many of those [troubled hotels] were built in the boom years and opened with a high degree of leverage, and went sideways very quickly," Eble said.
Occupancy in areas outside downtown—while growing—lags downtown significantly.
This year, PKF is projecting the average of Indianapolis-area hotels will be 59.1-percent occupancy, up from 56.9 percent in 2011. Revenue per available room—a key indicator of hotel industry financial health—is forecast to increase 10.8 percent this year over last, to $53. ICVA's Hoops said that's well behind the $90-plus of a Tier I market.•
Please enable JavaScript to view this content.