A Shelbyville glass factory has had almost two years to address safety violations resulting from a worker's death, but the state says the plant still has a lot of the same problems.

Pilkington North America faces $150,000 in fines after an Indiana Occupational Safety and Health Administration inspection in March and April.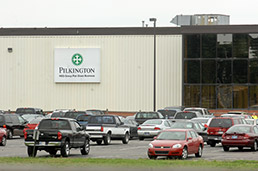 About 350 people work at Pilkington's glass factory in Shelbyville. About 300 of them are United Steelworkers Local 7703 members. (IBJ photo/Perry Reichanadter)
A July 27 safety order alleges six violations, all of which are labeled "repeats," for the Toledo, Ohio-based subsidiary of Japanese conglomerate NSG Group.
About 350 employees work at the Shelbyville factory, which produces glass for companies such as Honda, Nissan, Toyota, GM and Mitsubishi.
The plant first came under the state's lens in 2010 after a worker died on the job. Because the violations are repeated this time, each proposed fine has increased fivefold.

And officials have launched yet another investigation into safety violations at the company, said Bob Dittmer, a spokesman for the Indiana Department of Labor, which includes IOSHA. He would not discuss the details.

"We really, really, really don't like repeating violations," Dittmer said. "The whole point of our inspections is, really, to ensure that our employer is creating a safe and healthy working environment for their employees."

The fines are a fraction of a percent of the $1.7 billion in expenses that NSG Group reported in its latest quarter. But the looming penalties tied for the second-steepest amount IOSHA issued in the past year, records indicate.

Roberta Steedman, Pilkington's internal communications manager, said in an e-mail that the company immediately corrected some of the safety issues cited in the July 27 safety order.

Pilkington "continues to work cooperatively and proactively with [its] employees and with IOSHA to address the remaining citations," Steedman wrote.

Maintenance worker killed

The 2010 investigation began after 56-year-old Pilkington maintenance technician Kelly Dean Caudill of Connersville died at the plant that September.

Caudill, who worked 19 years in electrical maintenance at Pilkington, was repairing a conveyor that moves cullet, which is broken glass that another company, Reflective Industries, recycles and resells. A nearby air cylinder activated and crushed Caudill under thousands of pounds of pressure.

Rescuers were able to remove him from the machinery, but he died later that day at a hospital.

IOSHA's report after the accident said the company neither set up nor trained for proper safety procedures while working on the conveyor.

Investigators determined the conveyor system did not have proper guard equipment for a catwalk on one side of the machine.

The state dinged the company for exposing workers to pinch points, which are any spots where workers can be pinched, trapped or crushed. In Caudill's case, the cylinder was the pinch point.

Pilkington also did not provide necessary "lockout" or "tag-out" equipment for the system.

"Lockout" refers to disabling, or locking, machines and equipment so they cannot harm someone while they undergo maintenance. "Tag out" refers to warning labels that go on controls during repairs.

Throughout the facility, management failed to annually audit whether employees were following lockout and tag-out safety procedures, the state reported.

On top of yearly audits, managers are supposed to apprise each authorized employee of his responsibilities for the procedure. That was not happening, according to IOSHA.

In addition, inspectors determined Pilkington had been exposing its employees to 50 volts of electricity or more without properly preventing accidental contact. IOSHA found control stations and panels with doors that were open because handles were broken off or did not work.

IOSHA and Pilkington agreed to drop the fines to $15,000 from $32,000. But the state upheld all of its orders to fix the safety concerns.

Investigators return

Early this year, during a follow-up inspection at Pilkington, inspectors found the company had the same issues as in 2010, IOSHA reported.



Records allege the factory still did not have proper guards set up for machinery, certain safety procedures and training were inadequate, and managers were not properly auditing or reviewing employees' knowledge of lockouts and tag-outs. Inspectors again found electrical exposures of 50 volts or more.

Each fine this time increased from $5,000 in 2010 to $25,000.

The state gave the company until Aug. 22 to abate all the issues and pay the fines, contest the orders, or schedule an informal review.

Steedman, Pilkington's spokeswoman, said in her e-mail that the company intended to sit down with IOSHA officials.

"An integral part of IOSHA's inspection and enforcement process is the opportunity to discuss with the agency any proposed citations to ensure their accuracy and the company will participate in that process," she wrote.

"Notwithstanding any such discussions, however, the company … will evaluate every issue raised by the IOSHA inspectors to determine if there is an opportunity for improvement."

Department of Labor spokeswoman Chetrice Mosely said Pilkington scheduled an informal review with IOSHA.

The company can discuss details of the safety order while presenting its case. From there, the people involved can set deadlines for contesting or abating the orders.

Union, company at odds

The head of United Steelworkers Local 7703 expressed some optimism that IOSHA's pressures on Pilkington, coupled with recent management changes at the factory, could correct some longtime issues.

But Keith Coon, president of the union that represents about 300 hourly workers, said many managers' mind-sets, locally and in corporate offices, could hinder positive changes.

"If they were to act on 50 percent of what they say they're going to do now, it would be a dramatic change, a positive change; it would be very respectful and moving forward," Coon said. "The mentality is probably what causes the lack of safety, the concern of safety."

He described the company's attitude toward fixing safety issues as, "We don't necessarily need to fix a pothole on the ground. You shouldn't step in it."

Steedman's e-mail to IBJ expressed a different attitude.

"The NSG Group has always strived to maintain the highest standards and expectations when it comes to the safety of our workers," she wrote. "We share a common goal with IOSHA, with the United Steelworkers and with our work force, to provide a safe workplace for all our employees."

Worker's family sues

Caudill's family in September 2011 filed a negligence and wrongful death suit, but not against Pilkington.

Under Indiana law, Caudill and his beneficiaries forfeited the right to sue the company because he opted to receive Worker's Compensation. However, beneficiaries may sue third parties for wrongful death, regardless of whether the deceased employee signed up for Worker's Comp.

Kelly Caudill's son, Derek, and mother, Faye, are seeking unspecified damages from Reflective Industries and Scott Worthington.

Both Reflective and Worthington, an electrical contractor, worked on the machinery that killed Caudill, according to the suit.

In the court filing, attorney Joseph Allman, of Macey Swanson and Allman in Indianapolis, claims the two defendants did not properly "design, install, re-install and/or modify" the conveyor system with adequate guards or lockout equipment.

The lawsuit also alleges the defendants failed to instruct or warn of the air cylinder's potential threats, and that they did not comply with government regulations or industry standards.

Caudill's death has resulted in funeral and burial expenses on top of attorney's fees for Faye Caudill, who was financially dependent on her son, court records say.

Along with compensation for those expenses, the suit is seeking reimbursement for the earnings Caudill would have received if he were still alive.

Allman declined to comment, saying he does not speak publicly on pending litigation.

Attorneys for the two defendants deny their clients did anything wrong.

The lawsuit boils down to product liability, said Reflective's attorney, John Bullaro of Bullaro & Carlton in Highland. He said he does not believe the recycling company's responsibilities applied to the machinery that killed Caudill.

Worthington's attorney, Kyle Baker of McNeely Stephenson Thopy & Harrold in Shelbyville, said the cullet conveyor was in place at least 10 years before Worthington modified the machinery. In addition, his contract work was several years before Caudill's accident, Baker said.

"You're looking at six years of no complaints, of no problems, and then the incident occurs," he said.

A jury trial before Shelby Circuit Court Judge Charles O'Conner is scheduled for November 2013.•