Talk about irony: Two central Indiana entrepreneurs are making a new spirit from an old crop—supplied largely by an Amish farmer who doesn't drink alcohol.
The product is Sorgrhum, a distilled liquor made from the syrup of sweet sorghum, a stalk-like grain used as a sweetener before sugar cane became widely available.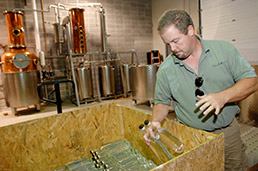 Stuart Hobson's distilling experience helped give Sorgrhum a solid start.(IBJ photo/Perry Reichanadter)
It's the brainchild of Matt Colglazier, marketing director at Big Red Liquors in Bloomington, developed in partnership with Stuart Hobson, founder of Indianapolis-based Heartland Distillers.
The partners launched Colglazier & Hobson Distilling Co. a year and a half ago. Their challenge: making and marketing a spirit in an industry dominated by major brands.
Craft distillers have to educate the public about their products to generate interest, said Louis Meyer, general sales manager at Indianapolis-based distributor Crossroad Vintners.
"You have to introduce it to the right people, get the right people involved and tell the story," said Meyer, who doesn't handle Sorgrhum. "You essentially have to create a market for it."
Even so, the number of craft distilleries nationwide is growing 30 percent each year, according to Bill Owens, founder and president of the American Distilling Institute. He said the home-grown nature of the products is a plus.
"The craft guys have a huge advantage to say it's local," Owens said. "As soon as you put the words 'local' and 'handcrafted' on it, it's got weight to it."
Colglazier's inspiration came when he saw a label for Lin Creek Sorghum Farm at a Bloomington grocery store. Curiosity and his blue sedan took him south to Bromer, where he met Amish farmer Ervin Bontranger.
Bontranger, who has 13 children and a wife who sells eggs and pies on Saturday mornings, sold him about five gallons of sorghum syrup. Colglazier took it to Heartland Distillers in northeastern Indianapolis, where he and Hobson started experimenting.
"We'd play around with it and get all sticky," said Hobson, whose business cards are still gummy with syrup.
It took the pair several months of fermenting and distilling—the processes that convert sugars to alcohol—to come up with two varieties of Sorgrhum.
One hundred gallons of water and 20 gallons of syrup are fermented to make nine gallons of alcohol. The liquid is distilled twice to make the clear "white spirit," which tastes like tequila with a sweet finish. To create the darker version, which tastes like a mixture of bourbon and rum, the mixture is distilled once and then aged in oak barrels for six months.
The name Sorgrhum is an amalgamation of sorghum and rum, which the partners came up with after the federal Alcohol and Tobacco Tax and Trade Bureau wouldn't let them call it Sorghum Rum. Only alcohol made from sugar cane or a byproduct can be called rum.
They formalized their business relationship with Bontranger through snail mail, given the Amish aversion to technology. Bontranger doesn't drink alcohol, but gladly sells sorghum syrup to Colglazier, who is equally pleased with the deal.
"I'd much rather be in business with someone who's curious and willing to take a risk," Colglazier said of the Amish farmer.
But Colglazier and Hobson are taking chances, too. They don't have the heft of a multibillion-dollar corporation or well-known brand, and Hobson said they've already spent tens of thousands of dollars to make Sorgrhum.
"We're not going to get rich anytime soon," he said.
Colglazier and Hobson had to hire a distributor to market the product to liquor stores, bars, restaurants and grocery stores. They chose Texas-based Glazer's Distributors, known as Olinger Distributing Co. before a June ownership change. The company has distributed Heartland Distillers' Indiana Vodka since it hit the market in 2008.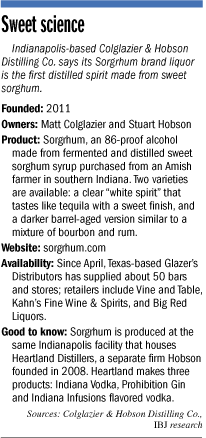 "We're seeing a lot of interest in bars and restaurants who are looking for craft distilling and Indiana artisan products," said Jim Calvert, vice president of brand development for Glazer's Distributors of Indiana.
Glazer's has received about 800 bottles of Sorgrhum worth a total of $20,000, and Calvert said it has made its way into about 50 venues since April.
Vine and Table, a wine and gourmet food market in Carmel, sells 750-milliliter bottles of the light Sorgrhum for $28.99; the dark costs $35.99. Other retailers, such as Kahn's Fine Wine & Spirits, have similar prices.
Since Vine and Table started offering the light Sorgrhum in April and the dark Sorgrhum in May, the store has sold more than a dozen bottles of each type. That's fairly successful for a new product, said staff mixologist Rick Rehmer.
Rehmer thinks the local aspect of the product helps Glazer's market it to independent restaurants and stores.
"They know to bring us those specialty things that most stores won't deal with," he said.
But making a spirit from Indiana crops in an Indiana distillery doesn't guarantee immediate sales. The American Distilling Institute's Owens suggests liquor producers create an appealing label and give distillery tours to spark interest.
Colglazier & Hobson Co. has separate labels for each product. Both feature a red, navy and pale yellow color scheme and the company's logo, which includes a drawing of a sorghum plant. The tag line: America's first sweet sorghum spirit.
But the distillery hasn't opened its space for public tours, which Hobson noted is a disadvantage—one less way to make money from Sorgrhum production. He chooses not to conduct tours because the Heartland Distillers facility is not licensed to sell liquor.
Owning a distillery before releasing a new product has been helpful for Hobson. The customers who enjoy his Heartland Distillers products also have confidence in Sorgrhum.
In fact, Colglazier's assurance that Hobson would produce high-quality liquor was one of the reasons he approached him to start this endeavor.
"We're proud of this as an Indiana product," Colglazier said. "But we're also proud in how it tastes."•
Please enable JavaScript to view this content.