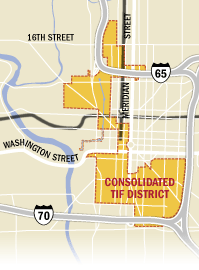 The Indianapolis downtown TIF is one of the few sources of revenue growth, and it could bail out the city's budget once again in 2013.
Mayor Greg Ballard on Aug. 13 unveiled a $1.1 billion budget proposal that includes a $595 million general fund, which would be up 4.5 percent from this year.
Ballard is looking to several sources to close a $65 million gap between spending and revenue, and one of them is a $10 million reimbursement from tax-increment financing districts (which capture growth in property-tax revenue for economic development).
The money could come from several TIF districts, or the downtown TIF alone, Controller Jeff Spalding said. The downtown district actually covers a wide area stretching from south of Raymond Street to north of 16th Street and includes $2.6 billion in assessed value.
Spalding expects the downtown TIF to end this year with a balance of $141.7 million. That's after providing $38 million to the city to help cover this year's budget.
About 68 percent of the estimated balance will be committed to debt service and other required reserves, leaving $45.3 million to leverage for economic development. The budget bailout would shrink that number to $35.3 million.
After talking up the need for cuts in public safety, Ballard's budget proposal would hold most agencies at their 2012 budget level, plus provide still-undetermined sums for increasing health care, pension and other fixed costs. Marion County Sheriff John Layton would get the 8-percent increase he requested for fixed costs, including inmate health care and outsourced jail operations.
Ballard wants to save $5.5 million by having police and fire departments forgo contracted raises, which were due in 2013. He would also eliminate the homestead tax deduction ($8.1 million), and spend $20 million in anticipated fund balances and $17 million from a rainy day fund.
Please enable JavaScript to view this content.