"We want a more diverse audience."
That's the mantra you'll hear from just about any theater producer in Indianapolis if you ask about audience development. Translation: We want audiences that aren't just older and aren't just white.
There are many good reasons to seek such audiences, of course. A diverse audience, in age and ethnicity, helps secure funding. Diversity heightens your cool factor. It says that what you are offering is more universal. And diversity reassures artists that there's a future—that they aren't stuck in an aging-white-audience rut.
But attracting those "non-traditional" (a term I hate) audiences isn't easy. Touring shows at the Murat or on college campuses might pull it off, but what about home-grown work by Indy's own theater companies?
I was reminded of those diversification challenges—and that it is possible to overcome them—earlier this month when I attended productions staged by two fledgling groups. At one, I can say with only slight exaggeration, I was the whitest person in the crowd. At the other, I can say with no exaggeration, I was one of the oldest.
And it was refreshing to be in the minority at both.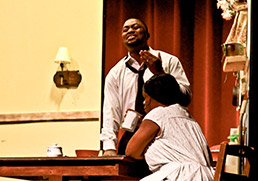 An August production of "A Raisin in the Sun" launched the Indianapolis Urban Theater and Dance Company. (Photo courtesy of Indy Urban Theater)
The first was Lorraine Hansberry's 1959 play "A Raisin in the Sun," staged by the new Indianapolis Urban Theater
and Dance Company at the Athenaeum, where it had a limited run Aug. 10-12.
The play—the first Broadway play written by a black woman—was risky for its time but is now considered a classic. And for good reason. Its story of a family—mother, son, daughter-in-law, daughter and grandson—wrestling with what to do with a windfall insurance check is universal without ever losing its specificity.
But the fact that it has become a staple on school reading lists doesn't mean there's no life left in it. Far from it. Hansberry's characters, situations and dialogue still have the power to pull us into their struggles, their hopes and their truths. Far from being types, the Younger family members still come across as flesh-and-blood people, each with flaws and graces.
In my enthusiasm for the company's existence and for the play itself, I want to be careful not to over-praise. Some of the performances here crossed the border into amateur and the set and lighting seemed an afterthought (or barely a thought at all). The usual Athenaeum problems persisted: The amount of sound spillover made it seem like the Youngers were trying to get out of their apartment because of the overwhelmingly noisy neighbors.
Still, IUTDC did an effective job of delivering Hansbury's play, without bells or whistles, but with the emotional impact intact. I enjoyed the evening, and being able to witness the first steps of an ambitious company dramatically increased that enjoyment. With "A Raisin in the Sun"—and upcoming shows including an IndyFringe piece, a dance program, and a production of "Rent"—IUTDC is off to a promising start. I look forward to watching it grow.
____________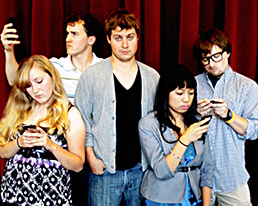 The new Vagabonds' Bridge Theatre Company launched with a new play, Chelsea Anderson's "The Playground." Its next show hasn't been chosen yet. (Photo courtesy of Vagabonds' Bridge Theatre Company)
The second newcomer, Vagabonds' Bridge Theatre Company, hopes to—as its mission statement attests—"bridge the gap between educational and professional theatre." Emerging from the University of Indianapolis community, it offered its first production, Chelsea Anderson's "The Playground," at the Wheeler Arts Center Aug. 9-11.
Set in a coffee shop—as many a young playwright's work is—"The Playground" concerns four people lost in their own plugged-in worlds. Those worlds are shattered when a mysterious stranger with the power to shut down their electronic devices (a skill that would be useful in movie theaters) and lock the doors prods the quartet into actually communicating with one another.
There are personal revelations in this Gen Y Twilight Zone, of course. And emotional outbursts, some organic and some overwritten. While the vibe is decidedly senior thesis project and the lessons learned not terribly surprising, the moment-to-moment directing, writing and acting—with one exception—rose above some semi-pro plays I've seen recently—including many a Fringe show.
In fact, clocking in at just over an hour and with some room for trimming, "The Playground" by all rights should have been a Fringe Fest offering.
A company to watch? If the Vagabonds knew what they were up to next, then yes. Alas, there's nothing set on their schedule and my query led to only vague talk of something "next summer." Here's hoping.•
__________
This column appears weekly. Send information on upcoming arts and entertainment events to lharry@ibj.com.
Please enable JavaScript to view this content.