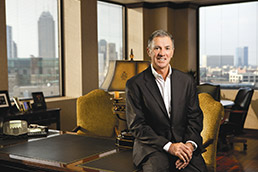 Baldwin & Lyons CEO Joseph DeVito wants "stronger and more predictable revenue and profit streams" for the insurer. (Photo courtesy of Baldwin & Lyons)
Vehicle fleet insurer Baldwin & Lyons is starting to deliver meaningful income from professional liability insurance products it introduced two years ago as part of a diversification strategy.

Since 2010, B&L has zoomed its way into professional liability products covering more than 300 business classes. The products cover the likes of architects, attorneys and real estate agents.

Earlier this year, it launched errors-and-omissions coverage for life and property/casualty insurers. The latest: a liability policy for allied health medical professionals.

And later this month, the 82-year-old company best known for insuring truck fleets will begin selling directors-and-officers and employer's practice liability policies to not-for-profits.

As of June 30, it had in-force $15 million in direct premiums written on the professional lines, which is still well under 10 percent of the company's business.

B&L also has $25 million in premiums from professional liability reinsurance—mostly medical malpractice—boosting total professional lines revenue to $40 million.

The total is likely to hit $50 million in professional liability insurance—roughly $20 million in direct and $30 million in reinsurance—"probably by the end of 2013," said CEO Joseph DeVito.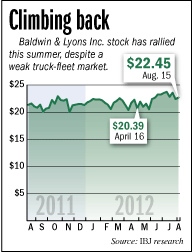 Such professional liability products could help blunt the cyclical effects of the trucking industry on the company's business. DeVito said he wants "stronger and more predictable revenue and profit streams."

DeVito was named president in 2007 and in the three-year period that followed, B&L enjoyed the highest operating income in its history.
But a series of global disasters soon dashed the company's books, including tornadoes in the United States, a tsunami in Japan, and earthquakes in New Zealand. Last year, B&L sustained insured losses of $43 million, or $2.89 a share.

That translated to a 2011 net loss of $28 million.

Moreover, the sluggish worldwide economy and government fiscal policies have had the effect of depressing investment income.

"Investment income continued nearly comatose," Gary W. Miller, Baldwin's executive chairman, said during a second-quarter conference call.

"Yields on investments—to put it simply—suck," Miller added, not even bothering to perfume the numbers for analyst consumption.

B&L has been trying to reshuffle its investments, and income from investments year-to-date has stabilized at break-even, after a $2.2 million loss for the same time last year.

Profit is also looking better this year—at $15.6 million in the first half of 2012—compared with a loss of nearly $21 million at the same time last year.

Baldwin & Lyons subsidiaries include Protective Insurance Co., Protective Specialty, Sagamore Insurance, B&L Insurance and B&L Brokerage Services.

During the second quarter, premium volume in the property and casualty segment fell 4 percent due to planned changes in private passenger auto and other commercial products, although that was offset by higher volumes in fleet transportation and professional liability insurance products.

As far as the company's traditional "wheels" business, DeVito is targeting growth among independent-contractor and public-transportation providers.•