Both the exterior and interior of this French chateau-style mansion at 5111 N. Meridian St. need significant TLC to restore its former grandeur.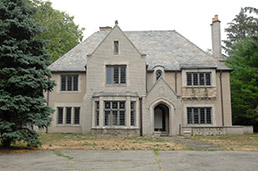 (IBJ Photo/ Perry Reichanadter)
Marcella H. Nichols bought the home in 1972 and it was the Decorator's Show House two years later. However, she did virtually nothing with the property between the show and her death in 2004.
A contractor, Tom Hession, acquired the house from her estate in 2005 and gutted the tiny kitchen. Most of the rest of the interior looks much like it did when visitors last strolled through for the show.
Hession also fixed a hole in the roof where a tree branch had fallen.
Built in 1928 for businessman and civic leader Berkley W. Duck, a succession of owners included John H. Schaler III, who added a six-car garage to house his Rolls-Royce collection.
Today, it's for sale as-is for $695,000, or $1,645,000 including a renovation.•
Please enable JavaScript to view this content.