Veterinarian Greg Magnusson admits he had a lot to learn when he opened Leo's Pet Care in Carmel two years ago. Although he'd worked in the field for a decade, he had no experience as a small-business owner.

"I'd never been involved in bringing new people to a practice," said Magnusson, 35. "I had to figure out what marketing was all about."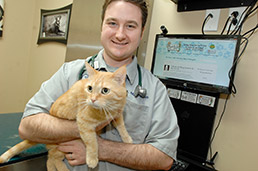 Carmel veterinarian Greg Magnusson of Leo's Pet Care interacts with the public on Twitter and writes frequent blog posts on his clinic's website. (IBJ Photo/ Perry Reichanadter)
So he paid to use a "cookie-cutter" website template, bought every ad he was offered and dabbled in social media before declaring the effort a failure.

Now leospetcare.com is the online home of Magnusson's burgeoning clinic, his straight-talking blog and his Twitter alter ego, @IndianapolisVet. Since deciding to give the social network another try, he has posted more than 6,700 entries and drawn 3,800-plus followers.

Magnusson is among a growing group of entrepreneurs turning to technology to interact with customers.

Nationwide, more than half of businesses with fewer than 100 employees regularly use social media, according to a 2012 survey from Massachusetts-based research firm SMB Group Inc. That's up from 44 percent last year.

Sound like a no brainer in today's uber-connected world? Here's a reality check: A study commissioned by tech giant Google found that 53 percent of small businesses in Indiana don't even have a website, let alone legions of Facebook fans.

That's a big mistake, said Lorraine Ball, owner of Carmel-based marketing firm Roundpeg. Ball believes companies of all sizes need to establish a presence online—and not just because her agency designs websites.

"The single-biggest advantage is it makes businesses look bigger than they are," she said. "A good website, a strong e-mail newsletter, a well-written blog—they give customers confidence in doing business with you."

Ball
Social media activities should be an extension of that online brand, Ball and others said, providing additional ways for businesses to develop relationships with potential customers.

Magnusson, for example, answers pet health questions on Twitter and in his blog, establishing himself as the friendly neighborhood vet and his website as a useful resource. When one of his followers is ready to schedule an appointment, Magnusson hopes Leo's Pet Care will be top of mind. But he is careful not to be too self-promotional.

"The biggest mistake businesses make is blathering on about themselves," said Michael Reynolds, CEO of local marketing agency SpinWeb. "That's a quick way to turn your audience off."

Because so few other veterinarians have embraced such technology, Magnusson's social media savvy helps set him apart from his competition.

"More often than not, the fact that I'm writing a blog and participating in social media makes clients happy," he said. "I'm putting myself out there. If I'm cutting edge there, maybe I offer cutting-edge medicine. If I haven't updated my website in five months, is my medicine five months out of date?"

Indianapolis remodeling contractor Steve Gray has made his firm's website the cornerstone of its marketing plan. The flashy stevegrayrenovations.com includes videos and slide shows that allow users to follow a project from start to finish, for example. Gray also shares photos on Facebook, Pinterest, Flickr and industry-specific site Houzz.com.



"We're in a highly visual industry," Gray said. "The website allows us to show people what we do and how we do it. … As long as we continue to feed it, it works for us 24/7/365."

Gray consults with contract employees who update the website at least once a month, and he monitors online stats daily to make sure the content stays fresh and relevant. Kitchen makeovers are hot this year, Gray said, so he's working on adding more kitchen projects to the site.

The website and social media sites also serve to "pre-qualify" customers, he said. Prospects who e-mail to set up appointments typically have already done their homework and narrowed down their choice of contractors.

"It makes us so much more approachable," Gray said. "Clients feel like they know us. We're not strangers."

That kind of familiarity also can be an advantage for retail businesses hungry for contact with their customers—all the better to get instant feedback. Take local restaurant chain Patachou Inc., which has a voracious appetite for such interactions. Brand manager Christina Pippen spends about 20 percent of her time on social networks responding to diners' inquiries, raves and complaints.

"We're finding a lot of people are more willing to tweet about something than they are to have an actual conversation," Pippen said.

A recent request for coconut cream pie-flavored coffee at the downtown Café Patachou location, for example, resulted in an 11 p.m. text message to the restaurant manager. Problem solved.

Technology makes such exchanges possible, but staying plugged in to the social networks requires one thing in short supply for small-business owners: time. Indeed, 62 percent of decision makers who responded to the SMB survey identified a lack of time as one of the biggest challenges in getting value from social media.

Ball understands the sentiment but said motivated business owners can find a way to make their mark online.

"Give yourself permission to not do everything," she said. "It's better to do a phenomenal job with a blog and Facebook than to do a mediocre job on every social network out there."

She recommends stretching resources by repurposing content. One great blog post with one great photo can become the core of an e-mail newsletter, a Facebook update and a couple tweets. Roundpeg works with clients to set social media strategy, often establishing calendars that help ensure regular updates.

Ball and others also recommend that entrepreneurs evaluate the results of their social media efforts, just as they would with any other marketing initiative.

"Businesses owners need to take a hard look at what is actually making the cash registers ring and move past spending time or money based on beliefs," said Kevin Mullett, director of product development at Fort Wayne-based tech firm Cirrus ABS. "Once they have measured what is working and what is not, they will either find the time, spend money with someone who has the time to do it for them, or forgo the opportunity."

Some small-business owners do decide to stay on the sidelines. Randy Neff, president of Neff Tax Associates in North Salem, said his transactional tax consulting firm is so specialized that he doesn't see the benefit of a robust presence on most social media sites. The more business-oriented LinkedIn network is the exception.

Neff's bare-bones website includes a link to his account there, as well as an option to "like" the firm on Facebook.

"I think two people have clicked it," Neff said. "I don't see a lot of business being driven to us that way."•