Electric vehicles are clean and fuel-efficient, but they don't sell well enough to base a business model on.

That's what locally based EnerDel discovered when it focused on making lithium-ion batteries for the nascent hybrid and electric vehicle market. That strategy drove its parent company, New York-based Ener1, into bankruptcy early this year.

Roberts
But now EnerDel's new management thinks it has found a winning strategy: making batteries for utilities—especially in emerging markets where electric grids can be unreliable, increasing the need for backup power supplies.

Lithium-ion batteries' applications range from consumer electronics to heavy-duty machinery.

In power grids, they can power remote devices, such as wind turbines or solar panels, or they can store energy for backup generators or other uses.

"Even leading up to the bankruptcy, there was a lot of discussion about what the appropriate strategy should be," CEO David Roberts said.

Roberts, who joined EnerDel as an intellectual property lawyer in January 2011, moved into the top job in June. Since then, he has steered EnerDel toward becoming more of a utility supplier than an automotive one.

Previously, the company prioritized its markets this way: light-duty automotive, then medium- and heavy-duty automotive, and, at the bottom, utilities and other stationary devices.

"Coming through the bankruptcy, we've almost flipped it on its head," Roberts said, "so the primary focus is [power] grid opportunities."

Ener1 emerged from Chapter 11 reorganization on March 30 with $50 million in financing from its new majority owner, Russian investor Boris Zingarevich.

The company, which employs about 250 in the Indianapolis area, still has growth ambitions. But executives no longer talk about hiring thousands of people, and they've scaled back their timetable for widespread consumer purchases of hybrid and electric vehicles.

The mind-set was far different in 2009, when the U.S. Department of Energy provided a $118.5 million grant to the company as part of a federal effort to subsidize research, development and commercialization costs in the hybrid- and plug-in-vehicle markets. The goal was to lower consumer costs, thus making the market more sustainable in the United States.

EnerDel was one of four Indiana automotive suppliers that received the federal funding. The company intended to boost its employment from 150 to 3,000 to keep pace with an expected boom in electric vehicle sales.

But by last year, EnerDel and competitors targeting similar markets were reeling. And that summer, Think Global, which had planned to use EnerDel batteries in electric cars it would make in Elkhart, landed in bankruptcy.

Now, EnerDel and its rivals are looking elsewhere for growth.

"The total volume of plug-in and hybrid vehicles using advanced batteries has not been at the levels that some of those companies expected," said Paul Mitchell, president of locally based Energy Systems Network, which promotes clean-energy technologies.

"In parallel with that, the manufacturing capacity of a number of those companies was dramatically ramped up with the federal stimulus. … They're sitting there with a lot of capacity and equipment and facilities, but not a lot of demand on the other side."

Sputtering sales

There's little evidence that automotive demand will rise sharply anytime soon, despite high gas prices.

General Motors Corp. reported this month that it would idle the Michigan plant that produces the plug-in Volt for four weeks because of excess supply.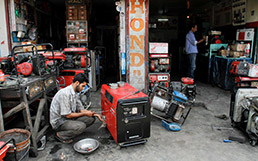 EnerDel's lithium-ion batteries power backup generators more efficiently than older, fossil-fuel models such as those seen here in India's massive electric-grid failure last month. (AP photo)
The Detroit automaker sold 10,666 Volts in the United States in the first seven months of this year. Compare that to the internal-combustion-powered Chevy Cruze sedan, which had sales of nearly 129,000 by the end of July.

Things haven't been any better for the Nissan Leaf, another plug-in vehicle. The Japanese automaker sold 3,543 in the United States through the first seven months of 2012, a 26-percent slide from the previous year.

EnerDel will continue taking whatever business it can get from the automotive sector. And on Aug. 27, the company announced it had scored its second contract to supply Volvo's C30 electric car.

But Roberts, in an interview before the announcement, described those kinds of deals as "icing on the cake," with EnerDel marching toward utilities, integrators and system operators.

Tapping into grid

Five months out of bankruptcy, EnerDel sees much better prospects in supporting the power grid, both domestically and internationally.

Ener1's bankruptcy filing in January forecast $84 million in revenue and a $49 million loss this year. The company expects to turn that around to $68 million in revenue and $1.5 million in profit by 2015.

EnerDel began looking at the potential in power grid sales in 2010, but did not pull in any that year. By the end of this year, Roberts expects at least half of revenue to come from the market.

His optimism stems partly from a Copper Development Association study, released April 1, that forecast $240 billion in U.S. power grid investments over the next 10 years.

"There's just huge numbers," he said.

Pike Research forecasts lithium-ion batteries will have a compound annual growth rate of 33 percent from 2012 to 2020 in the North American power grid market.

Brittany Gibson, an advanced batteries analyst for the Boulder, Colo., research firm, said more progressive utilities are deploying the clean-tech lithium-ion batteries. Many companies are using them to power renewable energy systems, such as wind turbines.

"It's, 'Let's get them up and running and see what happens. So if this hits, we're ready,'" Gibson said.

Globally, Pike Research predicts a 29-percent compound annual growth through 2020.

Emerging economies, such as China's and India's, have tremendous infrastructure needs, including electricity.

"Whether GDP [growth] is reducing or not, China is still growing," Roberts said.

One area with potential is disaster prevention and recovery, he said.

About 620 million people experienced power outages in July in India, where the government supplies electricity. The incident led to questions about the condition of the country's power grid and whether it can keep up with demand.

Or there was the March 2011 earthquake and tsunami in Japan that took out a nuclear power plant, Roberts noted.

"That's severe pain that needs to be addressed," he said.•