As part of an almost-decade-long expansion of its local newscasts, WXIN-TV Channel 59 on Sept. 10 will launch an hour of news at 6 p.m.

"We've taken a strategy of taking control of our air time rather than relying on syndicated programming," said WXIN News Director Lee Rosenthal. "Every other time slot where we've launched a newscast, we've been successful, and we're confident we'll have success at 6 p.m., too."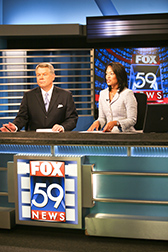 In the last eight years, WXIN-TV Channel 59 has expanded from 18 hours of newscasts a week to 60 hours. (File photo)
Rosenthal thinks there's a need for local television news from 6 to 7 because other local stations run national network news in the second half of that hour.

"We think there's an unmet need there right now," Rosenthal said. "A lot of people are just getting home from work at that time."

WXIN is adding five full-time employees, including two on-air positions, to help produce the 6 p.m. newscast.

"Every time we've launched a new newscast, we've always said, 'Let's do this with more. Let's do this right,'" Rosenthal said.

WXIN General Manager Larry Delia said ad spots during local Fox newscasts are selling well, and he anticipates the same for the 6 p.m. newscast.

"In terms of ad sales, we've seen that if the news product is good, the demand will be there," Delia said.

Eight years ago, WXIN began expanding its news dramatically. The local station has gone from producing 18 hours of newscasts each week to 60 hours with the most recent expansion.