Indianapolis-based Lumina Foundation, one of the nation's largest donors to education groups, has given $10 million to a venture capital firm to fund for-profit startups with ideas to meet the nation's education challenges.
The unusual investment, made from Lumina's massive $1 billion endowment, is part of a $20 million fund started by Maryland-based New Markets Venture Partners. The fund is focusing its investments on the same three areas on which Lumina concentrates its philanthropic giving: boosting student preparedness for college, improving college graduation rates, and helping colleges educate more students more efficiently.
The investment, which will be drawn down over six years, is small compared with Lumina's $50 million in annual grants. But Lumina sees it as yet one more way to reach its ambitious goal of having 60 percent of all Americans holding a postsecondary degree or certification by 2025.
Americans have been stuck at about 39 percent of the population with postsecondary degrees for decades. As recently as 2000, no other country had a more educated populace. But since then, many nations have surged past the United States in educational attainment.

McKiernan
"The problem is not something that can be solved by any one sector by itself," said Holly McKiernan, Lumina's chief of staff and general counsel, sitting in Lumina's conference room that overlooks Meridian Street, just south of Monument Circle. "We really believe that it's a collaborative effort."
So that means technology-based, for-profit companies could use funding to scale up their solutions, just like the governments, schools and not-for-profit groups Lumina has traditionally funded.
A minority of big foundations have veered into investing in for-profit companies—going as far back as the 1960s—but the practice is still not the norm, said Les Lenkowsky, a professor of philanthropic studies at Indiana University.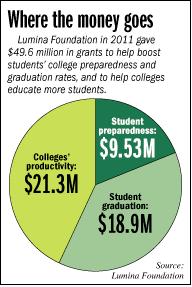 The New York-based Ford Foundation and the Seattle-based Bill & Melinda Gates Foundation both have invested in businesses working toward similar goals as they are. In June, the Gates Foundation announced a new initiative to fund biotechnology companies developing treatments for residents of developing countries. Along with education, global health is one of the Gates Foundation's grant-making priorities.
An effort this year by the U.S. Department of Treasury to clarify rules around the practice could lead more foundations to follow suit. But Lenkowsky thinks the basic mentality of foundation managers works against the practice gaining widespread traction.
"By and large, the people managing large endowments are risk-averse," Lenkowsky said. "The directors of foundations regard themselves as trustees of the endowment. They don't like to make highly risky investment, even when they are program-related."
McKiernan started pursuing the idea after hearing a presentation by staff members of the Maryland-based Annie E. Casey Foundation, which since 2002 has used some of its endowment funds for "mission-related investments"—and has vigorously advocated for other foundations to do the same.
Lumina then met the partners at New Markets, all of which are former schoolteachers, and began talking about a fund to spur more innovation in the higher education world.
"There weren't just lots and lots of startup companies that were focused on solutions for higher education," McKiernan recalled. Lumina wondered if its fund could inspire innovation.
Turns out many people were thinking along the same lines, because venture capital investments in education have skyrocketed recently. According to data from the National Venture Capital Association and Thomson Reuters, total venture capital investments in educational technology firms rose from $74 million in 2007 to $429 million last year.
Lumina's money has so far helped fund six companies, according to Mark Grovic, a partner at New Markets Venture Partners. He hopes to fund 12 to 15 by the time the fund is fully invested.
They include Moodlerooms, which provides open-source instruction and support software to universities; Better Lesson, a service that allows K-12 teachers to share lesson plans for free; Starfish Retention Solutions, which makes programs that identify struggling students, and helps universities give them quick support and track what support works and what doesn't; and Think Through Learning, which makes Web-based math instruction programs for high-schoolers
Moodlerooms, which employed a handful of software programmers in Indianapolis, was acquired in March by Washington, D.C.-based Blackboard Inc.—generating a quick return for Lumina and New Markets.
Grovic would like to see more foundations follow Lumina's lead.
"It's so disruptive in education right now. There's so much opportunity to solve these legacy problems—and we're not even talking about the opportunities [to do new things]," he said.
"You're getting all these great entrepreneurs. And these people are not wired to be grant managers. They're wired to see and meet customer needs, to spend less money than they're making, to show ROI."•
Please enable JavaScript to view this content.