Last week, I explained a little about my resistance to food trucks. As I said then, that resistance wasn't really grounded in experience—at least, not recent experience—but in old conceptions. So this month, I decided to start from scratch and experience Indy's newly booming food truck culture with an open mind, searching for that magic combination of quality, convenience and price.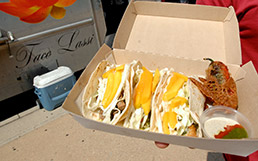 Taco Lassi's signature trio is topped with mango. Try the Tandoori Chicken version. (IBJ Photo/ Perry Reichanadter)
First stop this time was Taco Lassi, the creation of Kari Kickander and Adam Perry, she a visual artist and he a musician, who shared an interest in cooking and renovated an old truck when they moved to central Indiana. I appreciate the pride Taco Lassi takes in its ingredients—you can find the pedigree for its tortillas, beef and produce on its website, www.tacolassi.com. And I certainly enjoyed the trio of tacos ($10) jovially served for a lunch—particularly the tandoori chicken version. The mango slice on top of each was also a nice touch.

The downside is that these are small tacos—gone in a bite or two, especially when you are trying to avoid having juices run down your sleeve. For me, a $10 lunch shouldn't feel like an appetizer. And the long wait—not just to order through the side window but then to have my name called through the driver-side door—had me anticipating more than was delivered.

Hungry for more, we stopped at Duos, which, in addition to a truck, also has a cafeteria inside the International Medical Group Building (2960 N. Meridian St.). After braving another line, we sampled the Ham, Manchego cheese and cherry conserve sandwich. The ingredients sounded like a refreshingly light alternative to the grease-heavy offerings at other establishments. And they were—if only the bread hadn't been too hearty for its own good. The carb-heavy taste made the $7 charge hard to justify. A few days later, however, a delicious sample of a Duos Goat Cheese Quesadilla—with mustard greens and potato—at the annual Dig-In festival at White River State Park—left me eager to track this truck down again.•

—Lou Harry

__________

Second in a month-long series of food-truck dining columns.