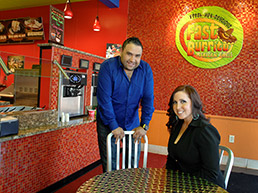 Kelli Membreno, owner and principal broker of Libertad Real Estate, has helped David Gonzalez open several restaurants, including this Fast Burrito. Gonzalez is a native of Mexico. (IBJ photo/Perry Reichanadter)
Real estate entrepreneur Kelli Membreno occasionally has seen homebuyers arrive at closings with a suitcase full of greenbacks.
"It's just one of those things where you say, 'This is a cash closing,' and they don't understand cash closing means the funds will be wired from one account to the other," she said.
It's one of many communication breakdowns Membreno has encountered working with Hispanic homebuyers and entrepreneurs. And it's the kind of misunderstanding she's built her real estate career on addressing.
Membreno, a bilingual native of northern Indiana, started her real estate career at locally based F.C. Tucker Co. Of the 17 homes she sold her first year, 15 were to Hispanic buyers.
In 2004, at only age 30 and with just 1-1/2 years of experience in the business, she ventured out on her own and founded Libertad Real Estate.
"I think when you speak another language, you're obviously going to attract those types of buyers that speak your language," Membreno said. "It started off with one family and pretty much went from there."
Membreno, who recently moved Libertad into a new office in River Glen Office Suites in Fishers, is the owner and principal broker. She oversees a staff of six Spanish-fluent agents who in recent days were juggling six residential and 23 commercial listings.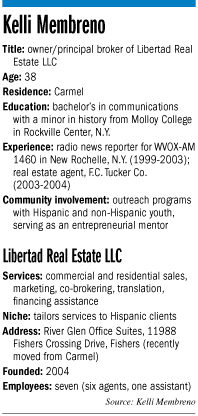 Membreno doesn't require that every agent she hires speak Spanish. But it's a major bonus at a company that caters to immigrants from Mexico, Venezuela, Colombia and the rest of Latin America.
She's tapping a fast-growing market. In the 2010 U.S. Census, 390,000 Indiana residents identified themselves as Hispanic or Latino, an 80-percent increase from a decade earlier.
A March report from the National Association of Hispanic Real Estate Professionals described Hispanics as a "mega force" in housing who will account for 40 percent of the nation's new households over the next decade.
Despite the residential market potential, Libertad pulls most of its business from commercial. Libertad primarily works with building purchasers and tenants, while also occasionally representing landlords seeking to fill shopping centers and other real estate.
Membreno declined to discuss specific financials, but said commercial accounts for about 80 percent of Libertad's revenue.
She hasn't abandoned her residential roots. But she said the mind-set of entrepreneurs, and the challenges commercial transactions bring, led her to shift focus.
The transition happened after one of Membreno's home-buying clients asked her to help him find a location where he could open a Mexican grocery store.
"I had absolutely no idea what I was doing, but I knew I was going to figure it out," Membreno said. "So I partnered with a commercial broker at that time, and we did the deal together. And I learned a lot."
Libertad's focus on commercial transactions puts the company "ahead of the curve," said Gary Acosta, co-founder and executive director of NAHREP, which primarily represents residential real estate agents.
"I would say Hispanic real estate agents on the commercial side are a very, very small portion of the marketplace—growing, but very small," he said.
Now that Membreno has several years of commercial experience under her belt, she can adeptly walk clients through the jargony mortgage and lease language that befuddles even many English-fluent buyers.
Libertad contracts with an outside company that translates documents from English to Spanish for the real estate firm's clients.
"When we get those documents in front of that client, it's pretty intimidating, and it takes us a long time for a lease signing or for a closing of a contract sale because we literally have to read through the contract line-by-line and [explain it] so that they understand what they're signing," Membreno said.
Membreno believes her understanding of Central and South American cultures also has benefited her business. Although she grew up a Hoosier, Membreno's Hispanic ethnicity, accompanied by frequent trips to Mexico, introduced her to the country's business customs.
Real estate markets depend on buyers' cash situations, not their credit, in almost any country south of the United States.
"We'd be having closings where we're selling $300,000 buildings, and my client shows up with cash in a case," Membreno said. "It was a shock [at first], but it wasn't anything I couldn't deal with."
While many of her clients lack an understanding of U.S. business customs, they often come to the table with an aggressive, go-for-it mind-set that can serve them well, Membreno said.
"If you're dealing with a Hispanic entrepreneur, they're coming from a climate that's already unstable, always in crisis, challenges to overcome every single day," she said. "So it's not that big of a deal for them to open up a business in the height of economic disaster."
The large number of clients with little familiarity with American business practices has prompted Libertad's agents to adopt ancillary roles as pseudo-consultants.
Membreno said she won't advise her real estate clients on every inspection or permitting matter they face before opening their doors to the public. But she will provide them with how-to lists and guide them to the proper people.
David Gonzalez, owner of El Meson Mexican Restaurants and Fast Burrito, said the additional services have enabled him to expand faster than he could have on his own.
Gonzalez, who earned a law degree in Mexico, moved to the United States in 2001. He worked in the restaurant business busing tables before opening El Meson in Greenwood.
"The first year, I almost closed it. The first year, I didn't get any sleep," he said.
As he spoke, he paused off and on as he mentally translated from Spanish to English. Occasionally, he turned to Membreno for assistance on his word choice.
The two met in 2007 at El Meson. With her at his side, he has opened five restaurants since.
Membreno has helped Gonzalez understand leases and has given him pointers on how to negotiate.
Gonzalez didn't know until after opening his first restaurant that he could have negotiated a deal with free rent the first few months. Instead, he paid $6,000 his first month, which was more than one-fifth of sales for the period.
Considering what he's learned—largely with Membreno's and Libertad's aid—he estimates he could have saved $20,000 to $30,000 that first year at El Meson.
Rafael Sanchez, chairman of the Greater Indianapolis Chamber of Commerce's Hispanic Business Council, said providing extra services, as Membreno does, is a common practice among Hispanic businesspeople already familiar with American practices.
"There's not enough of us to go around when you're looking for professionals that have expertise in certain areas that would be relevant to a business," said Sanchez, an attorney at Bingham Greenebaum Doll LLP. "While the numbers are certainly growing … we kind of still know who each other are."
Membreno has learned from her clients, as well, which prompted her to own a restaurant, store, banquet hall and financial firm while simultaneously running Libertad.
"What happened was, I just fell in love with every business that I saw being opened by my clients," she said. "And I learned so much throughout the processes because a lot of these guys … they needed help with licensing, with permits, liquor licenses, with fire code regulations, having the fire marshal out, all of those things that it's hard for us to figure out."
She still owns the banquet hall, Salon Internacional Banquet Hall & Convention Center at 6851 N. Michigan Road. She has sold or closed the other ventures.
"I realized—because life is a learning process—that I love real estate, but I don't love opening up businesses," she said with a laugh. "It's a lot of work."•
Please enable JavaScript to view this content.