Greenwood long ago became a paradise for developers of retail strip centers, residential subdivisions and, lately, supersized warehouses.

They now seem to outnumber the stars in the sky—stars obscured by the bright lights that reflect the commercial success of the southern suburb.

But developers might find Greenwood's leaders more discriminating about what can be built near a new Interstate 65 interchange at Worthsville Road, slated for construction in 2014.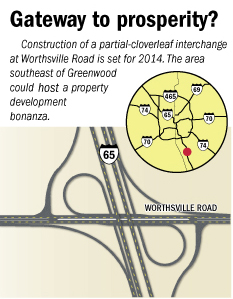 Last month, the city of 50,000 people hired American Structurepoint Inc. to come up with a land-use plan that will guide development near the interchange southeast of Greenwood proper.

Technically, the site is not within Greenwood. But the city has petitioned Johnson County to extend its jurisdiction for planning/zoning purposes. The city has spent lots of time and money securing the interchange in anticipation that it will eventually annex land surrounding it, said Krista Taggart, the city's attorney.

Mayor Mark Myers did not return phone calls. But he already has made public statements about what kind of development he'd like to see more of at Greenwood's I-65 interchanges, which also include Main Street and County Line Road.

Myers wants to lure corporate offices because they often bring high-paying jobs, more tax revenue and a better image of the city to those zipping down the interstate.

Scott Langdon, principal of Langdon Real Estate, said he doesn't think city officials want Worthsville to host the sort of big distribution centers that surround the Main Street interchange two miles north.

There, warehouses big enough for their own ZIP codes fill the 400-acre Precedent South Business Center with such tenants as Elona Biotech, Dayton Freight, Nestle Waters and Mays Chemical Co.

Generally, though, Greenwood has lagged other communities, such as Plainfield and Mount Comfort, in landing big industrial/logistics operations, Langdon said.

The message from the city seems to be, "We really want to see less of the big-box stuff and maybe some headquarters" offices, said Matt Dickerson, a senior vice president of Jones Lang LaSalle.

Langdon said city officials have signaled that the Worthsville interchange is ripe for office buildings on the scale of the seven-story structures at 116th and Meridian streets in Carmel, a goal Langdon doubts can be achieved.

Dickerson is similarly skeptical, noting that the growth trend lately has been in industrial/logistics buildings to a far greater degree than office space.

"I don't know if the office park idea there is going to be a driver for them," Dickerson said.

But Myers isn't alone in seeing potential for office development.

Brent Tilson, CEO of Tilson HR, built a 47,153-square-foot Class A office building along I-65, north of the Main Street exit, several years ago.

"A lot of people were questioning whether there was a good market for a building like this," he said.

But he's leased out space.

"We're full and we had to turn people away. So [offices] are in demand," Tilson added.

Likewise, he said the Worthsville exit will be a viable space for office buildings, bringing in high-paying jobs and the kinds of facilities that support the corporate office market, such as hotels and restaurants.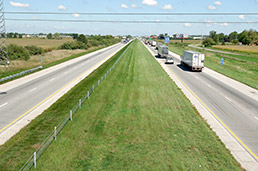 Mayor Mark Myers hopes the area around the Worthsville Road interchange will sprout office buildings similar to those at 116th and Meridian streets in Carmel. (IBJ photo/ Perry Reichanadter)
Greenwood might pay for focusing on corporate users by having to wait longer to see concrete poured, Langdon said.

He said Noblesville leaders took a similar approach for land use near I-69, where "I've had almost 40 acres on the market since 2004."

The future Worthsville interchange site today is a tale of two worlds.

West of I-65 are several hundred acres of vacant land. But just beyond is the southeast frontier of Greenwood and its urban sprawl. There's a new housing development being built and a new school complex.

Pivot back east and cross the two-lane bridge over I-65 and behold a vast expanse of gently rolling hills of farmland.

The only sign Greenwood is encroaching is to the north, where the white-painted warehouses of Precedent Park nearly two miles away are massive enough to appear like approaching glaciers.

But a handful of inhabitants east of the interstate will feel the effects of the interchange, including Taylor's Farm Market, perched on a knoll along Worthsville Road.

Without knowing what's on the template for development, "it's hard to say whether it's going to be positive or negative," said proprietor Mark Taylor.

He's already concerned that construction will make it harder for customers to get to his family's business. Taylor also knows that traffic could become congested with the new interchange, noting how busy the Main Street interchange has become.

Although Worthsville Road is a busy, east-west artery through Greenwood, it peters out to a doglegged country road a mile or two east of I-65.

But Johnson County planners want to make Worthsville part of a broader, east-west route that would tie into other routes, such as Clark School Road, and stretch all the way east to I-74.

The future east-west corridor would proceed west to the future Interstate 69, which will become State Road 37 or will parallel it.•