September's food truck trek continues, this time with stops at Chef Dan's Southern Comfort Food Truck and Cutie Pies Pizza.
At this bayou-on-wheels, "Southern Comfort" primarily means po-boys. Once a delicacy in these parts, the classic sandwich is an increasingly available option in Indy, which is all to the good.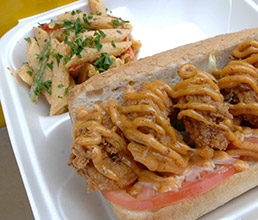 The shrimp is delicious in Chef Dan's Po'boy. (IBJ Photo/ Perry Reichanadter)
How does Chef Dan's stand up? Well, its Andouille Sausage Po'boy ($8) contained grilled chunks of sausage and a mildly spicy, slightly cheesy spread. The sizable portion of pig definitely sated my guest's appetite. But the sandwich as a whole appeared a bit bare in a room-temperature, lackluster bun (where's a good baguette when you need one?). At the very least, the bun could have been placed on the grill for 30 seconds to pick up some crunch. And a dollop of cole slaw to top the whole thing off and balance out the pork would have been nice. (We could have had the slaw, or fries, on the side, but we upgraded to hearty Red Beans and Rice for $1 more.)
We also added a side of collard greens ($3), which were more buttery than you'd expect in Nawlins, but this version had just the right sour sting from the greens to make it mouth-watering. The cornbread that came along for the ride was too fluffy and finely grained for purists, but we were satisfied with the agreeable sweetness.
The Shrimp Po'boy ($9) had the same bun issues, but the seafood itself was delicious—crispy, spicy and better-than-average size, topped with that sweet Cajun mayo. This one was partnered with the kind of Macaroni and Cheese ($3 on its own or a $1 upgrade) adults prefer, relying more on real cheese than Whiz-like sauce.
And we couldn't resist the Swamp Water ($2), a mix of lemonade and sweet tea that was about as sugary as any reasonable adult should be able to handle while still being refreshing. Even Arnold Palmer would be puckering up.
This week's lunches also included an encounter with Cutie Pies Pizza, where a slice and a breadstick come in at a steep $5, but where the Aloha pizza might make you forget the ticket price. Not pretending to be New York or Chicago style, Cutie Pies uses finely chopped ham, bits of bacon and just enough pineapple to accent without overwhelming, all hidden under a layer of cheese to craft a hearty slice of goodness.
You can track down Chef Dan's Southern Comfort Good Truck at www.chefdansindy.com and pursue Cutie Pies at www.cutiepiespizza.com.•
—Lou Harry and staff
 
Please enable JavaScript to view this content.