Mitt Romney stopped in Indiana four times this year, and he has the big checks to show for it.
The Republican presidential nominee has raised $2.27 million in large gifts from Hoosiers, twice as much as President Barack Obama, according to federal campaign-finance data through June 30.
Romney is also way ahead of the $768,202 that John McCain had raised by the same point in 2008.
The sums from Indiana won't make much difference in a race that's already seen more than half a billion dollars collected. But the individual contributions show a renewed level of enthusiasm among well-heeled party faithful, plus some less predictable businesspeople.
"I think there's a significant shift this time," said Bob Grand, a Barnes & Thornburg attorney and lobbyist who is Romney's Indiana campaign co-chairman. "These are prominent businesspeople who I think are very impressed with the Romney campaign and what Romney has to say about the direction this country is heading."
Simon Property Group Inc. CEO David Simon is Romney's second-largest supporter in Indiana, giving $57,200, according to Federal Elections Commission data compiled by the Center for Responsive Politics in Washington, D.C.
The Simon family has been staunch supporters of Democrats over the years. But David Simon, who declined to comment through spokesman Les Morris, has a history of giving large sums to both Democrats and Republicans. He gave $30,800 to Obama in 2008.
Both campaigns use joint fundraising committees, Obama Victory Fund and Romney Victory Inc., to collect large checks. The money is then parceled out to the candidate committees, national party committees and state party committees according to the legal limits. The limit for individual gifts to a candidate is $2,500 per election, but donors can give as much as $117,000 in a two-year period to all candidates, parties and political action committees.
Romney visited Indianapolis for a primary-eve fundraiser at the JW Marriott May 7 and received six five-figure contributions that day alone. Over the summer, he attended private fundraisers in Schererville and Vanderburgh County and made a public appearance at a restaurant in Evansville with Senate candidate Richard Mourdock.
After accepting the party's nomination in Tampa, Romney spoke to the American Legion convention in Indianapolis.
Obama, who isn't expected to repeat his historic win in Indiana, has not stopped in the state, but his fundraising is on pace with 2008. The president had raised $1.1 million in large gifts, $200 and up, through June 30, compared with $1 million through the same period four years ago.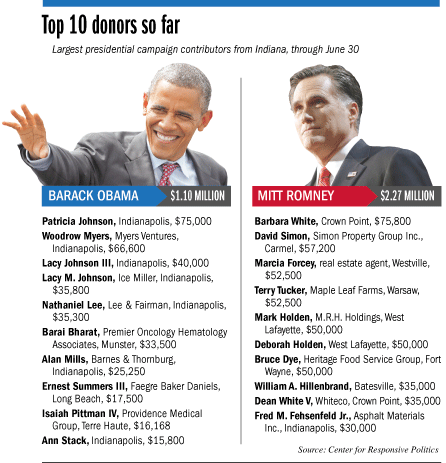 (Obama raised $2.8 million to McCain's $2.7 million from Indiana by the end of the 2008 election cycle.)
The candidates' Indiana totals don't include donations under $200 because the campaigns are not required to make detailed reports about them to the Federal Elections Commission.
Small gifts are important to the Obama campaign, however, as they account for about 40 percent of his fundraising so far.
"I think that's a reflection of the grass-roots support President Obama enjoys," said David Bochnowski, CEO of Peoples Bank in Munster.
Bochnowski has raised $100,000 to $200,000 for Obama, according to the campaign, which voluntarily reports "bundlers," or people who gather checks from other donors. He hosted Vice President Joe Biden at his home in the spring.
Another Obama bundler is Indianapolis attorney Nathaniel Lee, who didn't return messages.
Nationwide, Obama had raised $348 million to Romney's $193 million through July 31, according to the Center for Responsive Politics.
The respective campaigns reported raising another $114 million and $111 million for the month of August.
Campaigns need individual donors more than ever to defend against late-stage attacks by Super PACs, said Bill Allison, editorial director of the Sunlight Foundation, a Washington, D.C., not-for-profit focusing on transparency in government.
Super PACs, which aren't supposed to coordinate with campaigns, can raise and spend unlimited amounts.
More of the Super PAC money in the presidential contest is aligned with Romney. And that worries Barnes & Thornburg partner Alan Mills.
Mills, who gave Obama $25,000, is concerned about voter turnout. He's urging friends to volunteer their time.
"He's going to need a material ground game to offset the growth of this other money that's coming in here," Mills said of Super PACs.
Mills thinks there's still plenty of support for Obama among Hoosier independents, some of whom he spotted at first lady Michelle Obama's fundraiser at Lucas Oil Stadium in August.
The president has done "remarkable things," Mills said. "Preventing this country from falling into a financial abyss, to a second Great Depression, that's major to me."
Marcia Forcey, a 56-year-old real estate agent from northwestern Indiana, gave Romney $50,000 and attended his May fundraiser at the JW Marriott.
"I do believe the country under this current president is heading in the wrong direction," said Forcey, who formerly owned a chain of La-Z-Boy furniture stores with her late husband.
"We have to encourage people to be self-sufficient," she said. "We cannot fall back into expecting the government to take care of all of our problems."
Now that Indiana isn't a battleground state, Hoosiers probably will have to settle for surrogates.
The Obama campaign currently doesn't have any events planned for Indiana, but local supporters have been told not to rule it out, said Dr. Woodrow Myers, who is Obama's authorized representative in Indiana.
"Not all fundraisers require that you have a major presence from the campaign," Myers said. "People have them in their homes. There are a number of innovative mechanisms to get the campaign the money it needs."
Grand said a number of Romney events are planned, starting with an appearance by his running mate, Paul Ryan, in Indianapolis Sept. 17.
Romney has a seasoned fundraising team in Grand and his co-chairman, Schererville attorney Dan Dumezich. Grand is one of the top five Romney bundlers in the country, according to FEC data compiled by the Center for Responsive Politics.
Dumezich hosted Romney at his home this summer. As a result, Dumezich said, he was flagged down during lunch at a Highland McDonald's one recent Friday by a man who wanted to pass along a $5,000 check.
"I don't think people would be driven to this degree of generosity if the president weren't doing a terrible job," he said.•
Please enable JavaScript to view this content.