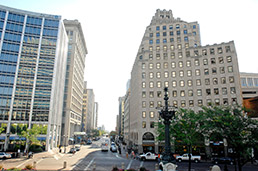 The sale of Circle Tower, at right, is another sign the commercial real estate market is heating up. (IBJ photo/ Perry Reichanadter)
A fast-growing Indianapolis real estate firm is poised to acquire one of the city's most iconic and well-located historic buildings.
Ambrose Property Group is under contract to buy the 16-story art deco gem known as Circle Tower for about $6 million from Boston-based Winthrop Realty Trust.
If the deal closes, Ambrose expects to move its headquarters to the building from leased space near 96th and Meridian streets.
The company and its investor partners plan to refresh the 1930 Rubish & Hunter-designed office and retail building, which is notable for its Egyptian detail and ornate lobby with marble walls and terrazzo floors. It also features a stepped-back façade that's designed to avoid casting a shadow on the Soldiers' and Sailors' Monument.
First-floor tenants include Starbucks, Potbelly Sandwich Shop and Giorgio's Pizza. The upper floors of the 111,000-square-foot structure play host to dozens of small tenants, including law offices and financial advisers.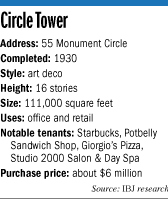 The building is about 85-percent occupied; the new owners plan to boost occupancy by recruiting startups—building on the youthful, high-tech vibe on Monument Circle set by ExactTarget's headquarters in the nearby Guaranty Building.
The deal includes both the building and the land beneath it. The sellers of Circle Tower worked out a deal with the prior landowners to consolidate ownership, alleviating a problem that has muddied the ownership of other historic downtown buildings, Ambrose President Aasif Bade said.
"Obviously, it's one of the best-located assets in downtown Indianapolis, being right on the Circle," Bade said. "It's a historic, beautiful building that's in solid condition. We're working hard to get it bought as we grow our company."
The purchase price amounts to about $54 per square foot, which falls in the same ballpark as the most recent sale of a similar building but looks like a bargain compared with prior sales and offerings of buildings on Monument Circle.
Massachusetts-based CommonWealth REIT earlier this year agreed to pay $201 million—about $190 per square foot—for the 48-story Chase Tower and an adjacent building on Monument Circle. And in 2010, another Massachusetts company paid $196 per foot for the Monument Circle headquarters of WellPoint Inc.
A more directly comparable sale is that of the Ober Building at 107 S. Pennsylvania St. An affiliate of the Steak n Shake restaurant chain agreed this month to pay the Capital Improvement Board $3.8 million—or about $61 per square foot—for the six-story office building constructed in 1910.
Circle Tower's value is driven primarily by its "A+" location, which helps overshadow some of the "functional obsolescence" of the building, including low ceilings, unusual floor sizes and a lack of on-site parking, said Sam Smith, principal in the local office of Seattle-based Colliers International.
"It's just an older building with physical limitations newer buildings don't have," he said.
Even so, the alignment of land and building ownership should make it possible for the new owners to finance investments to spruce up and modernize parts of the structure, Smith said.
Before the ownership consolidation, Winthrop owned the building but leased the land. Land leases have made redevelopment of some older buildings tricky; banks are more than a little wary about financing deals where the collateral could be lost when a land lease expires.
A 99-year land lease set to expire in 2018 has hampered several attempts to revitalize the vacant Illinois Building at the southeast corner of Market and Illinois streets. Land parcels under the building were split over the years as they were passed along to heirs. Without a deal, the building would revert to the landowners, stifling any incentive for the building owner to invest.
So far, adding together the cost of the land, structure and renovations hasn't added up to a feasible project, Smith noted. But an improving real estate market and demand for downtown apartments could change that.
Ambrose, which was founded in 2008, has been busy with several projects, including two other big bets downtown.
The company this year agreed to acquire the 10-story American Building at 333 N. Pennsylvania St. and the vacant 15-story Consolidated Building at 115 N. Pennsylvania St. It plans to convert both into apartments with first-floor retail, in partnership with locally based The Whitsett Group.
Ambrose is building a diverse portfolio of projects: The company in August bought a 21-acre site in Plainfield next to Metropolis shopping mall where it hopes to build an industrial building, and it acquired a 100,000-square-foot shopping center adjacent to Tippecanoe Mall in Lafayette from Simon Property Group Inc.
The Circle Building had been listed by Rich Forslund and Matt Langfeldt of locally based Summit Realty Group with an asking price of $6.5 million, industry sources said. Several potential buyers looked at the property and a handful made offers.
Ambrose plans to finance the Circle Tower purchase with a bank loan and has partners in the deal Bade declined to name.
Another Monument Circle building constructed around the same time as Circle Tower has been up for sale for several years: The local owners of the Guaranty Building at 20 N. Meridian St. are offering the building and land for sale for $11.8 million, down from a 2008 asking price of $13.5 million.
The asking price amounts to roughly $118 per square foot, but that's for a building that's 99-percent occupied (including high-credit anchor tenant ExactTarget) and has had more than $8 million in upgrades since 1997. The listing agent on the Guaranty Building is Michael Drew in the local office of St. Louis-based Cassidy Turley.•
Please enable JavaScript to view this content.