Roughly four years after it opened its doors in late 2008, Lucas Oil Stadium appears to have crossed the threshold of dollars that its creators anticipated from hosting events beyond the scope of the Indianapolis Colts.

The question now is, how much more revenue can the stadium's owner reap from a facility that presents both distinctive attractions and vexing limitations?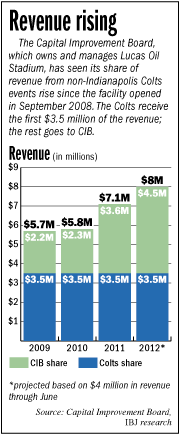 When the Colts' lease for the stadium was negotiated in the mid-2000s, team and city officials guesstimated the facility could generate $7 million a year from events not connected to the team. Those would include uses like conventions, concerts and college football games.

After collecting $5.7 million in 2009 and $5.8 million in 2010, the stadium's revenue from non-Colts uses hit $7.1 million in 2011, according to the Capital Improvement Board, which owns and manages the facility.

As of June 30, revenue for 2012 had reached nearly $4 million, putting the facility on track to potentially generate $8 million for the year.

"I think its performance speaks for itself," said Barney Levengood, executive director of CIB. "It's done well. We think we're doing everything we can to fill the facility."

It's important for CIB to at least hit the $3.5 million mark, because that revenue is already spoken for. Under terms of the lease, CIB is required to pay the Colts $3.5 million per year from revenue generated by non-Colts events, regardless of how much is actually generated.

The Colts receive the annual payment because, according to the lease, "[the] club is contributing $100 million to the costs of constructing the stadium, and is entitled to some portion of the revenue from non-club events held at the stadium."

Why $3.5 million? The amount was "anticipated to approximate 50 percent of the revenue generated by the CIB at non-club events," according to the lease. In other words, CIB and the Colts agreed the club should get about half the expected revenue of $7 million—but no more or less than $3.5 million.

Revenue generated from stadium events typically falls under a few categories: rental fees for using the facility; charges for labor provided by the stadium; concessions; and, often, security.

Crossing the $7 million barrier in 2011 begs the question whether CIB can sustain that level of revenue or even improve upon it.

"Anybody who runs a company or organization will try to do better," Levengood said, declining to estimate potential revenue increases. "You can always do better, and we're working hard to do that."

Wide-open space

CIB covers the cost of operating the stadium. In CIB's budget for 2012 and its proposed budget for 2013, the annual cost of operating Lucas Oil Stadium is pegged at approximately $23 million, according to Chief Financial Officer Dan Huge.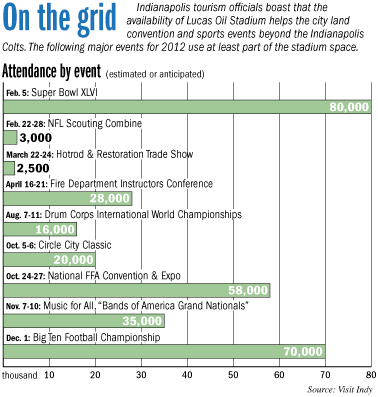 Those expenses include utilities, salaries and benefits for employees, security and maintenance. Other major revenue sources for CIB—which also owns Bankers Life Fieldhouse, the Indiana Convention Center and other major downtown properties—include a variety of local taxes.

The job of booking events for the facility is split between the sales and marketing team of CIB, and Visit Indy (formerly the Indianapolis Convention & Visitors Association), a local organization that markets the city and its convention facilities.

CIB tends to handle one-off events with local or state connections that only require use of the stadium and little coordination with other hospitality players in the city. Those could include high school football games, wedding receptions, corporate meetings, concerts, monster-truck rallies, and other sports-entertainment events.

Visit Indy handles larger-scale bookings arranged more than a year in advance, such as conventions and trade shows, which require big blocks of rooms in local hotels.

Visit Indy boasts to meeting planners and other event organizers that Lucas Oil Stadium and the nearby Indiana Convention Center together can offer 749,000 square feet of exhibit space, which places the complex among the 20 largest U.S. convention facilities.

The convention center, directly north of the stadium at 100 S. Capitol Ave., contains 566,600 square feet of exhibition space over two floors. It's connected to Lucas Oil Stadium by an indoor passageway a bit longer than a city block.

The stadium's playing field offers 92,260 square feet of exhibition space—or 134,610 square feet after retracting lower-level seats. In addition, two exhibit halls immediately north of the field total 44,000 square feet, and 12 meeting rooms just east together measure 12,700 square feet.

"There are only a few cities that can say they have this kind of package," said Leonard Hoops, president and CEO of Visit Indy. "Our advantage is that we have a stadium connected to a convention center. We can offer something that others can't."

Growing conventions

For 2011, Visit Indy booked eight major multi-day conventions or single-day blockbuster events that used the stadium space in some capacity. That number has grown to nine for the 2012 calendar, with the addition of Super Bowl XLVI and the return of several events from 2011.

Those who use the stadium space tend to fall into two camps, according to Hoops. Some simply require more traditional exhibit space than the convention center can accommodate. Others specifically seek out the stadium's natural attributes, such as its copious seating, nearly unlimited overhead space, and a field designed for athletic competition.

For example, the annual Fire Department Instructors Conference parks firetrucks and other rescue vehicles on the field and extends their ladders overhead. Drum Corps International stages marching band competitions. Organizers of the Circle City Classic play host to college football games.

When prospecting for customers, Visit Indy officials try to hone in on potential users who would benefit from the stadium's features, Hoops said.

For example, the group made a successful pitch to the Seventh-Day Adventist Church, which sought a home for its 61st General Conference Session set for 2020. Its requirements included traditional convention space for meetings and seminars, and an enclosed stadium with seating for 70,000 for worship services.

Visit Indy is courting a group involved with green energy—Hoops declined to identify the organization—with exhibits that would benefit from opening the stadium's retractable roof.

"Let's say you're a solar-power group or wind-power group, or any number of green groups—we're going after all of them," Hoops said. "The stadium lends itself to the nature of their business."

Lucas Oil Stadium is attractive for what those in the convention industry call SMERF events, according to Heywood Sanders, professor of public administration at the University of Texas at San Antonio.

The acronym refers to social, military, educational, religious or fraternal groups—for example, Seventh-Day Adventists or Drum Corps International. Their events typically have large volumes of attendees and require a big facility for assemblies, Sanders said.

However, SMERF attendees aren't the most desirable in the spectrum of convention visitors, Sanders said. Meetings for professional associations—such as those hosted by the American Heart Association or American Institute of Architects—tend to generate the greatest economic impact from visitor spending, he said.

Groups that fall under the SMERF category "have voluntary memberships, and people are usually paying for the trip themselves," Sanders said. "The result is that those people tend to be much more cost-conscious."

Limited appeal

The Lucas Oil Stadium field also has limited appeal as pure exhibition space, according to Sanders and others in the hospitality industry.

The distance conventioners have to travel between the convention center and Lucas Oil Stadium is an issue for exhibitors who want maximum exposure. (IBJ file photos)
One major concern is the distance between the stadium floor and exhibit halls in the Indiana Convention Center, said Debbie Locklear, president of Indianapolis-based convention management firm Meeting Services Unlimited Inc.

Trade-show exhibitors who end up in the stadium space can feel like an afterthought and separated from the critical mass of potential customers.

"Exhibitors will complain that they don't get enough traffic, and visitors will say that it's too far for them to go," Locklear said.

The Performance Racing Industry Show, the nation's biggest motorsports trade show, had a seven-year run in Indianapolis through 2004, after which it outgrew the city's convention facilities.

Several years ago, city convention officials invited PRI back to take a look at Lucas Oil Stadium and the expansion then under way at the convention center, according to John Kilroy, PRI's vice president and general manager.

Kilroy and several large exhibitors went to the top of a neighboring building.

"We looked at Lucas Oil Stadium and looked across the street at the Indiana Convention Center," Kilroy said. "And I asked our exhibitors, 'Do any of you want to exhibit in the football stadium?' and none of them wanted to exhibit in the stadium."

For its annual show, PRI currently occupies about 750,000 square feet in the Orange County Convention Center in Orlando. The key for PRI customers is exhibiting on a level playing field in contiguous space, Kilroy said.

As far he's concerned, Indianapolis offers only 566,000 square feet of contiguous space in the Indiana Convention Center. Lucas Oil Stadium doesn't count as true exhibit space, Kilroy said.

"You can talk to me about the stadium, but I don't feel comfortable selling that space as exhibit space, because it would create a lot of angry exhibitors at the end of the show," he said. "It would be distant from where all the action was in the convention center."

Hoops acknowledged that the stadium field presents challenges for traditional exhibitors.

"If you need true exhibit space, the stadium is not going to be as marketable as the convention center," he said. "It's not for everybody."

For example, exhibitors often take advantage of the ability to hang displays from the ceiling of convention halls, and organizers do the same with materials that help partition and define the show floor. That's nigh impossible with the high overhead in the stadium. In addition, power outlets are more scarce on the playing field, Hoops said.

For meeting and event planners who book both the convention center and stadium, one of the biggest challenges is scheduling events and activities that will draw attendees to the Lucas Oil space, Locklear said.

"You're trying to get attendees to head in that direction," she said. "A lot of times, they'll put food functions in there, maybe a cocktail reception, or after lunch it might be a dessert bar. Or you could schedule some entertainment there, or a big exhibitor with a lot of interest."

Despite the drawback of the disconnected space, Lucas Oil Stadium itself acts as a powerful calling card for the city's convention facilities as meeting planners and event organizers eye big spaces for large events, Locklear said.

"It adds to our square footage," she said. "If we didn't have that, we wouldn't have the opportunity to get their attention. The stadium has helped us in that regard. You'll have a different audience looking at the city."•