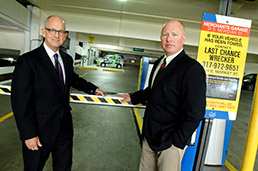 Chairman Perry Griffith, left, and CEO Mark Pratt (IBJ photo/Perry Reichanadter)
Perry Griffith, the scion of the Griffith family's Denison Parking empire, is handing the CEO reins to the executive who helped him expand the Indianapolis company to 10 other states in as many years.

President and Chief Operating Officer Mark Pratt is assuming the role of CEO from Griffith, who remains chairman of Denison's board.

The change affirms Denison's ambitions to grow—albeit carefully—in other markets, possibly including collegiate and municipal venues.

For the last several years, Denison has managed to elbow aside larger competitors in the parking-management business, in part because it has stayed relatively small and focused.

"We can watch the store better," Pratt said.

At facilities from which Denison assumed parking management from rivals or directly from owners, "we routinely see a 7- to 10-percent increase in net margins," he added.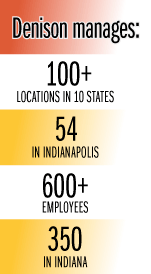 The Kentucky native with a crew cut worthy of a drill sergeant previously worked in 52 markets around the country for Central Parking Systems of Nashville, Tenn. Central owns or manages 2,200 parking facilities in 29 states compared with Denison's more than 100 facilities in 10 states, including visitor parking at Hoover Dam.

Denison has no visions of achieving the scale of the industry's investor-owned giants, but it might benefit from their consolidation.

"There's a ton of consolidation going on in our industry," said Pratt, pointing to plans by Chicago-based Standard Parking to acquire Central Parking. Standard shareholders this month approved the deal, which will create a parking giant with more than 4,400 facilities under management.

Pratt thinks that will strain relationships the merging companies have with parking garage owners.

"Parking is a personal relationship—a high-detail, nuanced industry," he said.

Translation: Denison might be able to win the affections of parking facility owners when consolidations sour their relationships with incumbent managers.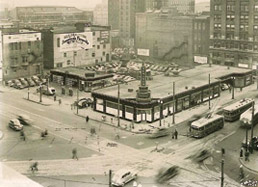 William C. Griffith built his first parking structure, completed in the 1930s, on the site of the former Denison Hotel, at Ohio and Pennsylvania streets. The structure was replaced about 20 years later by the city's first "self park" garage. (Photo courtesy of Denison Parking/Bass Photo)
"We are going to be watching carefully," Griffith said.

New blood

Pratt brought to Denison, which didn't branch out of Indianapolis until about eight years ago, invaluable experience from other markets. He also has accounting and personnel experience peculiar to the parking-management business.

Pratt even brought to Denison a communications system he and a longtime friend helped develop that allows parking patrons at automated garages to speak with Denison's customer service staff housed at a remote site.

Denison has doubled in size since Pratt arrived and his leadership "remains a foundation of our growth," Griffith said.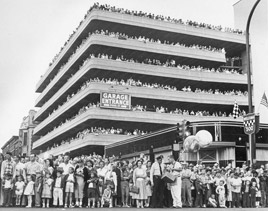 The city's first "self park" garage. The seven-floor garage was demolished in 1986 for the 31-story First Indiana tower, now home to BMO/Harris Bank. (Photo courtesy of Denison Parking/Bass Photo)
Denison's latest high-profile move under Pratt's watch was partnering with the team, led by Dallas-based Affiliated Computer Services, that now manages the city's parking meters. Also on board is locally based equipment firm Evens Time.

The team is in line to collect at least $724 million in revenue over the life of the 50-year deal, although it's not clear exactly what Denison could take away. The privately owned company won't disclose financials.

"This is a space that we would continue to look at," Griffith said, of the municipal parking business.

Also ripe for potential is the university parking market. Earlier this year, Ohio State University said it would privatize its parking operations, in what many consider to be a nationwide trend. Indeed, more recently, Indiana University said it would look at the potential of parking privatization. Denison already operates lots for IU Health.

The Ohio State deal "has given a lot of universities pause to consider the same things," said Griffith, in the board room of Denison's 36 S. Pennsylvania St. headquarters. Photos of Griffith family members, including his father, stare down from the walls.

Opportunities may also arise in parking management at hospitals and airports, where competitor Central Parking already has a foothold. (So far, Indianapolis International Airport hasn't outsourced its parking management, except for specialty parking offerings.)

Downtown denizen

In Indianapolis, Denison is best known for its downtown parking garages. It owns or manages 54 facilities in its hometown, making it by far the largest player here.

The company got its start in the late-1920s when Griffith's grandfather, Indianapolis businessman William C. Griffith, bought the Denison Hotel, which stood on the corner of Pennsylvania and Ohio streets (now the site of the BMO/Harris Bank Tower).

Griffith tore down the hotel and built a single-story parking garage. In 1954, the family replaced it with a multi-story parking garage. It was the first self-parking garage in the city and just the fifth in the country.

"We always had an ambition to grow outside of Indianapolis," Griffith said.

It finally got the chance in 2003, when Indianapolis-based Simon Property Group Inc. sought a parking operator for its shopping malls around the country. Denison was already managing parking at Simon facilities locally.

Simon was a stickler for details and financial analysis

"They have very high expectations," said Griffith, 58.

Denison's parking-management experience, such as balancing the mix of monthly and daily parkers, kept Simon happy locally and later helped Denison win the national contract.

Suddenly, the Indianapolis-focused Denison was sending teams to cities such as Atlanta, Miami and Boston.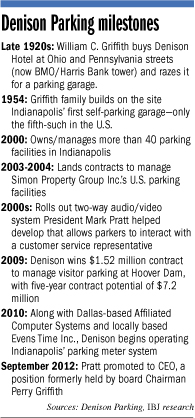 Pratt's teams would have to learn quickly who was using the garages and what businesses were within three blocks in each direction.

"We'd get it running the way it should be running," Pratt said.

Growing at home

Griffith's charge to Pratt includes increasing value-added services for clients, such as charging stations for plug-in electric vehicles. So far, Denison has worked with Indianapolis Power & Light to add stations in garages it manages, such as the Merchants garage at Meridian and Maryland streets, and is rolling out charging stations in other markets.

Environmentally friendly upgrades also offer a direct benefit to Denison. Another garage downtown has a wind turbine to help reduce reliance on the electric grid. And the company has been relighting its garages, working with Eco Lighting in Fishers to swap out old lights with modern fixtures that have slashed electric costs 55 percent, in some cases.

Patrons might not notice some of the changes, but anyone who's ever had trouble paying at an automated lot can relate to improvements in Denison's automated parking facilities.

The remote video communications system Pratt helped create and obtain a patent for has helped parkers deal with a number of routine problems. When one patron couldn't find her ticket, the remotely located customer service representative called up video recordings of the woman's arrival and told her to look inside the little black purse inside her larger red purse. Pratt recalled that the customer was astounded.

Denison still finds opportunities to grow in its hometown. A few years ago, it won a contract to manage the Sideline Parking garage on Maryland Street, which was literally crumbling in places. Besides installing automated payment equipment, Denison hired a local crew to saw out crumbling concrete decking and pour fresh concrete, all while the garage remained open.

Denison also was tapped to help restore the crumbling parking garage under Pan Am Plaza, before the Super Bowl.

"I think it's indicative of what can happen when you have a third-generation company" in town, Pratt said.

Denison's dominance here has raised suspicions the company is too politically connected. Take Denison's success in getting aboard the ACS team to manage the city's parking meters.

Griffith dismisses such speculation, saying the firm simply has provided better service and favorable contract terms.

Michael Wells, president of real estate developer REI, said he doesn't see Griffith as an overtly political player.

"You have to force Perry to go to those [city] meetings," Wells said.

Rather, Wells points to Denison's decades of doing business here, which has made the company a known commodity spanning five or six mayoral administrations.•