Butler University is finalizing plans for a mixed-use parking garage project that would include neighborhood retail and housing and might cost as much as $45 million.
Butler officials hope a parking garage near Clowes Hall will alleviate congestion during events at the 2,100-seat venue. (IBJ file photo)
The project is a big step in Butler officials' quest to address the overflow of cars into the surrounding neighborhood and make the campus more pedestrian- and bicycle-friendly.

The parking problems, which crop up when classes are in session and during events at Hinkle Fieldhouse and Clowes Hall, are getting worse. The private, north-side university hit a 157-year record for student enrollment this year and builds on its growing athletics programs.

The Butler board of trustees this month is expected to select from among three local developers vying to build a project with about 1,000 parking spaces, up to 10,000 square feet of retail space, and 300 beds of student housing.

The three finalists—narrowed from a dozen companies that expressed interest—are teams led by local development heavyweights Kite Realty Group Trust, Keystone Group and Lauth Property Group.

"This is our first parking structure, so we're probably going a lot slower than other institutions because we know we have to get it right the first time," said Ben Hunter, chief of staff to Butler President James M. Danko and a member of the City-County Council. "It has to fit well into our campus and the historic neighborhood."

The project would be built on three acres of university-owned property between Sunset Avenue and Lake Road just north of the 2,100-seat Clowes Hall and around the 49th Street corner from the 10,000-seat Hinkle Fieldhouse.

The site is currently a 200-space surface parking lot, tiered with the slope of the land and surrounded by mature trees to the north and west.

A request for proposals, issued in June, calls for tree preservation "to the greatest extent possible" and a design that fits seamlessly into the park-like campus.

Other requirements: eligibility for LEED silver certification, bike lockers and a design that merges elements of the campus's historic buildings with a "modern elegance"—following the lead of Butler's Health and Recreation Complex, which opened in 2006.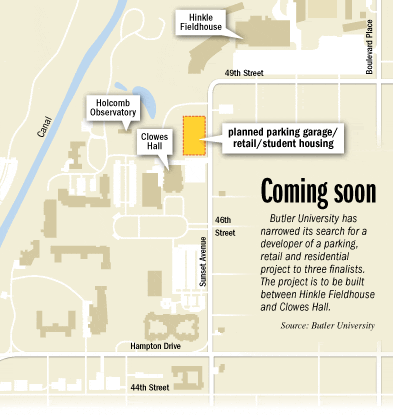 The structure would be four stories at most—no taller than the neighboring Howard L. Schrott Center for the Performing and Visual Arts, which is set to open in spring 2013.

The university agreed to add a student-housing component at the request of developers after it issued the initial RFP.

Butler-Tarkington neighbors are "very much" in favor of the project both as a means to remove student cars from neighborhood streets and since additional student housing could result in a reduction in single-family home rental properties owned by absentee landlords, said Jeremy Stewart, president of the Butler Tarkington Neighborhood Association.

The group is eager for more detail on the project's design and the potential for additional light and noise, he said, adding he doesn't expect "it'll be a big issue." The site is directly across the street from private residences.

Another issue is the retail component. Stewart said his group prefers something small, perhaps Butler's bookstore and other users serving the campus and neighborhood, not a chain drugstore.

Seasonal traffic from students and year-round traffic from residents would justify a small amount of service retail, said real estate broker Brian Epstein of Indianapolis-based Urban Space Commercial Real Estate.

He figures a small restaurant, dry cleaner or salon would make the most sense.

Butler's trustees were scheduled to select a winner from among the three finalists shortly after this week's IBJ went to press. From there, the university would work out a final development deal by early November.

Construction would begin in March or April.

The university has not taken a stance on how it would structure a deal financially, though the RFP suggests the retail and residential offset the cost of building and managing the parking portion.

"Developers are encouraged to use their creativity to present the most favorable financial and/or ownership terms for Butler University," the document says.

Butler's trustees will have options ranging from 100-percent university ownership to 100-percent private ownership, Hunter said. All of Butler's existing campus housing is owned and operated by the school.

Hunter said the project would coincide with a series of big investments on the campus, including an overhaul of Hinkle Fieldhouse and streetscape improvements all over campus.

He declined to make the developers' detailed proposals or supporting materials available for IBJ's review.

It stands to reason that Kite's massive Eddy Street Commons—a residential, office and retail development on the campus of the University of Notre Dame—would help support its case.

Keystone's resume includes a city-financed parking garage in Broad Ripple, currently under construction, that also includes first-floor retail.

Kite President Tom McGowan declined to discuss the RFP process since it's now in the hands of the Butler trustees.

Ersal Ozdemir, Keystone's CEO, said his team is waiting to hear back from Butler.

"Hopefully we have a chance, but we don't know much more at this point," he offered.

Lauth President Mike Jones wrote in an e-mail that the company is "very excited with the opportunity to partner with Butler University."

The pre-recession powerhouse has bounced back in recent months with a series of projects including a revamp of The Congressional office building in Carmel.

Keystone is partnering on the proposal with Indianapolis-based CSO Architects, Cripe Architects & Engineers, Walker Parking Consultants and Denison Parking Inc., along with Lafayette-based student-housing specialist Trinitas Ventures.

Lauth is paired with locally based Schmidt Associates, Architects Forum and Carl Walker Inc.

Kite's team includes Buckingham Cos., Wilhelm Construction and Browning Day Mullins Dierdorf Architects, all based in Indianapolis.•