The ailing Indianapolis Symphony Orchestra intends to dig itself out of its financial problems in part by stepping up annual donations about 40 percent.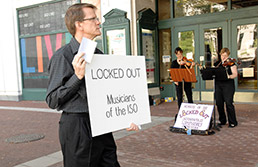 ISO musician Mike Heartt distributes union information on Monument Circle. (IBJ file photo)
But many of the longtime donors who would be tapped for such an effort say they feel conflicted about future contributions as they await word on whether the symphony will scale back to part time.
"I don't think they've been good stewards with what they had to get to this point. That's my one criticism," said Richard Wood, a former CEO of Eli Lilly and Co. who is one of the ISO's biggest donors. "Obviously, [the endowment has] deteriorated every year, and they didn't do anything about it."
The ISO's endowment—which has shrunk to about $80 million—has been at the center of ongoing disagreements between executives and musicians in their contract negotiations.
Management canceled the first four weeks of concerts this season after locking out musicians on Sept. 8. Negotiators failed to reach an agreement on new contracts by the Sept. 2 expiration of 2009 agreements.
ISO's board and management are seeking deep cuts in order to wean the organization off a business model they say relies too heavily on pulling money from the already-struggling endowment. Musicians have responded by saying the changes would "ruin" the ISO.

Thornburgh
Besides cutting the payroll to cauterize its financial wounds, ISO leaders want to bring in another $2.5 million a year in donations, board Chairman John Thornburgh told IBJ in an Aug. 31 interview. The ISO's annual donations now average $6.5 million.
The more aggressive fundraising effort would rely on reaching out to donors such as Wood, who gave at least $50,000 last year but said he does not recall the exact figure.
Wood, who ran Eli Lilly from 1973 to 1991, said it was too early to know if or how changes at the ISO would affect his contributions in the future.
But the business model needs to change—and musicians need to be on board with it—for the organization to show donors it's being responsible with their money, he said.
"Obviously, they have a financial problem, which has been growing and growing and growing," he said.

"There've been no evident attempts at doing something major to stop the bleeding. They do have some nice resources, but [they're] not up to the level for them to keep operating as they have been."
Conflicting messages
Indianapolis-based fundraising consultant Robert Swaney said the ISO could have a tough sell with donors because the group will need to express two potentially conflicting messages.
The first message, for the cost-conscious donors: The new business model is sustainable, but will require big budget cuts.
The second message, for the program-focused donors: The performances will remain high-quality, which requires a lot of money.
Contributors interviewed by IBJ reflected that dichotomy.
Donor and former board member Mike Alley, who is chairman of Patriot Investments LLC in Indianapolis, said he fully intends to keep backing the orchestra.
Managers are making tough decisions, Alley said. And while he sympathized with the musicians, he believes the organization is handling his money responsibly.
"Sometimes we make a decision that doesn't turn out to be ideal," said Alley, who gave between $1,500 and $2,499 last year but declined to say the specific amount.
"But I don't think there's been a trend of any kind of malfeasance or anything along those lines. I think they've managed to navigate through some very difficult circumstances."
Peggy Cranfill, who gave between $2,500 and $4,999 last year, said the symphony needs to sustain artistic quality to remain strong.
"I feel it's unconscionable what's happening, to tell you the truth," Cranfill said. "I don't want to be critical of any one party … but whoever's driving the process, I feel it's possible they've lost sight of the larger picture."
Swaney said one of the biggest challenges for the ISO will be rebuilding the trust of the broader community.
"Up until just a couple of months ago, they were saying publicly that everything was OK," he said. "To do that and go, 'OK, things are not OK,' it takes a while for the public, and particularly the donors, to understand that."
Financial challenges deepen
Internal Revenue Service filings show a plunge in the ISO's finances.
The Indianapolis Symphony Orchestra Foundation, a separate entity that manages the ISO's endowment, saw its assets tumble from $120 million to $94 million during the fiscal year that ended Aug. 31, 2009.
About $80 million of the assets at the close of that year was the endowment. It recovered to $89 million by August 2011. But the ISO drew $11.4 million from it in the latest fiscal year. Even after accounting for investment gains, it had slipped back to $80 million as of Aug. 31, Thornburgh said.
The 13-percent draw rate is much too high, ISO's management and board believe, considering that consultants recommend drawing as little as 5 percent.
Simon Crookall, who abruptly resigned as CEO in February, launched a $100 million fundraising campaign in 2010 to restore the foundation's coffers and maintain the orchestra's full-time status.
The ISO raised less than $13 million by this July, even with prominent co-chairmen, Indianapolis Colts owner Jim Irsay and Indiana Pacers owner Herb Simon.
The organization launched the campaign despite consultants' warnings that it was not the proper approach, Thornburgh acknowledged.
"I think in 2012, you can look back in hindsight and say, 'I think it will be a few more years'" before the economy will recover enough to support a massive capital campaign, he told IBJ in the August interview.
The better approach, consultants said, was to pull in more donations and grants annually instead of a one-time rush. That would create a strong financial base for the institution, which would evoke more confidence from donors.
That is the strategy the ISO intends to pursue now.
ISO spokeswoman Jessica Di Santo declined to elaborate on the amplified fundraising effort, saying it is in the planning stages. She declined to make management available, saying they were tied up in contract negotiations.
Several board members contacted by IBJ declined to comment and referred questions to Di Santo.
Getting donors to give
The ISO will need to figure out which group of donors to tap for the new fundraising effort to succeed, said Swaney, a former ISO employee who founded Robert Swaney Consulting LLC.
There are two basic choices: a few big donors or a lot of small ones.
"If you just say, 'We want a lot of people coming to concerts and giving lots of money,' that's a different approach than saying, 'We need 15 or 20 people who will do extraordinary things for the institution over the next few years,'" Swaney said.
Tim Seiler, director of The Fund Raising School at The Center on Philanthropy at Indiana University, noted there is potential in "high-net-worth households." The demographic, 71 percent of which donate to charities every year, includes households with incomes of at least $200,000 or total assets of at least $1 million.
No. 3 on their donation lists is the arts, behind human services and education.
"I think it's pretty typical of an organization, if they're trying to realize significant increases in their giving, they will work on what are called 'major gifts,'" Seiler said.
One thing Swaney said could light up the ISO's fundraising efforts would be a single, prominent donor contributing a massive sum.
"It's got to be more than somebody who can just throw money at the problem," he said. "It's got to be somebody who feels very passionately about the city and the components about what makes the city great and somebody who's got that kind of credibility."
It needs to be someone already connected to the philanthropic or arts communities, as opposed to someone merely with celebrity status, Swaney added.
"There's just much more leverage with someone who says, 'I care about this; this is something I spend time with,'" he said.
Questions abound
Donors interviewed by IBJ have lots of questions about the ISO's future.
But amid their mixed bag of reactions to the looming changes, one message was clear—they want to keep the orchestra around.
The public has shown its support for the musicians.
More than 800 people snagged all the available tickets—another 100 took overflow seats—within a few days for a free concert the musicians performed Sept. 22.
That momentum could carry over into more donations if fundraisers figure out how to capitalize on it, Swaney said.
The Detroit Symphony Orchestra saw that sort of success after its musicians went on strike in 2011. Donations that year dropped, then surged after concerts resumed.
However, Swaney, who consults for the Detroit symphony, warned that the group was in different circumstances than Indianapolis' orchestra.
"The Detroit symphony has been viewed as financially struggling for many, many years," he said. "So there was time and opportunity to cultivate many different relationships. The ISO has been viewed as such a financially sound organization for so long that this is shocking to people."•
Please enable JavaScript to view this content.