A state law that went into effect July 1 attempts to attract young physicians and mental health practitioners to underserved
areas by forgiving part of their student loans.
The cause certainly is noble enough, but there's a glaring
omission: Indiana's budget woes prevented lawmakers during the special session from allocating funds to support the
program.
State Rep. Charlie Brown, D-Gary, who introduced the bill, said he is optimistic funding will become
available next year.
The legislation promises to pay up to $5,000 of student loans incurred annually by doctors
who go to work in poor urban and rural areas. Psychiatrists, psychologists and psychiatric nurses could receive up to $25,000
annually for four years by agreeing to work at a state-run hospital.
"The intention is there, the will
is there. Now we've just got to find the money," said Steven McCaffrey, president and CEO of Mental Health America
of Indiana.
Even if the program ultimately is supported, the concern remains whether a $5,000 a year stipend
is enough to lure a physician to North Vernon, for instance. Medical school graduates on average accumulate $125,000 to $150,000
of debt.
Recruiting doctors to Indiana's rural regions has been an ongoing challenge. An Indiana University
and Indiana State Department of Health study published in 2007 cites sources showing that from 1975 to 1995, the number of
physicians practicing in metropolitan areas increased 59 percent, while non-metro growth was just 31 percent.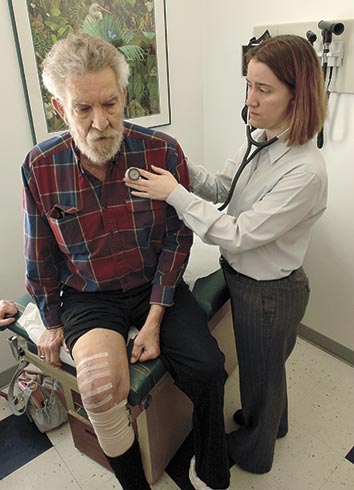 Legislators this year approved an incentive to lure young physicians to rural and urban areas.
However, the initiative wasn't funded due to budget constraints.
The limited number
of physicians in rural areas is not a new problem, the study acknowledged. But the growing prevalence
of chronic diseases in an aging rural population underscores the need to increase the number of physicians.
Primary care physicians are in the highest demand.
Nearly 50 years ago, half the doctors in the United
States were general practitioners. Now, they make up less than a third of the physician work force, according to the American
Academy of Family Physicians.
Making matters worse, fewer than one in five new graduates intends to pursue general
practice, the organization said, as they increasingly choose the better pay and balanced lifestyle of a specialty practice.
The disparity could threaten the entire health care system, said Dr. David Welsh, a general surgeon in Batesville
who is president of the Indiana State Medical Association.
"You can have all the specialists you want,
but if you don't have the primary care docs in place, it's not going to work," Welsh said.
The salary difference is driven largely by Medicare-related reimbursement rates, which pay more to doctors who perform specific
procedures than to doctors who treat general illness.
Psychiatrists typically can earn more working at a privately
owned mental health care center than they could at a state hospital. In addition, the work often is more rewarding, said Dr.
Jon Marhenke, an Indianapolis psychiatrist and a past president of ISMA.
"At least you're seeing
people who are out and about," he said. "In some ways, it's more gratifying than dealing with the chronically
mentally ill who will spend a long period of time in a hospital before they can go to a halfway house."
The prospect of making less money didn't deter Dr. Jason Marker from establishing his family practice in rural Wyatt,
population 200, in St. Joseph County. He grew up near the northern Indiana community and, after completing his residency seven
years ago, decided to return.
He succeeded a doctor who had practiced 50 years, and sees patients from the same
office built after World War II.
"I like the fact that it is small, that I get to provide a lot of hands-on
care with patients that I don't have to rush," Marker said. "I don't have Big Brother from a giant
hospital system telling me what to do."
Marker said he favors any attempt to recruit physicians into family
medicine. His future office partner, however, needed no prodding.
An Indianapolis native who trained with him
enjoyed the experience so much that she will join Marker upon finishing her residency next summer.
IU
initiative
The legislation isn't the only effort under way in Indiana to address the shortage
of family practitioners.
The dearth is driving a request for an additional $5 million in funding to expand enrollment
at the Indiana University School of Medicine, the state's only medical school. Lawmakers who hammered out a state budget
during the special session cut the request to $3 million, however.
The money will be used to expand enrollment
by 14 students in each of the next six years, until the total class size hits 364, or 84 more students than the 280 traditionally
admitted.
Backers expect 840 additional doctors to be practicing in the state by the end of the 10-year period.
About half the 280 students the medical school traditionally enrolls each year spend their first two years at one
of IU's eight regional campuses: Bloomington, Evansville, Fort Wayne, Gary, Lafayette, Muncie, South Bend and Terre
Haute.
The students then return to Indianapolis to receive clinical training in internal medicine, surgeries,
pediatrics and other areas.
But local hospitals will be unable to accommodate the additional students enrolled
under the expansion. They will complete their training at hospitals within the same cities as the regional campuses.
Although the medical school will need to develop new clinical rotations for the students, the move could have a positive
impact on the state. Students who train outside of Indianapolis might be more likely to remain there, thus increasing the
quality of medical care in rural areas.
But it also wouldn't hurt if some of those students could get
help paying off their loans, said Dr. Richard Kiovsky, director of the Indiana Area Health Education Center and a professor
of family medicine at the IU medical school.
"Medical school indebtedness is a big deal," Kiovsky
said. "This is just one way for us to begin to address the health care shortage problem we have here in Indiana, and
in the nation."•
Please enable JavaScript to view this content.