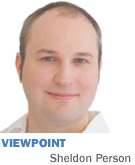 For three years, Indianapolis was the city I called home, and the Indianapolis Symphony Orchestra was where I was proud to work. I am sad to learn not only of the serious problems the organization now faces, but also of the possibility that the Indianapolis community could lose one of its greatest assets.
I now work in a different city and another orchestra. My current orchestra is something of a recent success story. The management and board have recently overseen successful fundraising campaigns. Our orchestra has even performed recently in major international capitals, including New York City, where our mayor herself introduced us on stage.
However, this orchestra also endured a bitter contract negotiation and a work stoppage 10 years ago. Although the cuts imposed then were nowhere close to the draconian scale of the ISO's proposals, those wounds have not fully healed. From speaking to many musicians, concertgoers and even some members of management here, I have found that this community has learned several important lessons:
1. When the music on stage stops, no one wins. Fundraising becomes more difficult, and morale throughout the organization plummets.
2. Deep cuts to an orchestra do affect on-stage quality. Anyone who claims otherwise is incorrect.
3. Chemistry between an orchestra and its music director is a rare and special thing for the whole community. Look for it, and look after it.
4. A small handful of people who are in leadership roles on the board make an enormous difference. It only takes a few to galvanize the community and build a winning team. Likewise, it only takes a few to persuade the community that it cannot or should not support the orchestra.
5. A positive and competent management team can also do an enormous amount to catalyze community support. Everyone wants to be part of a winning team. No one wants to support a loser.
6. Running an orchestra like a corporation doesn't actually work well. The "dividend" is having a great orchestra for your community (to say nothing of the economic benefits of bringing people downtown on evenings and weekends).
7. Although an institution can be broken down quickly, rebuilding takes generations. This is particularly true with orchestra personnel; team building evolves slowly, and even finding talent can take a long time. Similarly, repairing a broken relationship between orchestra, donors and concertgoers is a slow process. This is particularly true when some have the perception that "things were better in the good old days."
If you really believe that Indianapolis simply cannot or does not want to support a major-league symphony orchestra, the proposed radical cuts to the ISO will reduce it to a shadow of its former self, and the cultural life of Indianapolis will be diminished drastically. Such are the consequences.
However, it is still my hope that the Indianapolis community will recognize what an asset it has in the ISO, and act accordingly before it is dismantled and the dominoes have fallen irretrievably.
If you believe that Indianapolis, a city that can support major-league sports, a world-class art museum, and some of the best educational and medical institutions in the country, can support a major-league orchestra like the ISO, do something, and do it now. Speak up. Give. If you believe that art, self-expression and imagination really are valuable to you and your community, stand up and be counted.
If you don't, the Indianapolis cultural landscape will be diminished drastically for a generation or more.•
__________
Person is a violist with the Houston Symphony. Send comments on this column to ibjedit@ibj.com.
Please enable JavaScript to view this content.