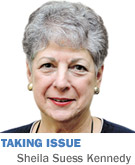 In this space, I've referenced studies confirming the "instrumental" value of the arts—especially economic growth and better academic performance. A new study from Rand argues for greater recognition of the intrinsic benefits as well: growth in individual capacities such as empathy for other peoples and cultures, enhanced powers of observation, and fuller understanding of the world in which we live.

These outcomes don't just benefit the individual; they have spillover value. The arts cultivate the kinds of citizens needed by our pluralistic society. Which brings me to the Phoenix Theater, currently celebrating its 30th year of operation.

Bryan Fonseca founded the theater with a mission: to challenge conventional perspectives on political and social issues like abortion, gay rights, race relations and war, and to challenge the status quo. In a city as buttoned-down as Indianapolis, that mission was downright audacious. As Fonseca notes, "We seemed extreme. We definitely didn't fit the mold of the typical 1980s Hoosier."

Early presentations generated outraged letters to the editor, protesting content or language or nudity. There were complaints to law enforcement and efforts to shut the theater down. Few traditional arts funding sources were willing to support a controversial theater. Had it not been for a few forward-looking arts advocates like Frank Basile, the late Bob Beckmann and Scott Keller (who donated the building the Phoenix occupies), the theater might not have made it.

My husband and I attended the Phoenix's very first downtown performance, 30 years ago, and have been season ticket holders since. We've watched as the theater became professional. We've applauded the high quality of the acting and staging, and been challenged by presentation of points of view we hadn't considered. Most of all, we have been entertained—different perspectives don't need to be grim or boring, and at the Phoenix, they seldom are.

We've been relieved that the Phoenix has managed to survive through the years, despite fluctuating economies, shifts in giving trends and vastly increased competition for charitable dollars.

I don't think it is a stretch to connect the emergence of a more sophisticated, tolerant and enlightened Indianapolis community over that 30-year period with the productions mounted by the Phoenix—and eventually, by the other edgy theaters and arts organizations that followed its lead.

I also don't think it is a stretch to note that the rebirth of the center city was sparked in part by the willingness of the Phoenix and other arts organizations to locate downtown, in neighborhoods considerably less safe and attractive then than they are now.

By all conventional measures—professional awards, patronage, ticket sales, reviews—the Phoenix Theater has been a great success. But the measure that Fonseca and his crew prefer is different: For them, success is recognizing the theater's role in raising awareness of social issues, in encouraging greater inclusion of marginalized members of the community, and a greater willingness to consider, as Fonseca puts it, "the ideas that fall outside the tiny boxes and narrow views of the '80s."

The Rand study referenced above described the "intrinsic benefits" of the arts as captivation and pleasure, an expanded capacity for empathy, cognitive growth, creation of social bonds and expression of communal meaning. If those are the hallmarks of quality, there is no doubt at all that the Phoenix is a very high-quality arts organization.

I hope we appreciate its importance.•

__________

Kennedy is a professor of law and public policy at the School of Public and Environmental Affairs at IUPUI. She blogs regularly at www.sheilakennedy.net. She can be reached at skennedy@ibj.com. Send comments on this column to ibjedit@ibj.com.