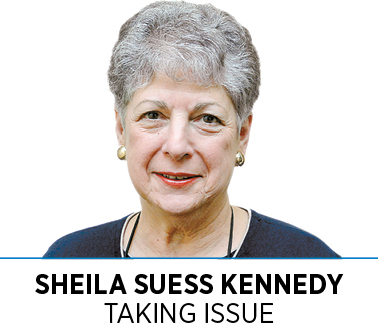 A recent issue of my husband's "Engineering News Record"—hardly a left-wing publication—included an article on infrastructure inequality and the ways in which decades of decisions about infrastructure siting and quality continue to shortchange Black neighborhoods.
Reports about the Tulsa race massacre came as a surprise to those of us whose history classes had never included it—nor (at least in the classes I took) several other racially motivated massacres. Nor the Trail of Tears.
Efforts to make history instruction more accurate—to include the negative as well as the positive—have triggered a hysterical backlash and accusations that America's schools are teaching critical race theory.
Really?
I didn't encounter critical legal studies and its cousin, critical race theory, until I was a college professor. Both approaches were—and are—relatively arcane, primarily the preoccupation of a subset of legal scholars. Assertions that it's being taught in America's elementary and high schools are ludicrous. As I have been complaining pretty much forever, schools aren't even teaching the most basic concepts required for civic literacy, let alone a theory that requires a familiarity not just with the Constitution and Bill of Rights, but with significant elements of America's legal structures.
It's those structures that concern CRT theorists. The best explanation I've seen of the way they have disadvantaged minority folks was in a Facebook post by a lawyer friend of mine, David Honig.
Imagine, David wrote, two men who served on the same aircraft carrier in World War II, one white and one Black. After the war, the white man was able to attend college on the GI Bill and graduated with a degree in accounting. The Black man was excluded from the bill's benefits and went to work as a laborer.
The white man bought a home in one of the new Levittown suburbs, which were white-only, and his loan was funded with a very inexpensive FHA loan. Blacks weren't eligible for FHA loans, so the Black man rented a house and saved as much as he could.
After a few years, the white man had enough equity in his house to buy a new, bigger house. The Black man took several more years to buy a small home in the Black business and residential community downtown. Soon after, an interstate highway was built through downtown, right through the middle of the Black man's neighborhood. Property values dropped to almost zero, and the lead buildup from car fumes, though he didn't know it, was damaging his young children's brains.
Sixty years after coming home from the war, the Black man's net worth was approximately 6% of the white man's. He couldn't fund his children's education through a second mortgage, because he had no equity. And when he died, he left his children and grandchildren with nothing. The white man, who died a few days later, left his children and grandchildren enough money to pay off all the kids' debts and to pay for college for the grandchildren.
These differences were driven entirely by official U.S. government policies that reflected then-current cultural assumptions. Critical race scholars examine the impact of those assumptions on America's legal systems.
The GOP-hyped hysteria over CRT is just another effort by people (most of whom have absolutely no idea what it is) to mask garden-variety racism by pretending that the fight is really about something else—to whip up fear and grievance in hopes it will improve Republican turnout in 2022.•
__________
Kennedy recently retired as professor of law and public policy at the Paul H. O'Neill School of Public and Environmental Affairs at IUPUI.
Please enable JavaScript to view this content.