The Indiana Pacers continued scoring long after last season ended in the second round of the NBA playoffs.

Building off their post-season momentum, the Pacers sales staff hit high-water marks during the off-season that the franchise hasn't seen in five years. And with almost four weeks until the regular-season home opener Nov. 3, the Pacers are shooting for more.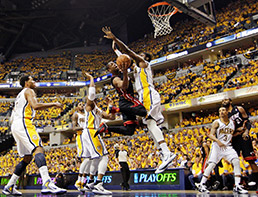 The Indiana Pacers packed Bankers Life Fieldhouse for their playoff games last year, and team officials are gunning for more than 10 sellouts during the upcoming season. (AP photo)
Season-ticket renewals are near 90 percent, overall season-ticket sales are up 30 percent, and sponsorship sales are up almost 20 percent and climbing, according to team officials.

"We have an exciting team, one that works hard and plays team basketball, and this community has responded," said Todd Taylor, Pacers senior vice president and chief sales and marketing officer.

Suite sales—super soft for more than five years—are on the rise, too, added Taylor, who left baseball's Texas Rangers to join the Pacers last year.

"While we still have some work to do, our sales team is having frequent conversations with companies that are considering a [suite] purchase of some sort," he said.

All 28 suites on the Founders Level are sold out, as are about half of the 43 suites on the Club Level, Taylor said.

The Pacers seem to have begun digging themselves out of a deep financial hole several years in the making.

A slew of stars either retired or otherwise departed in the last decade, and losses far outnumbered wins. The low point came during the 2007-2008 season, when the moribund Pacers had a league-worst average attendance of 12,221. That number rebounded to more than 14,100 each of the next two seasons, but slumped to 13,538 during the 2010-2011 season—again an NBA low.

Forbes pegged Pacers losses in recent years at $6.5 million to $16.9 million per season. Responding to the team's perilous financial situation, the Capital Improvement Board in 2010 agreed to pay the Pacers $33.5 million over three years to cover operating costs and capital improvements at the city-owned Bankers Life Fieldhouse.

While the team's fortunes are improved, few expect them to get out of the red this year, and the Pacers and CIB are negotiating to extend the fieldhouse subsidy.

Meanwhile, the Pacers are trying to help themselves.

A remade team that went 42-24 last season and gave the eventual NBA champions, the Miami Heat, a strong playoff challenge attracted fans to Bankers Life Fieldhouse in larger numbers.

Average home attendance hit 14,168, but with a resurging Indiana University basketball program and the Indianapolis Colts buoyed by No. 1 draft pick Andrew Luck, there were questions about the Pacers' ability to maintain fan attention.

"We've worked hard to get our message out and keep our brand in front of current and potential supporters," Taylor said. "We think we really have something to sell here."

Increasing season-ticket renewal was the first step in making gains, Taylor said. "If your season-ticket renewal is not at least 85 percent, it's difficult to fill that hole and have positive growth."



The next step was ratcheting up advertising at least 10 percent this off-season—especially for six- and 11-game packages.

"We realize it all starts with ticket sales," Taylor said. "The more tickets you sell, the higher attendance, the higher attendance, the more sponsorship sales opportunities you have." Then that broader sponsorship base helps sell even more tickets, he said.

While Taylor declined to predict specific attendance for the upcoming season, he is confident the team will nearly double the six sellouts of last year.

Pacers officials expect average home attendance to approach 16,000—a number that hasn't been eclipsed since the 2005-2006 season. Already, almost half the seats in the 18,165-seat fieldhouse for the 41-game regular season have been sold through season packages, Taylor said.

Sponsorship score

Better ticket sales aren't the only selling point for sponsors.

A new scoreboard and sound system will blast out sponsor messages, and the team will be on national TV seven times this year, compared with once last year. Fox Sports Indiana will televise the remainder of the games, making this the first season every Pacers game will be televised.

The sales pitch to sponsors appears to be working.

The Pacers have signed seven new sponsors, including Ford Motor Co., IUPUI, Mitsubishi, Roberts Camera, Great Clips and Stonegate Mortgage. Taylor anticipates signing up to seven more in the weeks after the season opens.

"I think there's a buzz in the market about this team, some real positive momentum that hasn't been felt in a few years," said David Morton, president of Sunrise Sports Group, a locally based sports marketing firm.

Officials for Kroger, which became a sponsor in 2009, said Pacers officials' willingness to go beyond a traditional sports marketing relationship has been key in the team's growth.

"They've been very creative and willing to try some new things for us," said John Elliott, Kroger's public affairs manager. "They've been very willing to support us on our initiatives involving hunger relief, K through 12 education, diversity, fitness activities and other causes. They've supported our brand, and we've supported theirs."

The massive scoreboard, which stretches from free throw line to free throw line and was installed within the last month, has created a buzz with current and potential sponsors, Taylor said. The Pacers will not use the scoreboard and new sound system until the regular-season opener.

"We want to make a big splash with that," he said. "We think once potential sponsors see the capabilities of that scoreboard, that will open the door for us with other potential sponsors."

Fans re-engaged

The scoreboard—the second-biggest in the NBA—also helped sell Pat Lynch, who bought an 11-game ticket package this year—the first time he's bought a Pacers ticket package.

"It's one of those little things that helped sway me when we were considering laying down what is a pretty significant amount of money," said Lynch, a senior fellow at Indianapolis-based Liberty Fund who moved here 11 years ago from Washington, D.C.

The scoreboard, however, wasn't the biggest factor in his decision.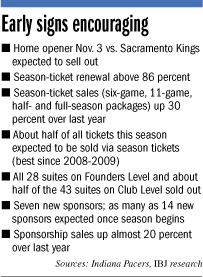 "I just thought it was a team on the rise," said Lynch, a Chicago native. "They play a style that is very appealing to watch. The guys on the team play hard, move the ball, and don't try to pad their stats."

Oddly, Lynch began considering Pacers season tickets when he went to watch them play the team he grew up supporting, the Chicago Bulls.

"I thought it was a shame that Bankers Life Fieldhouse was full of Bulls fans," Lynch said. "What they did to rebuild this team has been impressive and I feel [the team] deserves this community's support."

Lynch this year will support the cause by paying $1,682 for two tickets on the club level.

Dustin Abel, an intelligence analyst working for the U.S. Army at Stout Field, jumped on the bandwagon three years ago as a full-season ticket holder.

"I've seen a big transformation inside [Bankers Life Fieldhouse] in just the last three years," Abel said. "People last year slowly began to realize how good this team was."

Mark Rosentraub, a former IUPUI dean who has written several books on professional sports business operations, said the Indianapolis market's professional teams will always struggle to attract enough fans and sponsors to stay financially strong.

"You've got the Pacers, Colts and now the attraction of Butler and IU basketball and only so many potential ticket-buying fans and sponsors," Rosentraub said. "Financial success always starts with winning, but it's never going to be easy in this market."•