Thanks to blossoming relationships with corporate behemoths like Microsoft and JPMorgan Chase, local ad agency Bradley and Montgomery is making plans to double its 50-employee work force.
Bradley and Montgomery Chief Strategy Officer Ben Carlson, left, and company owners Mark Bradley, center, and Scott Montgomery plan to double the ad agency's staff in new office space on St. Joseph Street. (IBJ photo/Perry Reichanadter)
To accommodate local employment growth, the agency this month will expand into a renovated two-story building across the street from its headquarters at 342 E. St. Joseph St.

Bradley and Montgomery is expanding geographically as well. To be closer to Microsoft's West Coast headquarters, the agency opened a Los Angeles office this year and hopes to have 10 employees there in the coming months.

Principals expect the agency to double in size in the next two years.

"We're adding all types of positions: account services, creative, production and digital," said Ben Carlson, Bradley and Montgomery chief strategy officer. "We're adding one or two employees every two weeks."

Signing deals with the two blue-chip companies are huge coups, said ad industry experts. JPMorgan Chase was the nation's sixth-largest advertiser last year, spending $2.4 billion, according to Ad Age magazine. Microsoft ranked 32nd, with a $1.1 billion domestic ad spend.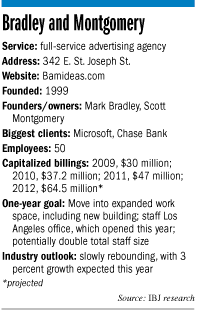 As Bradley and Montgomery's work load for its two biggest clients has mushroomed, so has its revenue. Its capitalized billings have grown from $30 million in 2009 to $64.5 million projected this year.

Though Bradley and Montgomery officials declined to divulge its revenue, an agency's revenue is typically one-third to one-fourth of capitalized billings.

Bradley and Montgomery's growth is way ahead of the industry as a whole, which has seen 2-percent to 3-percent growth each of the last two years as it struggles to recover from the recession.

"That's phenomenal growth," said Bob Gustafson, Ball State University advertising professor. "They have to be the hottest shop in Indianapolis. They must be doing something right."

The firm founded by Young & Laramore alumni Mark Bradley and Scott Montgomery in 1999 hasn't taken the usual path to growth. In addition to eschewing smaller local and regional jobs, the founders said they rarely bid for projects and aren't interested in agency-of-record work.

"We've decided not to spend a lot of time and resources on jobs we may never get," Montgomery said. "We've chosen to spend time building relationships and proving our worth instead."

"We're getting rid of the term ad agency," Bradley added. "Anything that needs creative work, we're your guys."

The duo's penchant for high-profile national accounts isn't surprising given their professional upbringing. Young & Laramore became one of the city's biggest ad agencies, handling national accounts for Steak n Shake, Stanley Steemer, Goodwill, Scotts Lawn Service and others.
IBJ.COM EXTRA
For a sample of Bradley and Montgomery's work, visit www.Beautyofthe
Web.com.
Historically, large national companies have worked with agencies in New York, Chicago and L.A.

"Global companies these days are used to working with people from all over," Carlson said. "Some people don't even know where we're from."

While most of Bradley and Montgomery's accounts are in the seven- to eight-figure range, Bradley said they don't hesitate to start small with the right client.

"We often start off small with a client, show them what we can do for them, and that has led to more work," Bradley said.

"We'll take on low-five-figure jobs if there's potential for creativity and global branding recognition," Montgomery added.

Bradley and Montgomery used their expertise working on Y&L's Steak n Shake account to help design the interior of a Bank One branch in 2001.

"We built a little model out of balsa wood and glue," said Montgomery with a smile. "They still have it today."

That led to design work for more branches, logos, websites and even customer interface screens on ATM machines. When JPMorgan Chase acquired Bank One in 2004, the New York company hired the duo to help with the conversion.

When the economy was going south for many ad firms, Bradley and Montgomery were swamped with work helping Chase every time it made an acquisition.

"During the depths of the recession, we were staffing up," Bradley said.

The ad agency has doubled its staff—including five in L.A.— since 2008.

Now, Bradley and Montgomery handles many of Chase Bank's video billboards, including the jumbotron in Times Square. The local ad agency also designs online videos for the bank, and does billboards, print ads, posters, brochures and much of the material customers see when they visit one of the bank's 5,000 branches.

Bradley and Montgomery's work has expanded to include the bank's credit card and auto finance division as well as signage and other design work at Chase Field, home of Major League Baseball's Arizona Diamondbacks.

When one of the agency's Chase contacts moved to Microsoft, he called Bradley and Montgomery "to pitch for a relatively small project," Carlson said.

In 2007, the ad firm was hired to help Microsoft launch Microsoft Office Live, with a largely business-to-business campaign.

That low-six-figure deal led to larger projects, Carlson said.

Now, Bradley and Montgomery does work for 10 Microsoft divisions, including the ones producing Internet Explorer, Windows, Microsoft Exchange and SkyDrive, as well as the company's research and design team—which markets to university students and professors and information technology professionals.

While Bradley and Montgomery has only six clients, it isn't too concerned about its stability. Several local firms, including the now-defunct Pearson Partners, have been hurt by the loss of a big client or two.

"Each Chase and Microsoft division we work for are as big as almost any singular client here," Carlson said. "And these divisions are run completely separately, so we're not in jeopardy of losing all their business at once."

While Bradley and Montgomery doesn't do much local work, Carlson said the shop is not opposed to working with Hoosier companies.

"It just hasn't worked out," he said.

Having stable Chase Bank and Microsoft work on the books hasn't made the firm complacent. The company just signed two new international clients—Bic and MasterCard.

"The first projects for these new clients are relatively small," Carlson said. "But we think there's amazing potential for growth there."•