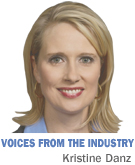 Imagine Indianapolis without the forefathers of the technology community such as Scott Jones, Mark Hill and Scott Webber, among others. That reality might be closer than you think if public/private partnerships don't address the shortage of human capital for the technology community and early-seed-stage funding sources.
While the Indianapolis technology community has been riding a wave of success due to the initial public offerings of Angie's List and ExactTarget, there is still a strong demand for software engineers and talented middle and senior management for fast-growing Indiana technology companies.
According to a recent study by Central Indiana Corporate Partnership, computer-related occupations are one of just two areas where Indiana's growth outpaces the United States. However, in comparison to other fields, the surplus of recent college graduates in the information technology field is slight.
Employers are looking for experienced technology employees but there is a shortage of qualified people.
There are a variety of ways to address the human capital issue. One way is through programs such as the Gov. Bob Orr Fellowship Program, a two-year entrepreneurial experience at a high-growth Indiana company for recent graduates of Indiana colleges and universities. The program, currently in its 11th year, was started by Bill Oesterle, Angie Hicks and Scott Brenton—longtime members of the Angie's List management team.
More than 150 alumni of the program have gone off to start their own companies or risen in the ranks of the companies in which they started their career. Notable former Orr Fellow and current Orr board member Michael Langellier started MyJibe, a Web-based product that helps individuals manage their finances. He sold MyJibe in 2011 to MoneyDesktop.
The Orr program fosters entrepreneurial activity in young people and keeps recent college graduates in Indiana, which is just what the state needs in order to cultivate talent for growing technology companies.
Serial entrepreneurs are also vital to the development of talent in our technology community. Liquidity events like the IPO transactions consummated by Angie's List and ExactTarget foster a whole new generation of experienced individuals who started companies from scratch and grew them into thriving businesses employing hundreds if not thousands of Hoosiers.
Often, these experienced entrepreneurs and management teams created by successful companies such as Angie's List leave their companies after liquidity events and go on to start companies of their own. The knowledge and insight gained by these individuals in building technology companies is invaluable for early-stage companies. Indianapolis needs more serial entrepreneurs and experienced management teams in order to grow the technology community.
The Indianapolis technology community also needs to be able to provide seed-stage capital to early-stage companies to sustain early operations and fund growth, even if that means assuming some risk. Startup and emerging companies in Indiana still face a big challenge in raising seed capital, exasperated by the fact that Indiana doesn't have venture capital funds focused on seed-stage investments.
A handful of angel investor groups in Indianapolis, such as HALO, Gravity Ventures and StepStone, invest in early-stage companies. However, their resources are limited in comparison to the seed money available to companies on the coasts.
Elevate Ventures, a quasi-governmental agency of the state, has entered the seed-stage investment arena by matching investments made by angel investors or investor groups into privately held companies that meet certain criteria, but its investments are limited to matching funds.
Both the public and private sectors, individually and collectively, need to do more if Indiana wants to be one of the elite locations for the development of technology companies. An economic development initiative between public and private entities, something akin to the BioCrossroads initiative for the life sciences industry, would capitalize on the recent successes in the technology community by placing more importance and resources into expanding Indianapolis' technology community.
The Indianapolis technology community has come a long way in the last five years and arguably deserves to be at the top of the list for those looking to start a business. To sustain an environment for emerging growth businesses, however, we must reinvest our financial resources and human capital to promote the next generation of Hoosier "forefathers."•
__________
Danz is a partner at Indianapolis law firm Ice Miller LLC. Views expressed here are the writer's.
Please enable JavaScript to view this content.