The Indianapolis Airport Authority's aggressive effort to stop an Ohio firm from building a parking facility beyond airport boundaries has neighbors worrying the municipality will unleash its lawyers on virtually any nearby business deemed a threat to airport revenue.

Fueling concern is the airport's ambitious plan to redevelop its massive land holdings by luring businesses that could generate $63 million a year for the authority by 2040, according to a study.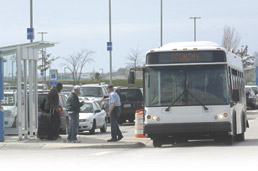 The airport's new midfield terminal boasts more parking capacity. (IBJ photo/Perry Reichanadter)
Not the least of these holdings is Indianapolis International Airport's former passenger terminal and parking lots. The authority is under more pressure from Mayor Greg Ballard to redevelop the abandoned property with each new weed that pokes through the asphalt.

"I have concerns about their nixing [off-airport] development, particularly anything that they think might be competition to them. What else will they try to oppose or get stopped?" said City-County Councilor Jason Holliday, a Republican.

Pat Andrews, a member of the Decatur Township Civic Council, noted that the authority is adding a gas station near the entrance to the new terminal. "What if we want to have a gas station" in Decatur Township? "Are they going to say no?"

The authority's executive director, Robert Duncan, dismisses talk that the airport operator has embarked on a litigious approach to off-airport business.

"Absolutely not," he said. "This is not a shift in airport focus. This is not a policy of opposing all types of private business."

That's hardly reassuring to supporters of the Fast Park & Relax facility proposed a year ago by Cincinnati-based Chavez Properties for 8550 Stanstead Road, in the AmeriPlex commercial park south of Interstate 70.

The $15 million covered lot, which would employ 45 people, would be a four-mile drive from the front door of the airport terminal, which is surrounded by airport-owned lots that rake in $39 million a year for the authority.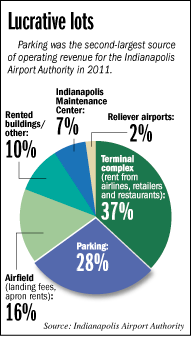 When the airport built the terminal that opened in 2008, it added thousands more spaces. Most of the private, off-airport lots that helped fill the parking gap near the old terminal shut down when the new terminal opened.

The Metropolitan Development Commission—over the objections of the authority, Ballard and Plainfield off-airport lot Indy Park Ride & Fly—last February approved changes to a land-use plan to allow Chavez Properties to build the 2,000-space lot on 31 acres at AmeriPlex.

The airport authority didn't give up. It appealed the decision in Marion Superior Court. The court later upheld the MDC decision. But earlier this month, the authority asked the court to reconsider the decision. If it loses, the authority could then take the case to the Indiana Court of Appeals, which Duncan has not ruled out.

City-County Councilor Robert Lutz said the authority's aggressive challenge to a private business not on airport grounds is unprecedented—and disturbing.

"This is the first time the airport has ever left their grounds and said, 'We don't want this happening here,'" he said.

"It's not just a parochial, one-time issue, because you have all that redevelopment of the old airport property ready to occur," said Murray Clark, a partner at Faegre Baker Daniels, which is representing AmeriPlex in the Chavez project.

"This whole process will intimidate, will have a chilling effect on people who are coming from out of town," he said of business development near but not on airport property.

Wear them down

The airport's wrangling, if successful, could also diminish MDC's ability to amend so called Commercial-Special Districts.

AmeriPlex Commerce Center was zoned in 1995 under the C-S district, per Marion County zoning ordinances. Such a designation allows flexibility in such a multi-use commercial complex, recognizing that several types of uses might occur. For example, about 100 acres were designated for parking within the 1,200-acre AmeriPlex.

To build its lot, Chavez Properties needed the MDC to move a boundary within the AmeriPlex C-S district that would give it all 31 acres it needed for the parking lot.

The airport authority argued that only the City-County Council could approve such a change in use. The claim seems a stretch, as the current zoning regulation dating to the 1970s on C-S districts states that the MDC "may approve, amend or disapprove the plan and may impose any reasonable conditions upon its approval."

But whether or not the authority wins on legal merits, its tactics have succeeded in halting Chavez from starting work at AmeriPlex.

"They've run him out of another construction season," Lutz said of the airport's latest move in Marion Superior Court.

Just how long Chavez Properties is willing to persevere is unclear. Manuel Chavez, principal of the Cincinnati firm, could not be reached for comment.

Change of heart

Particularly galling to Lutz is that the airport authority and city officials were asked before the project announcement whether they had a problem with it.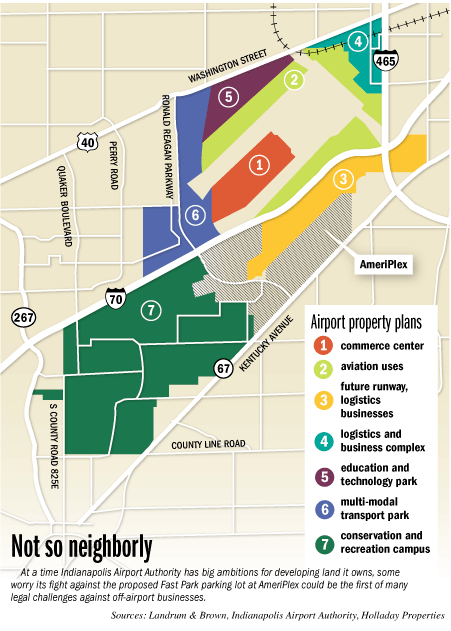 According to Lutz, neither objected.

"And then they kick [the developer] in the face after they spend a couple hundred thousand dollars" on the project, he said. "You just don't treat people like that. You just don't do it."

Duncan said those discussions predated his time as executive director, a position he took earlier this year after the airport declined to renew the contract of his predecessor, John Clark.

The airport board has also changed following the resignation last January of President Michael Stayton. Ballard tapped former airport board member and local real estate developer Michael Wells to join the board, which in turn elected him president.

"I think there was some miscommunication early on in the processes and some misunderstanding," Wells said.

But now, coming in as board president, Wells said he does, indeed, have a problem with an off-airport parking lot competing with the city's airport after the city made extensive infrastructure improvements to accommodate AmeriPlex, including roads and sewers.

"The city of Indianapolis invested millions of dollars in AmeriPlex to make it ready for industrial development."

Wells also dismisses the idea that the airport will now combat other businesses that might conflict with its business development interests. Rolls-Royce, for example, recently took up some space in AmeriPlex after the airport tried to get it to expand its presence at the airport. But the airport isn't making a case about that.

"We are just against this particular use," he said of the Chavez parking proposal.

Duncan said the authority previously had a different impression of what AmeriPlex would eventually comprise, based on years of discussions with Holladay Properties, the developer. The authority and Holladay swapped parcels of land each owned, for example, to give the airport the acres it needed for a future third runway, south of I-70.

"Everything we were ever shown by AmeriPlex … the development plans, land use plans, showed a typical industrial park. They certainly never contemplated a commercial parking lot on their ground."

Murray Clark, the attorney for AmeriPlex, said 17 years ago it was impossible to know how a 1,200-plus-acre development would take shape. But if the airport had been concerned about a parking competitor at the park, it could have sought prohibitive zoning covenants and deed restrictions.

Clark noted that competitive concerns work both ways and wondered if the airport's aggressive development plans will harm AmeriPlex.

Duncan
When AmeriPlex agreed to swap land so the airport had space for a third runway, "the AmeriPlex folks did not expect nor was [the company] told that the airport would develop or redevelop its property with uses in direct competition with AmeriPlex," and with the competitive advantage of being a government entity that doesn't pay taxes, he added.

Duncan, citing a study released in August by CPA firm BKD, said airport-related tax revenue provides more than $11 million to Decatur Township, the bulk of it for schools.

'Un-American'

While it's hard to handicap the airport's chances of upending Marion County's zoning laws to stop the off-airport parking project, the issue has torn the scab from an already uneasy relationship between the township and the airport.

Decatur Township officials have long complained the airport's land acquisition strategy, some for noise-abatement purposes, has clobbered its tax base. Much of the AmeriPlex complex is within a tax increment financing district that will divert revenue away from general fund purposes for at least another decade.

Fast Park & Relax would lie outside that TIF and generate an estimated $400,000 in taxes for Decatur. Moreover, it's viewed as a catalyst for drawing other businesses to add needed amenities, such as restaurants and convenience stores. The company that operates two hotels at AmeriPlex, Schahet Hotels, has said customers have complained about a lack of nearby amenities.

"The airport is a government unit and the government is declaring a monopoly, saying, 'You can't compete with us.' It's un-American," said Andrews, of Decatur Township.

Councilors Lutz and Holliday succeeded in getting the City-County Council to remove $100,000 from the airport's budget, an amount on par with what it has spent in legal fees to battle Chavez.

It's little more than a symbolic effort to rebuke the airport, however. The municipal entity can still fund a prolonged battle against Chavez's lots.

"I would like some way to push back at the airport," Andrews said, "but they have such deep pockets."•