It took eight years for the well-regarded Charles A. Tindley Accelerated School to open a second location. But a new infusion of cash from the Charter School Growth Fund has Tindley thinking a whole lot bigger.
Tindley will use a $1.6 million grant from the growth fund to open five more schools over the next three years. And after that, Tindley wants to open another set of seven schools by 2023—although doing so will require additional fundraising.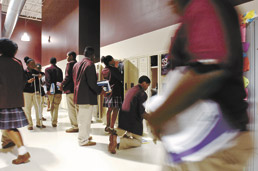 The Tindley Accelerated School has produced impressive test scores using strict rules, more time in school and higher levels of academic work. (IBJ photo/Perry Reichanadter)
Tindley's ambitious growth plans are the latest example of Indianapolis-area charter schools forming networks of schools.
Tindley's expansion will take it from being a stand-alone middle and high school near East 38th Street and Keystone Avenue to being a full-fledged K-12 district with schools dotting the Meadows neighborhood that surrounds the existing school.
"We need a whole lot of help here in central Indiana," said Marcus Robinson, CEO of the Tindley Accelerated School. "We were getting the output that we wanted to get to. Then we shifted our organizational focus from output to impact, to scale operations enough to make impact."
Tindley hopes to extend its educational concept—a school-wide gifted and talented program—from the 560 students it has now to 3,400 students in its first set of seven schools. Then it wants to double enrollment again with its second set of seven schools.
If successful, Tindley's growth would make it one-fifth as large as the Indianapolis Public Schools district is now.
The first new school, Tindley Prep, opened in August to accommodate Tindley's middle school boys. Tindley also plans to add a middle school for girls, as well as four elementaries to feed into the upper schools. Its second set of seven schools would follow the same pattern: four elementaries feeding two middle schools feeding one high school.
The backing from the Colorado-based Charter School Growth Fund is like the Good Housekeeping Seal of Approval, Robinson said. The growth fund has invested more than $120 million in 34 of the best-known charter schools around the country to help them replicate. They now collectively run more than 330 schools with 125,000 students.
Schools in the growth fund's portfolio include Yes Prep Public Schools in Houston, Uncommon Schools in Massachusetts and New Jersey, and Success Academy, which runs multiple schools in New York City and has thousands of students on its waiting lists.
The growth fund is helping Robinson and his team at Tindley build out the processes, technology and teacher pipeline to help it scale up rapidly.
"The challenge of running one great school and delivering the results that these guys do, and then to layer on that next layer, that next piece, it's a very big deal," said Kevin Hall, CEO of the Charter School Growth Fund. "It's not for everybody—doing what Marcus is doing."
The Charter School Growth Fund is also involved with two other charter school networks with plans to add numerous schools in the Indianapolis area. One of those is California-based Rocketship Education, which has won approval to open eight schools in Indianapolis, beginning in 2015.

CEO Marcus Robinson's goal is to grow to 3,400 students.
In addition, the growth fund has given a $200,000 initial grant to Phalen Leadership Academies to help it develop a plan to launch 10 schools in Indiana—roughly half in the Indianapolis area—by 2024. Phalen also received a $1 million grant from The Mind Trust, an education reform group based in Indianapolis.
This rapid replication of charter schools is a new phenomenon in Indiana. Charter schools are run by private organizations under a contract, or charter, granted by an authorizing body. Once they have a charter, the schools receive public money for each student they enroll.
Since the first charter schools were approved in 2002, each organization operating charter schools has received approval for one at a time. The organizations that were allowed to approve charters included local school districts, Ball State University and the mayor of Indianapolis.
That changed last year when the state Legislature gave the Indiana Department of Education the right to grant charters, and the department started handing out charters in large bunches.
Last fall, Tindley became the first charter school to receive approval for three new charters at once from the Indianapolis Mayor's Office.
That trend concerns Elizabeth Gore, a longtime member of the IPS school board, who is running for re-election in November.
"To me, it's going to take down our enrollment. As the enrollment goes down, so does the money that we have to educate children," Gore said. She noted that IPS has lost about 6,000 students over six years, reducing enrollment to 32,000, even as the district fights back with many of its own innovative schools.
"I am not looking forward to any more schools, charter schools, being built in our district," Gore added. "And I really don't think that our city requires any more public schools that are charter schools."
Charter school supporters say they'll keep approving and opening charter schools as long as parent demand is there.
"In our portfolio alone, you have probably 100,000 kids on the wait list," said Hall, the Charter School Growth Fund CEO. "It's because parents know when they see a good thing."
Indeed, the build-up of a waiting list at Tindley is what forced Robinson and his board to alter their original plan, which was to run a very successful school using its gifted-and-talented model, then let others mimic its success.
"It became apparent to us about three years ago that that wasn't going to happen," Robinson said. "After some long, long conversations, we decided if the Tindley model was going to grow, we were going to have to grow it."
Tindley's curriculum has all its students working one grade ahead. Its sixth-graders do curriculum that matches the state's standards for seventh grade, and its seventh-graders work at an eighth-grade level, and so on.
In addition, all juniors and seniors at Tindley spend half of each day in early college courses taught by professors from Anderson University.
The rigor of Tindley is not for everyone, said McKenzee Webster, 18, a senior who began at Tindley as a sixth-grader. But she thinks the school does its job—to prepare students not merely to graduate from high school, but to go and graduate from college, and tackle other challenges beyond it.
"You may not face this burgundy Tindley," Webster said, referring to the school's color, "but you're going to face a Tindley in your life. I'm grateful I took my Tindley early."
Tindley's students are 99-percent minority, almost entirely black. However, unlike many urban schools, none of Tindley's students speaks English as a second language, and only 6 percent require special education.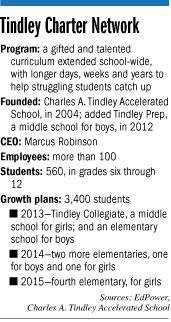 About 63 percent of Tindley students receive free or reduced-price lunches, which means Tindley students are, on average, poorer than the state average but wealthier than the average at Indianapolis Public Schools, the district that surrounds Tindley.
The Charter School Growth Fund began talking to Tindley because of its academic results. In 2012, 81 percent of Tindley's middle-schoolers passed both the math and the English portions of the state standardized ISTEP.
Those results compare with 67 percent among middle-schoolers statewide and 44 percent for middle-schoolers at IPS.
In addition, Tindley's students have been improving on ISTEP faster than state averages. That growth helped 100 percent of Tindley students pass their standardized assessments after completing algebra last year. And 91 percent passed their standardized sophomore English test.
The environment at Tindley is highly structured. All students wear a uniform every day. Students commonly stay at school until 7 p.m. with their teachers to make sure they understand and do their homework. Saturday and summer school are mandatory for those who need to catch up.
Middle-schoolers are segregated by sex. Only quiet talking is allowed in the cafeteria. And cell phones are strictly forbidden in classrooms—with offenders having their phones confiscated for months.
Classes end at staggered times so that only a few students are in the hallway at one time. Even students walking single file with their teacher get a barking rebuke from Robinson as he strolls the halls.
"You don't have any reason to be talking in the hall," he snaps at one student whispering to another in a line.
Robinson said there's a strategy to his sternness.
"Culture comes before curriculum," Robinson said. He said the goal of Tindley is "not just catching them up, but changing their minds."
Tindley doesn't have success with every student. About 30 percent each year do not return for the next. But those who have stayed say they're glad they did.
"I did not like it. I did everything that I could to try to leave," recalled Sharmaine Branch, 17, a senior, of her days as an eighth-grader at Tindley. "It was a lot of rules. They are strict—very strict. But after a while, I realized that the rules were there to benefit me."•
Please enable JavaScript to view this content.